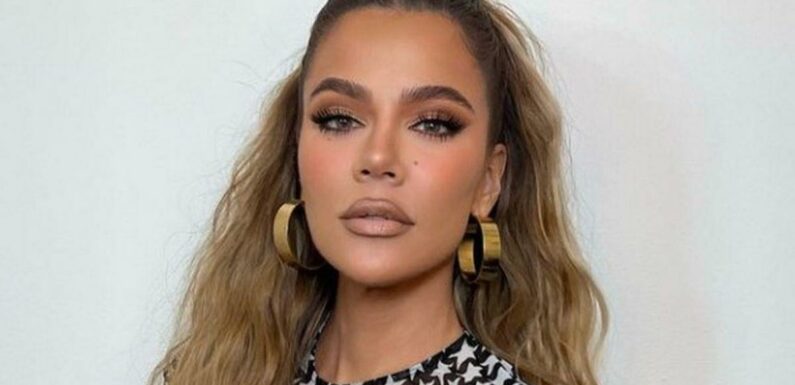 On Monday, Khloe Kardashian debuted a brand new soft balayage hair colour as she celebrated the 40th birthday party of her best friends, twin sisters Khadijah Haqq McCray and Malika Haqq.
The 38 year old reality star is known for changing up hair colour, length and style pretty often, and just last week was seen with waist-length honey blonde hair. However now, it seems Khloe has decided to make another change, and go for something a little lighter as she celebrated with her friends.
In a series of photos showing, Khloe is seen posing in a silver metallic Dolce & Gabbana mini dress with lace up sides, whilst her hair is styled into loose waves with a brand balayage hair colour and shorter length.
Khloe's go-to hair stylist,Andrew Fitzsimons, also shared the photos of Khloe on his Instagram, following his snaps of her with her textured dark blonde locks just a week earlier. The Good American owner has kept the same dark honey blonde that she showed off last week, and added a much brighter, platinum balayage throughout her hair.
The white-blonde sections are lifting Khloe's tanned complexion and add to the glitzy glamour of her look, whilst the darker roots and top section are giving her hair a more natural, grown-out look.
Balayage was first popular in the 90s, but it had a major comeback in 2021 thanks to its more natural, effortless effect than regular highlights or all-over bleaching. Balayage is a french word that means 'to sweep', referring to the hand painting technique used during the process.
Whilst highlights are typically painted towards the roots in a uniform way, balayage tends to start at the midsection of hair, and be swept down the lengths in a more random way. Balayage also gets lighter towards the ends and is painted on the surface of the hair, which gives a much more natural sun-kissed glow rather than the rigid pattern that highlights can create.
Sections of hair are chosen based on where the sun would most naturally hit, and the colourist then hand paints the lightener onto each section for an all-over natural glow. Balayage has become a much more popular choice than highlights as the upkeep is also way, way easier.
With highlights, it's clear when your hair starts to grow. With root grow out much more obvious when the lighter sections are around the top of your head, it means your highlights need to be topped up every few weeks to avoid the dreaded solid roo line.
Balayage, on the other hand, gives a natural 'shadow root' look, meaning your hair can grow in in a much softer and more natural way, requiring considerably less upkeep and maintenance. That makes it the perfect colour for anyone who's struggling with damaged hair and wants to let it have a break from too much bleach, or for us lazy girls who don't want too much hair upkeep.
READ MORE:
For all your daily celebrity news and gossip, sign up to OK!'s newsletter – CLICK HERE

'Big baby boobs don't suit me – I'm glad I never had surgery,' says Vogue Williams

Boots shoppers snap up £14 'flawless' foundation that rivals Estée Lauder

Hailey Bieber ditches neutral nails for a spring-ready 'lemon meringue' manicure

'Naked disco nails' are set to be a huge manicure trend this spring
Source: Read Full Article