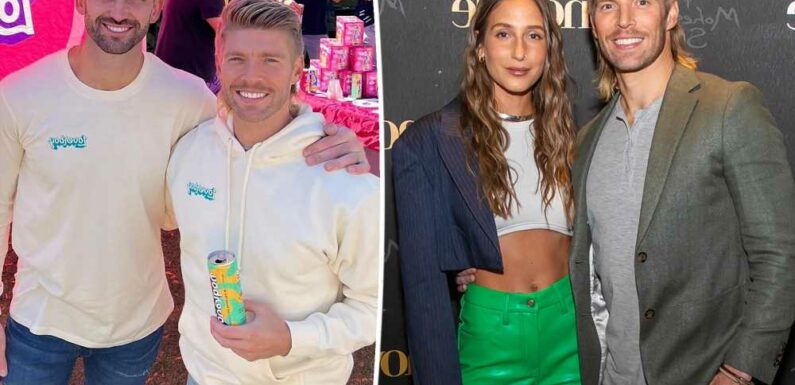 More On:
summer house
Danielle Olivera calls ex-BFF Lindsay Hubbard's engagement to Carl Radke 'crazy'
Ashley Darby confirms Luke Gulbranson breakup, blames estranged husband Michael
Ashley Darby and Luke Gulbranson make romance Instagram-official
'Winter House' star Rachel Clark: It's 'uncomfortable' reliving Jason Cameron romance
"Summer House" star Kyle Cooke assured fans that, despite a "raw" season with Carl Radke, the two are still on "good" terms.
"Carl and I have nothing but love and respect for one another and everyone's gonna see that," Cooke, 40, told Page Six during their Toast with the Host at Mohegan Sun on Friday night.
The Loverboy founder and his longtime best friend get into a few heated arguments over balancing work and their friendship in the upcoming season of "Summer House."
The two shifted their friendship into a professional relationship when Radke joined Cooke's beverage company as an investor and Vice President of Sales.
"I mean, obviously, it's challenging working with your wife and your best friend, so it's almost like I want to remind people that that in itself is not normal, and then you put it on TV, and it's another level of crazy," Cooke explained, referring to his wife and co-star, Amanda Batula, working as their Creative Director.
Despite saying in the trailer that Radke, 38, could "walk away from the company right now, and the company won't feel a f–king thing," Cooke told us that they are "good" at the moment.
"They definitely go through it this summer, and it's going to be interesting to watch both sides instead of the one side that I've heard," Batula, 31, chimed in.
As for the rest of the season, Batula teased that the season will deal more with friendship dramas and will be "hard" for some of her cast members to relive.
Cooke and Batula celebrated the launch of Loverboy in Connecticut — making it available in more than 40 states — by hosting their event at Novelle at the Mohegan Sun in Montville, Conn. on Friday night.
"To be selling it here is just an incredible moment and where better to host an event than the Mohegan Sun!" Cooke told us, teasing they'll be introducing new flavors to their lines shortly.
"Summer House" Season 7 premieres on Monday, Feb. 13, at 9 p.m. ET on Bravo.
Share this article:
Source: Read Full Article