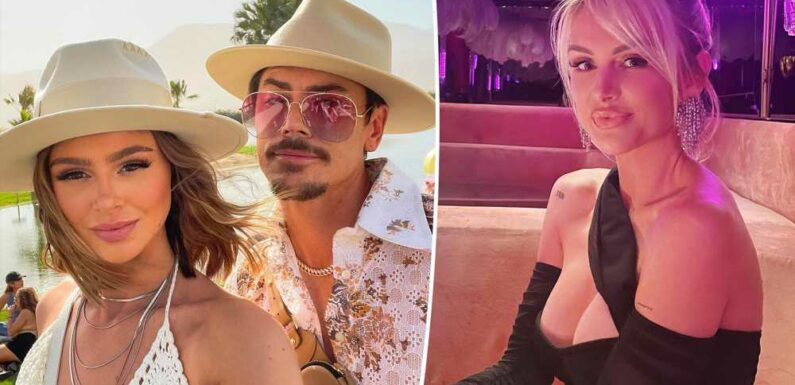 More On:
lala kent
Randall Emmett's exes Lala Kent, Ambyr Childers unite at Ocean's birthday
Scheana Shay: 'Pump Rules' reunion needs cages, bodyguards amid Scandoval
Lala Kent reveals whether Bravo is re-editing 'Pump Rules' in light of Scandoval
Kristen Doute: Tom Schwartz is a 'f–king p—y' for silence on Scandoval
Even a Scandoval can't keep them apart.
Lala Kent suspects "narcissist" Tom Sandoval and "bottom-feeder" Raquel Leviss are still together after being caught in a months-long affair.
"Oh my gosh, that made my heart pound really fast," Kent, 32, replied when TMZ asked her Monday whether Bravo should seat Sandoval, 40, and Leviss, 28, together at the upcoming "Vanderpump Rules" Season 10 reunion taping.
"I don't know if they should [sit next to each other]. They might. I don't know," she continued. "They could show up and be, like, fully together."
But when pressed about whether Sandoval and Leviss are still seeing each other, Kent conceded, "None of us know. I have no idea."
Page Six previously confirmed that the reality show's cast is set to reunite at the end of the month to address the scandal on camera — even though a source told us "no one" is talking to Leviss at the moment.
As for whether Kent thinks Sandoval and Leviss are in love, she seems to believe that is highly unlikely.
"Sandoval is a narcisist. He doesn't have that type of emotional capacity to love anything," she told TMZ of the bar owner, who cheated on his now-ex-girlfriend, Ariana Madix, after nearly 10 years together.
And when asked whether Leviss has been filming with her co-stars since the news broke, Kent curtly replied, "I don't know what bottom-feeders do. I'm an apex predator, baby."
The "Give Them Lala" author also didn't hold back on dragging Tom Schwartz for potentially knowing about his business partner's affair with Leviss and keeping it from Madix.
"I don't like weakness. At times, you have to be a good person," she told the outlet, explaining that Schwartz, 40, should have said to Sandoval, "'You tell Ariana or I will.'"
Still, Kent admits Sandoval and Leviss are bringing good drama to "Pump Rules." When asked whether the lovers should stay on the show, she replied, "I mean, it's reality TV. Yeah."
Madix first discovered Sandoval was being unfaithful to her when she found a sexually explicit video of Leviss on his phone while watching his cover band perform at TomTom in West Hollywood, Calif., on March 1.
Madix swiftly broke up with her "Fancy AF Cocktails" co-author after discovering that he and Leviss had been "communicating inappropriately for months."
The split made headlines two days later, but Sandoval waited nearly a week to publicly apologize to Madix.
"I made mistakes, I was selfish, and made reckless decisions that hurt somebody I love," he wrote on Instagram. "No one deserves to feel that pain so traumatically and publicly. I can only imagine how devastating this has been for Ariana and everyone around us."
Sandoval also claimed Schwartz had only "recently" found out about his affair and did not "condone" it.
"I fully understand and deserve ur anger & disappointment towards me, but please leave Schwartz my friends and family out of this situation," he wrote.
Follow Page Six's coverage of 'Scandoval':
Tom Sandoval, Raquel Leviss, Ariana Madix drama, explained
How Ariana Madix found out about Tom Sandoval, Raquel Leviss' affair
Lisa Vanderpump reacts to Scheana Shay allegedly punching Raquel Leviss
First photos of Raquel Leviss since affair bombshell
Leviss also apologized but blamed the entanglement on her "addiction" to love.
"I have sought emotional validation through intimate connections that are not healthy without regard for my own well-being, sometimes negatively affecting others and often prioritizing the intimate connection over my friendships," she said.
While Madix has yet to publicly address the matter, she was spotted escaping to Mexico for a wedding over the weekend. She also seemingly blocked Sandoval and Leviss on Instagram.
Share this article:
Source: Read Full Article