Let's Discuss Michiel Huisman's Absurdly Romantic New Netflix Drama For a Minute

Did I turn on The Guernsey Literary and Potato Peel Pie Society expecting to swoon a little bit? You betcha. Did I expect my jaw to hit the floor, hard, the minute Michiel Huisman appeared on screen? Well, I've seen his butt Game of Thrones, so, also yes. I guess I just wasn't expecting to fall so hard for him, the rest of the absurdly gorgeous cast, and the film itself. That was shortsighted of me, considering it's a romantic WWII drama with a surprisingly dark edge, handled masterfully by Four Weddings and a Funeral director Mike Newell.
Based on the bestselling and beloved novel by Mary Ann Shaffer and Annie Barrows, the film follows Juliet Ashton (Lily James), a writer longing to break free from the pen name that earned her heaps of money during war time to carve out her own story. Despite her engagement to a wealthy, handsome American named Mark (Set It Up's Glen Powell), she forms a life-changing bond through exchanging letters with Huisman's Guernsey island pig farmer, Dawsey Adams — side note: I don't know what kind of name "Dawsey" is, either, but let's not dwell on it. He regales her with delightful stories about a book club he and fellow readers on the island accidentally started while their home was being occupied by Nazi soldiers, so Juliet takes it upon herself to travel there, meet the book club, and hopefully find some literary inspiration. Naturally, she finds a whole lot more.
Now I know what you're thinking: that story sounds adorable, beautiful, and quaint. And it is! But that's not what we're here to discuss. Although The Guernsey Literary and Potato Peel Pie Society has copious amounts of beautiful people — James, Powell, and even Matthew Goode in glasses, because apparently Mike Newell was casting this movie with me specifically in mind — we're here to discuss Dawsey. The character gives off some serious Mr. Darcy vibes, thanks to all those billowing shirts and initially serious demeanor . . . you know, if Mr. Darcy was a half-starved pig farmer recovering from emotional trauma instead of a ridiculously wealthy British lord.
Now that I've had long enough to recover from swooning right off my couch and onto the carpet from watching the movie, I figured I might as well share my passion for him with the world in the form of carefully selected photos and GIFs. You're welcome in advance.
Warning: Light spoilers for The Guernsey Literary and Potato Peel Pie Society to follow!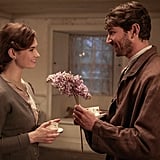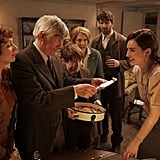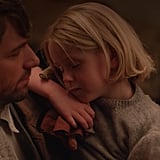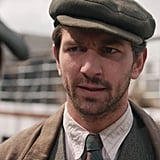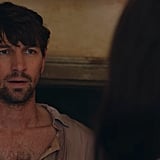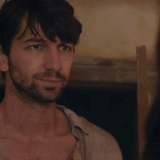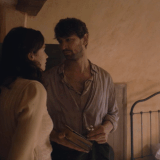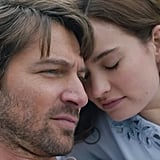 Source: Read Full Article