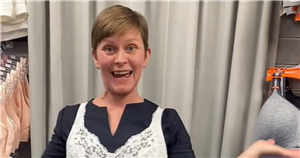 A lingerie expert has declared that there's only one right way to put your bra on in the morning, and if you're getting it wrong you might be shortening the lifespan of your favourite undergarments.
Kelly, a bra fitting expert working at Janice Rose Lingerie in Nottinghamshire, took to the brand's TikTok account to share her tips on how you should be putting your bra on.
Pulling a white lace bra on over her dress, bra fitter Kelly asked viewers what technique they're currently using to put their bras on before demonstrating all of the "wrong" techniques they might be falling victim to without realising.
The video explains that you shouldn't pull your bra over your head to put it in, you shouldn't step into it and you shouldn't do it up at the back before twisting it around.
Kelly then demonstrates the right way to do it, telling customers they should be putting their bra on at the front before doing the clasp up at the back without looking.
In the caption, Kelly says this is the best way to preserve the life of your bra and avoid damaging the garment.
The viral clip has racked up more than seven million views – but not all of the viewers were impressed with Kelly's technique.
One user joked "I am physically incapable of doing it the last way, so it's a no no no from me," whilst another simply said "I know what's best for me,", whilst a third remarked that they needed to be able to see the clasp to be able to put the bra on.
Another said that the popular twist from the front to the back technique had "never failed," them, whilst one account claimed that Kelly's recommended technique is actually the "hardest way," to put your bra on.
Others were shocked to discover that they had been damaging their lingerie for years, with one TikTok user writing that they had been pulling their bra on over their head for years without realising the consequences.
Janice Holmes, who owns the lingerie shop, responded to the viral clip by saying, "Our TikTok video shows a back-fastening bra, which should be fastened at the back to stop the stretching of the underband."
So it looks like the shop are sticking to their guns, but some users might be willing to take the risk!
READ MORE:
Harry's most savage royal attacks in memoir 'Spare', from 'tipsy' William to Charles' 'cruel jokes' – and huge claims about Camilla
James Corden's abandoned £8m UK mansion is now derelict and boarded up
Pregnant Molly-Mae Hague 'mum shamed' after fans notice 'dangerous' beauty habit
Kate Middleton 'appalled' over Harry 'dragging her name through dirt' in book
Source: Read Full Article