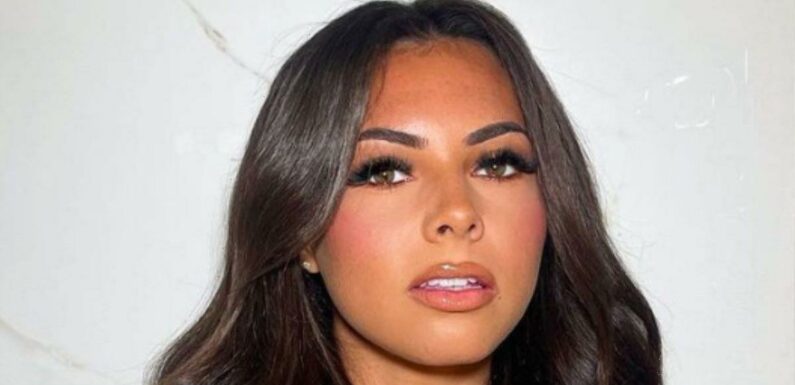 We're about to get to know a whole new group of Islanders, but for now we're still keeping up with the stars of Love Island 2022. Paige Thorne, in particular, has been making headlines this week after revealing she's gone back full time to her job as a paramedic.
Now the 25 year old, who was coupled up with lothario Adam Collard on the show, is answering fan questions about her appearance in a Q&A posted to her Instagram Stories.
"I get this one all the time," Paige says, answering a question about whether or not she's had filler. "I haven't had lip filler but I have had lip tattooing. I literally just came back from there from my top-up, and now my lips should be good for at least four years of colours."
Paige then goes on to show a clip of her during her top-up lip tattoo – a treatment also referred to as a lip blush procedure. "All I need to do now is add my lip balm and my lips are coloured," she concludes, showing a tube of Lanolips to the camera.
The former Islander also mentions in a subsequent Story that her lips have been a big source of insecurity for her. "This is one of my biggest insecurities, which is why I chose to have it [the treatment]," Paige says.
Getting a lip blush won't increase the volume of lips, like filler does, but it does help define the contours, making lips appear more shapely. If you haven't heard of lip tattooing before, this treatment involves depositing pigment into the skin via a needle – a bit like a regular tattoo – to give a lipstick-like colour that won't wash off. As Paige says, the colour lasts up to four years, with top-ups needed every 1-2 years to maintain the shade. It'll also cost you around £500-£600, which includes the initial appointment and a top-up treatment a few weeks later.
Lip tattooing isn't the only treatment Paige has been talking about on her Instagram. She also mentions to followers that she's in the process of having Invisalign, in a bid to straighten out her front teeth.
"I'm actually having Invisalign because I felt like my front tooth was crossing over. I felt like Nanny McPhee with her snaggletooth. In every picture I would always smile from an angle so you wouldn't see it," Paige explains.
Finally, discussing her post-Love Island appearance, the paramedic tackles a question from a follower about her "different" appearance.
"You look slightly different to what you did on the show. Have you had Botox?" the fan asks.
"It's all about angles, I've done nothing to my face," Paige replies.
That's that, then!
READ MORE
Click here for today's top showbiz news

Is your skin looking puffy and blotchy? Here's how to use face yoga to beat 'January face'

The 10 best viral TikTok beauty products of 2022 – including £1 sell-out lashes

'It's the reality of bleaching hair' – expert weighs in on that Kim Kardashian hair video

Get exclusive celebrity stories and fabulous photoshoots straight to your inbox with OK!'s daily newsletter
Source: Read Full Article