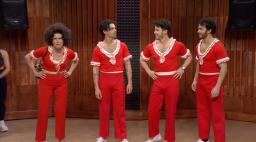 The latest episode of "Saturday Night Live" was a nostalgic throwback for Molly Shannon, a former "SNL" cast member who returned to Studio 8H for her second time hosting.
Shannon spent six seasons as a repertory player on the NBC sketch show, during which she received an Emmy nomination for outstanding individual performance in a variety program. Most recently, the actor starred in director Zach Braff's "A Good Person," which released in theaters Mar. 24. She will also appear in Season 3 of "The Other Two," which premieres May 4 on HBO Max.
Shannon is best known among "Saturday Night Live" enthusiasts for playing a recurring character named Mary Katherine Gallagher, a Catholic school girl with bizarre habits — most notably, sticking her hands under her armpits and smelling them. In 1999, Shannon starred as the character in a feature film with fellow "SNL" co-star Will Ferrell.
But it was Shannon's character Sally O'Malley, a brash 50-year-old dancer distinguished by her trademark red outfit and frizzy 1970s hairdo, that made a return with Shannon to the "SNL" stage. The character was first introduced to the show in 1999 with a sketch where she auditioned for The Rockettes.
A from the Apr. 8 episode features Sally as the newly hired dance choreographer for the Jonas Brothers, who are about to embark on a Vegas residency. Joe, Kevin and Nick Jonas then emerge, clad in matching red pantsuits to perform Sally's signature kick, stretch, kick move.
Over 20 years have passed, though Sally's age has remained the same — a loophole Shannon addresses by telling Bowen Yang, "Honey, I've been 50 since before you were born."
After Shannon bid goodnight to the audience, "SNL" featured players Devon Walker and James Austin Johnson held up a black T-shirt with the names "Jones" and "Pearson" written in blocky white letters.
The gesture was a salute to Democratic legislators Justin Jones and Justin Pearson, who were ousted from the Tennessee state House of Representatives on Friday by the Republican majority. Jones and Pearson's expulsion was as a punitive measure against the lawmakers after they took part in a gun control protest on the floor of the statehouse last week.
Read More About:
Source: Read Full Article