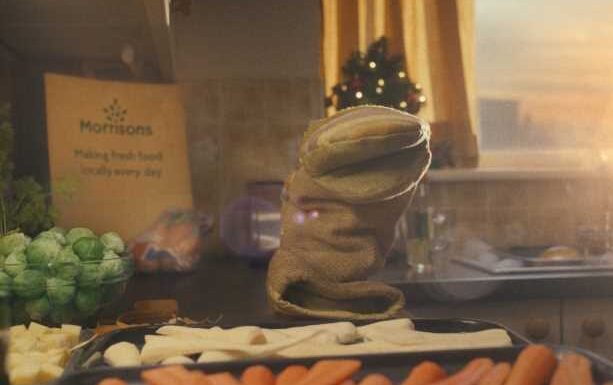 MORRISONS' Christmas advert features a classic banger and will help you make Christmas dinner one to remember.
Morrisons is showing its support for the nation's festive hosts in its latest Christmas advert.
The advert airs on Monday, November 6 during ITV's Coronation Street.
Through the ad, trusty oven gloves that reside in kitchens up and down the country, come alive to sing their support for hosts and chefs as they prepare their celebratory feasts on the big day. 
The 60-second feel-good spot, created with agency Leo Burnett, is set to a rendition of American rock band Starship's classic power ballad Nothing's Gonna Stop Us Now.  
The ad starts with a familiar scene – Dad, in his pyjamas and a Santa hat, making his way to the kitchen to preheat the oven at the crack of dawn on Christmas Day.
Read more in money
MARKS AND SPARKLE
M&S Xmas ad revealed starring A-list actors but not how you know them
FAST FOOD
Asda to bring high street fast food brand into stores after buying popular chain
Families are then seen preparing food for Christmas Day, supported and serenaded by their favourite oven gloves.
As we build to the song's chorus, the gloves jump out of drawers in a choreographed dance as the Christmas pudding gets set alight but they keep schtum when a potato is dropped before guarding festive treats from over-eager little hands.
The advert finishes with the oven gloves checking in on the delicious mains cooking in the oven before Dad proudly serves up his turkey to rapturous applause from his guests while his oven glove offers up a satisfied smile for a job well done.  
The 'More Reasons to Shop at Morrisons' jingle – which Morrisons brought back earlier this year – has also received a festive makeover for the duration of the campaign. 
Most read in Money
OFF THE SHELF
Heinz discontinues one of Brits' favourite sauces leaving shoppers fuming
FRESH HOPE
Mortgage relief for millions as BoE HOLDS interest rate hikes for a second time
BOTTOMS UP
McDonald's makes menu change with new hot drinks & fans say they're 'a dream'
FAST FOOD
Asda to bring high street fast food brand into stores after buying popular chain
The ad was directed by Tim McNaughton from The Bobbsey Twins and will be shown on network TV spots that include The Great British Bake Off, I'm a Celebrity and Goggle Box.
In addition, it will air in cinemas throughout the festive season ahead of shows such as The Marvels, The Hunger Games and Taylor Swift's The Eras Tour. 
This Christmas, Morrisons is also inviting the nation to get involved and share the glove love, with an interactive oven glove karaoke competition on social media.
The #GloveOke challenge will invite people to post their own gloves "singing" a duet for the chance to win their Christmas shop.
The competition will run on TikTok and other social media platforms with influencers, creators and fans kicking the activity off.
Rachel Eyre, Morrisons' chief customer and marketing officer, said: "This Christmas – and every Christmas – great British food should be the star of the show and so our ad showcases Morrisons' brilliant Christmas range.
"But there's always a lot to do when preparing the big Christmas meal and some classic 1980s power ballad encouragement is clearly in order. 
"And so we've made the trusty oven glove the tuneful cheerleaders of the nation's Christmas chefs and we hope they enjoy it as much as we enjoyed making it.
"Nothing's gonna stop us making this Christmas the best for our customers."
Last year, Morrisons brought back its festive hero – Farmer Christmas.
The old ad featured Morrisons staff as elves and Farmer Christmas arriving on a tractor instead of a sleigh.
Farmer Christmas was seen travelling across the fields to the festive workshop where the 'elves' were preparing food sold by Morrisons.
The new advert arrived in the same week that a whole host of other retailers launched theirs.
M&S' first Christmas advert has arrived and it features well-known TV and movie stars.
Ted Lasso actress Hannah Waddingham is among the star-studded cast in the posh shop's clothes and home festive ad this year.
Read More on The Sun
MARV-ELLOUS!
JLS star turned TV host Marvin Humes to sign up for I'm A Celeb
WEDDING WAR
My mother-in-law ruined my wedding – her move during first dance was so unfair
Homeless charity Shelter has also revealed its own heart-wrenching Christmas advert.
Waitrose's festive ad features an unexpected cameo appearance from Graham Norton.
Source: Read Full Article