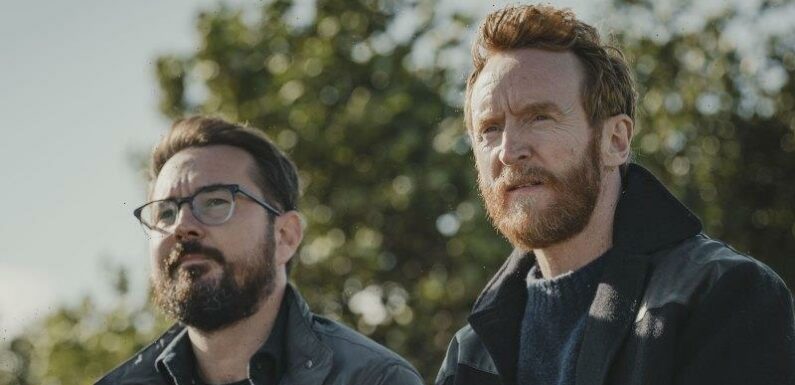 CRITIC'S VIEW
Mayflies
★★★★
SBS, Wednesday March 15, 9.30pm and SBS on Demand
Adapted – very quickly – from Scottish author Andrew O'Hagan's 2020 novel of the same name, this two-part series is a celebration of lifelong friendship between two 40-something mates – the mouthy, rebellious Tully (Tony Curran) and thoughtful, quietly spoken Jimmy, affectionately known as Noodles (Martin Compston, sounding more Scottish than usual) – and a meditation on death and dying.
O'Hagan's largely autobiographical book is split into two halves: the first follows Tully and Jimmy in their giddy teenage years in Thatcher-era Scotland, as they navigate small-town life, their love of music (the soundtrack will thrill lovers of the Fall and their peers) and dreams of escape; and the present day, in which Jimmy, now a successful author, gets an urgent phone call from school teacher Tully, asking him to come home to Ayrshire.
Tony Curran as Tully and Martin Compston as Jimmy in Mayflies.Credit:Synchronicity Film / ,Jamie Simpson
In this series, though, the pair's teen years have been integrated into the narrative as flashbacks – the teenage Tully is played by Tom Glynn-Carney and Rian Gordon is uncanny as the young Jimmy – which gives us just enough understanding of the depth of their friendship and shared history.
Little time is wasted. When Jimmy returns home, Tully reveals he has terminal cancer, and just a few months to live. Chemotherapy might buy him some extra months, but he wants to go out on his own terms. "Don't let me die like a prick," he tells Jimmy, before asking him to travel with him to Switzerland to end his life before he's no longer himself. He wants Jimmy to be his "campaign manager" for his death, fearing "an onslaught of sentiment" more than death itself.
Tully (Tony Curran) and Anna (Ashley Jensen) in Mayflies.Credit:Synchronicity Films / Jamie Simpson
He draws up an itinerary for his remaining months, including a final gig with his band at the local pub, and marrying his partner, Anna (Ashley Jensen).
Jimmy is at once torn – between loyalty to his best mate and a reluctance to help him leave. And when Tully reveals he hasn't discussed his exit strategy with Anna, who has begged him to have chemotherapy, things get even more complicated. "I love you," Jimmy says, "but you can't ask me to do that." Naturally, he will do that, despite his wife Iona (Tracy Ifeachor) telling him it's bonkers.
Tully's health worsens, he and Jimmy reflect on their lives, and we see key moments from their teenage years: the way Tully's family became a de facto one for Jimmy, who effectively "divorced" his own parents as a 16-year-old; in-jokes with their group of mates; adolescent highs and lows. Mayflies is both brutal and warm, particularly in its depiction of male friendship, portrayed as something as significant as romantic love.
In the present day, the clock ticks down and, despite wrestling with feelings of betrayal, Anna, as well as Jimmy and Iona, eventually board a plane for Switzerland.
In a world of slow-burn streaming series, a two-parter is a welcome thing, but in this instance I wish we'd been able to spend more time with the teenage Tully and Jimmy, especially as they run amok in Manchester at a legendary post-punk music festival (even bumping into the Smiths' Johnny Marr).
But Compston and Curran are extraordinary; there are moments where you want to slap both of them (Tully makes adolescent jokes right till the end), and despite the subject, which can't be anything but sentimental, things never tip over into mawkishness. But don't think this means you won't need tissues at the ready.
Find out the next TV, streaming series and movies to add to your must-sees. Get The Watchlist delivered every Thursday.
Most Viewed in Culture
From our partners
Source: Read Full Article