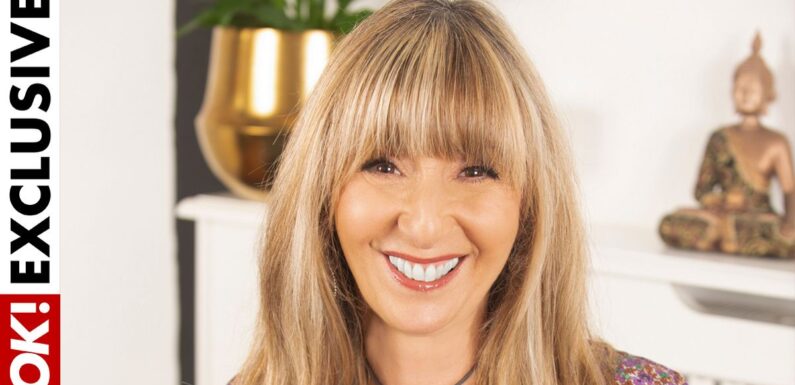 Many of us live our lives at 100 miles per hour, constantly busy seeing friends and family and working and it means that we don't always get the time to switch off.
It's something that Nicci Roscoe, now 62, knows only too well, as she made a name for herself as the head of aerobics for David Lloyd Clubs and a fitness presenter on television for Sky, GMTV and the BBC in the 1990s.
It was an enjoyable but hectic lifestyle – until a major curveball was thrown at her when she was diagnosed with a brain tumour and she had to step away from the spotlight to concentrate on her health.
It was during a radio appearance when Nicci first noticed something wasn't right.
She says: "I was on my regular slot on Viva Radio when I would occasionally utter a different word to the one I wanted to say. It was a very strange feeling and quite frightening not being able to get out the words I wanted."
She went to her GP and was told that she was suffering with stress due to her workload so she scaled back her fitness and broadcast appearances in order to rest.
Things came to a head in December 2001, when she collapsed while food shopping. After consulting a doctor she was told that she had a migraine but the pain didn't go away so she was later referred for a scan.
Nicci recalls: "I was pushing my trolley one moment and then it was like a thunderbolt had smashed through my head. The pain was excruciating, and the lights were so bright, I could barely see. When I went to shout out for help, I couldn't speak. I just stood there in a total state of confusion and pain."
After an MRS at The Hospital of Neurology and Neurosurgery in Queens Square, London she was told she had what looked like a large cyst in her brain.
"I was petrified and burst out crying. All I could think about was my children and that I didn't want to die. My children, a boy and a girl, were only 15 and 12 years old. The next day I was sitting in the neurosurgeon's office and he told me I had a golf ball sized benign tumour that was deeply embedded in my brain.
"It was near the parts of my brain that controlled speech, balance, co-ordination, and memory. My partner at the time started to cry, and I found the strength deep within me to ask, 'Am I going to die?' My neurosurgeon said if I didn't have the tumour removed it would continue to grow and I would be like a vegetable within two years and dead within five."
Nicci underwent a major operation to remove the brain tumour and was left with three titanium bolts and six screws in her head. Although it has been 22 years since the surgery, she still suffers with chronic pain and uses holistic techniques to manage her symptoms.
"I like to joke that I have a screw loose but I am so grateful to be alive and I wouldn't change what happened to me because I have such a wonderful awareness now of how every moment counts.
"Not knowing if I was going to live or die made me even more determined to get through this traumatic time so I could be there for my children.
"I scaled back my TV career and switched my focus to healing and holistic techniques like mindfulness, visualisation, reiki and positive self-talk."
Nicci is now a Life Coach and Master NLP Practitioner (Neuro Linguistic Programming) and offers her perspective to the media as a holistic health and wellbeing expert. She has been on Sky News, LBC and BBC Radio London as well as in print media discussing her work in the years since suffering a brain tumour.
"Having worked in the entertainment and health and fitness industry I drew on my life experiences and qualifications to develop a practice I call Mind Medication, that I share with clients.
"Everything I suggest – including working with crystals and Reiki as a Reiki and Crystal Master Teacher and Meditation Teacher – I have used myself."
Now, Nicci hopes to fuse her experiences in TV and the wellness world to become a household name again.
"I believe anything is possible and always keep hope alive. Working with Lorraine Kelly at ITV and being live on the sofa was such a buzz for me.
"I loved presenting on Sky One at that time. I was on the programme with Davina McCall, James Martin, Sarah Greene, Paul Ross, Annabel Giles amongst others.
"I interviewed people and often did outside broadcasts and even did a salsa feature and joined a class that was filmed. Things were going really well for me on TV and I was moving forward but when I had the brain tumour and was so unwell everything had to stop.
"My fitness career also had to stop too. But I believe they're always a reason and it's given me the opportunity to learn more about holistic health and well-being too.
"Unfortunately having a brain tumour stopped my dreams of a long-lasting TV career but I hope there is still time to reach wider audiences and share everything I have learned again.
"Now I have a balance. I love my family time and spending time with my four grandchildren but I'm just as ambitious as I always was.
The power of positivity is so life changing I'd love to share my work with a TV audience again some day."
Check out Nicci:
https://www.mindmedication.co.uk/about-nicci-roscoe/
https://www.instagram.com/nicci_roscoe/?hl=en
Photo credits- Dianna Bonner at diannabonner.co.uk
Source: Read Full Article