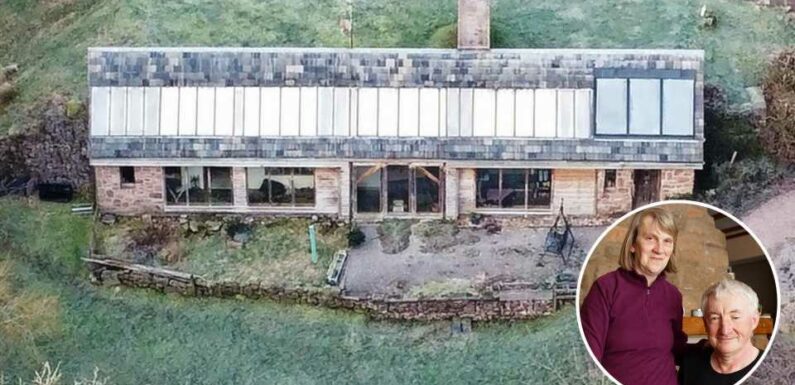 A COUPLE who revealed they have been dubbed the "mole people" because they live underground have hit out at critics.
Brian and Rosemary Kedward claimed that living in the Grand Designs-style earth shelter has slashed their bills and is "the future of housing".
The couple have lived in the 'eco dwelling' in a field in Monmouth, South Wales for 25 years and it only cost them £38,000 to build.
They have no monthly gas bill and pay a small electricity bill to cover lighting and a couple of basic appliances.
Surveyor and part-time sheep farmer Brian, 61, did the work himself using local stone and natural materials.
He said: "We believe this is the future of housing, it is sustainable, and very cheap to run compared with conventional homes.
READ MORE PROPERTY NEWS
Inside life on one of UK's priciest streets as locals insist 'we're NOT snobs'
I built an art studio in my garden – now I'm being told to knock it down
"People call us the moles, the Telletubbies or the Clangers but when we look at our tiny fuel bills the joke's on them."
The unique home is always warm and toasty according to the couple, which is hardly surprising given that it's insulated by the 16 inches of soil on top.
They get all their heating and hot water from their Rayburn cooker, fuelled by sustainable logs from their own land.
However Brian and school dinner-lady Rosemary, 59, had plans to move into a new home scuppered when the local authority refused their planning application.
Most read in Money
Popular high street shop is 'lining up administrators' in race to save chain
Icy snap set to trigger £25 cold weather payments – find out if you're eligible
I eat one meal a day to feed my son & partner – I've lost three stone
McDonald's axes popular deal from delivery menus – and customers are furious
They had planned to build a new eco-shelter a mile away from their current place, but still within the bounds of the 10-acre field that they own.
The new property was designed as a cheap and sustainable home with a grass roof to allow their flock of 20 lambs to graze.
Brian and Rosemary planned to move into the two-bedroom property themselves and give their existing home to their children, 23-year-old Rhys and 27-year-old Emily.
Plans for the new eco dwelling even included a specially constructed area for Lesser Horseshoe bats to roost.
The couple claimed that the underground home, fuelled by solar power, would barely be visible from surrounding properties or nearby country roads.
Independent planning inspector Declan Beggan disagreed and ruled that the proposed building would be a blot on the landscape in an Area of Natural Beauty.
His report argued that interior lighting would be visible from the home, while the chimney and washing line would be a blight on the landscape.
Mr Beggan added: "The proposal runs contrary to local planning policy that seeks to restrain development outside of settlement boundaries in the broad interests of sustainable development.
"It would form a conspicuous jarring visual feature within the field and within the landscape…to the detriment of the visual amenity of the area."
He concluded that the couple would need special permission to build in the Wye Valley Area of Outstanding Natural Beauty and that there was "no compelling reason" why this should be granted.
Instead, he recommended that the land be protected for agricultural use.
However, Brian hit back, saying: "It's nonsense, we don't have a washing line in our current home because it's so warm we can dry clothes indoors.
"Because we're underground it's eight degrees warmer than housing at the surface – we hardly ever light our log burner.
"As for light coming from the windows at night, haven't they heard of curtains?"
Outraged, he continued: "They are building 100 houses nearby which young people can't afford to buy.
"Our proposed earth shelter would cost £110,000 to build and so much cheaper to run than a conventional house."
They plan to write to Welsh First Minister Mark Drakeford in a desperate attempt to overturn the ruling.
Read More on The Sun
I'm a speed camera officer… here are three myths drivers always get wrong
You're charging your iPhone wrong – how to make it charge much faster
Rosemary said: "We will keep on fighting, not so much for us but for the younger generation who should have the opportunity to build their own sustainable and affordable homes.
"Our current home and the one we wanted to build would have lasted for 100 years – you can't say that about most new-build properties."

Source: Read Full Article