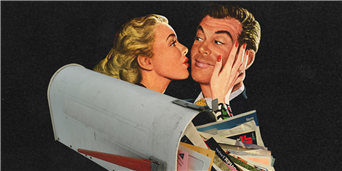 In an age when our deepest romantic feelings are usually recorded in the form of goodnight texts, cute Instagram captions, and potentially kind of cringe sexts, the idea of exchanging actual, old-school love letters sounds pretty damn charming. I mean, sure, I like to think I've poured my soul into some emotionally vulnerable—arguably too emotionally vulnerable—late-night texts in my day (yes, I'm a Pisces). But there's just something about a physical love letter—a real, tangible outpouring of eternal devotion immortalized in ink and paper, a confession of love written in your beloved's own handwriting—that blows even the most thoughtful good morning text out of the damn water.
Of course, there are some practical advantages to the more technologically advanced forms of romantic communication we have available today. Personally, I'll take the immediate gratification of a steamy sexting sesh over waiting weeks for my long-distance lover to respond to my horny snail mail in between fighting whatever wars all men seemed to be involved in at all times back in the day (based on my admittedly pretty tenuous grasp of history). Like, sending a risky text is enough anxiety for me without waiting for a reply on USPS's schedule, thanks.
But while love letters may be a thing of the past, that doesn't mean we can't still appreciate a little old-school romance. For your enjoyment (and/or inspiration for your next Instagram caption), we've rounded up the most romantic love letters in history. Here you'll find famous declarations of love from kings to their mistresses, great novelists to their wives, and musicians to their beloved mystery women (aka the Beethoven one that's quoted in the first Sex and the City movie, because we obviously weren't going to leave that one out). Some are sweet and simple, some are sweep-you-off-your-feet passionate, and others are pretty damn horny, TBH (looking at you, James Joyce). One thing they all have in common? They're guaranteed to put whatever "U up?" text the current object of your affections is probably drafting right now to shame, just saying.
1.Vita Sackville-West to Virginia Woolf
Whenever two writers fall in love—as Virginia Woolf and Vita Sackville-West did in what became one of the most famous lesbian love affairs of the 20th century—you can bet some pretty top-notch love letters are probably lying around somewhere. But for all Woolf's famous stream-of-consciousness prose, West is responsible for perhaps the most romantic line in the entirety of their correspondence, absolutely aching in its raw simplicity: "I just miss you, in a quite simple desperate human way." A little more context right this way:
Related StoryNeed Some Sexting Inspo? Say No More

2. Beethoven to His Immortal Beloved
Without further ado, here it is: the "ever mine, ever thine, ever ours" letter from the Sex and the City movie—which is probably what brought you here, isn't it? The identity of the "Immortal Beloved" to whom Beethoven penned a series of impassioned love letters in 1812 remains a mystery nearly as compelling as the romance they detail. But while we may never know for sure who she was, one thing is clear: she had this German composer down bad.
3. James Joyce to His "Dirty Little F*ckbird," Nora Barnacle
The love letters between Irish novelist James Joyce and his longtime love/eventual wife Nora are famous for a reason: they're extraordinarily horny. Seriously, this stuff would make even the most seasoned sexter blush. (For one thing, it seems Joyce had a fart fetish, so there's that.) See for yourself:
4. Zelda Sayre to F. Scott Fitzgerald
F. Scott Fitzgerald may have been the more successful writer in his infamously chaotic relationship, but his wife Zelda might have had him beat when it comes to writing love letters.
5. Ronald Reagan to Nancy Reagan
No matter where you stand on his politics, it's hard to deny that this man could write one hell of a love letter, even three decades into marriage.
6. Henry VIII to Anne Boleyn
Did he later have her beheaded? Yes, yes he did. But before things went south between these two, Henry did manage to pen some pretty emphatic promises of eternal devotion to the woman for whom he would famously forsake the Catholic Church.
7. Oscar Wilde to Lord Alfred Douglas
Surprise, surprise, 19th-century mores meant this homosexual love affair between Oscar Wilde and his muse had to happen in secret, but their forbidden romance is preserved in Wilde's eloquent love letters.
8. Orson Welles to Rita Hayworth
This high-powered Hollywood romance may have been somewhat short-lived—Welles and Hayworth were only married for about four years—but I can't think of a more romantic idea than two lovers "happening to each other."
9. Prince Albert to Queen Victoria
BRB, changing my email sign-off to "With promises of unchanging love and devotion."
10. Simone de Beauvoir to Claude Lanzmann
Feminist icon Simone de Beauvoir and her long-time partner, existentialist philosopher Jean-Paul Sartre, were basically the Ken and Barbie of 20th-century French philosophy. But later letters to her much younger lover Claude Lanzmann show De Beauvoir at perhaps her most besotted.
Source: Read Full Article