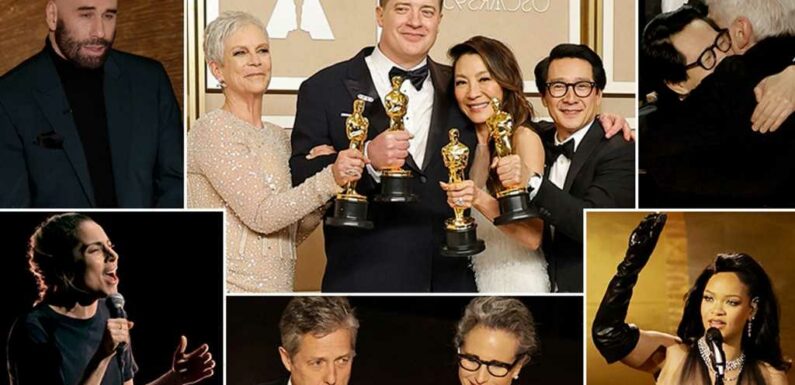 "Everything Everywhere All at Once" dominates, Hugh Grant gets grumpy, Rihanna stuns, Indiana Jones reunion, lots of Oscars firsts and all "the slap" jokes host Jimmy Kimmel could think of.
One movie was "Everything Everywhere All at Once," on Oscars night, dominating with seven total wins, including all of the top categories in which it was nominated.
In doing so, it handed first-ever Oscars to so many individuals, including Best Actress Michelle Yeoh, Best Supporting Actress Jamie Lee Curtis and Best Supporting Actor Ke Huy Quan. Directors Daniel Kwan and Daniel Schienert also took home trophies for Best Director and Best Original Screenplay, while the film nabbed Best Picture.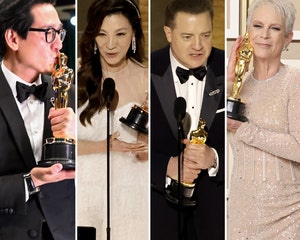 Oscars 2023: Complete Winners List
That last award brought one of the night's sweetest moments, as it was presented by Quan's former "Indiana Jones and the Temple of Doom" co-star Harrison Ford. The two shared an adorable embrace on stage as the entire cast and crew converged for the night's biggest award.
Other moments that went viral on the night included several stunning musical performances, including Rihanna's pregnancy glow, Lady Gaga's emotional intimacy and the euphoric energy of "Natuu Natuu" from "RRR."
Hugh Grant managed to get things started early on social media with an awkward red carpet interview with Ashley Graham — and he wasn't done giving Twitter something to talk about!
Meanwhile, John Travolta got emotional introducing the "In Memoriam" segment while paying tribute to his dear friend Olivia Newton-John, while Brendan Fraser wrapped his "Brenaisance" year with Oscar gold.
Twitter also had some thoughts of their own about what they decided was the biggest shocker and snub of the night, Jamie Lee Curtis winning over Angela Bassett's performance in "Black Panther: Wakanda Forever."
Here all the night's most viral moments: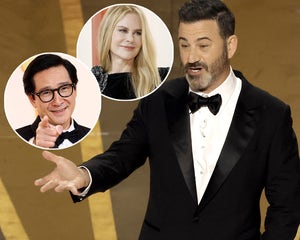 Jimmy Kimmel Takes Aim at Absent Tom Cruise, James Cameron and 'The Slap' in Oscars Monologue
Jimmy Kimmel Can't Resist Slaptalk
He may have waited until the closing moments of his monologue to get into joking about it, but once "The Slap" was out of the bag, Jimmy Kimmel went back to that well time and time again throughout the night.
"If anyone in this theater commits an act of violence at any point in the show, you will be awarded the Oscar for Best Actor and permitted to give a 19-minute-long speech," Kimmel joked.
He went on to call out basically everyone, noting, "If anything unpredictable or violent takes place, just do what you did last year. Nothing. Sit there and do absolutely nothing." After a beat he added, "Maybe even give the assailant a hug."
He then warned the attendants that if anyone decides they are mad and want to rush the stage to "Get Jiggy Wit It," they'll have to get through a whole slew of people, like Michael B. Jordan's Adonis Creed, Michelle Yeoh's herself, "The Mandalorian" and even two Guillermo's (Del Toro and Kimmel's late-night sidekick).
Later, when the show reached the category last year that triggered the incident, Best Documentary Feature, Kimmel had another joke lined up. "Hopefully this time it goes off without a hitch — or without Hitch," he quipped, referencing Will Smith's 2005 rom-com.
"Please put your hands together — and keep them to yourselves," he then said, introducing the presenters. He even saved one final slap joke for the end of the night. As he walked off the stage, he flipped a board labeled "Number of Oscars Without Incident" from 0 to 1. Let's just say, Twitter was over it before it began.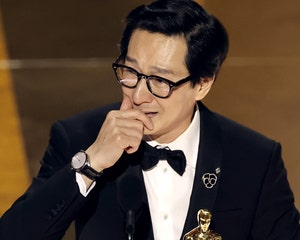 Ke Huy Quan Wins Best Supporting Actor Oscar For Everything Everywhere All At Once
Keeping Your Dreams Alive
Ke Huy Quan has been dominating the 2023 awards season for his critically-acclaimed performance in "Everything Everywhere All At Once," winning awards left and right, while also capturing everyone's hearts along the way with his emotional acceptance speeches.
His incredible comeback year culminated Sunday night in his Best Supporting Actor win at the Oscars, where he again brought everyone (including himself) to tears. He became the second Asian Best Supporting Actor in Academy Awards history.
Quan was presented the award by last year's Best Supporting Actor and Actress winners Troy Kotsur and Ariana DeBose, whose voice broke with emotion as she read Quan's name. The actor received a standing ovation, and was already in tears when he took the stage.
In his speech, he thanked his mother and talked about his own immigration experience before saying, "This is the American dream!"
"Dreams are something you have to believe in. I almost gave up on mine. To all of you out there, please keep your dreams alive," Quan added, before then concluding his emotional speech. "Thank you, thank you so much for welcoming me back. I love you."
Later in the broadcast, fans were touched even more when Quan shared an embrace with his former "Indiana Jones and the Temple of Doom" co-star Harrison Ford, who presented Best Picture. Quan had stepped away from his acting career for decades after breaking out huge in films like that and "The Goonies."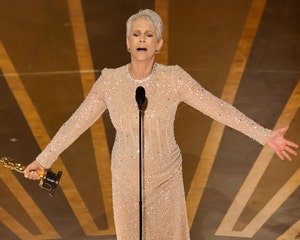 Jamie Lee Curtis Wins First Oscar Ever for Best Supporting Actress
Curtis Wins But Not Without Twitter Controversy
Jamie Lee Curtis was almost as shocked as Twitter with her Best Supporting Actress win for her performance in "Everything Everywhere All at Once." She managed to thank everyone in her speech, crediting her fans and the hundreds of people she's worked with over her long career for her first-ever Oscar and nomination.
"To all of the people who have supported the genre movies I have made for all these years, the thousands and hundreds of thousands of people, we just won an Oscar together!" she shouted, alluding to her early career in horror and "Halloween" legacy.
She concluded her speech in tears, referencing her parents Tony Curtis and Janet Leigh saying, "And my mother and father were both nominated in Oscars in different categories … I just won an Oscar."
Fans online were hoping for a different outcoming, though what would have also been a first, getting Angela Bassett's name trending for not becoming the first Marvel performer to win an Oscar. They also took note of the "Black Panther: Wakanda Forever" star's non-reaction to Curtis' win, speculating that she was as displeased as they are.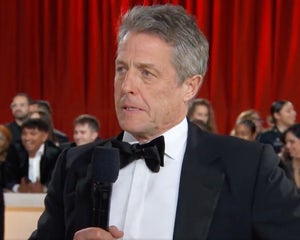 Hugh Grant's Awkward Oscars Include Ashley Graham Interview, 'Scrotum' Joke: Twitter Reacts
Grumpy Hugh Grant Is a Self-Described "Scrotum" (or Something Like That)
Hugh Grant didn't even wait for the broadcast to start before serving social media gold. The "Love Actually" star had Twitter jumping up and down after what appeared to be a very grumpy interaction with Ashley Graham on the red carpet before the show.
When Graham asked the Academy Awards veteran if he was rooting for anyone to win tonight, he said, "No one in particular."
The "Notting Hill" star also answered the Swimsuit Illustrated model's next question about what he was wearing by dryly replying, "my suit."
"Your suit?" Graham quipped before challenging him, and trying to breathe some life into their exchange, "You didn't make it." But the best he could do then was to say his tailor made it.
Ashley later asked him about his experience filming Netflix's "Glass Onion," and Grant retorted, "Well, I'm barely in it. I'm in it for about three seconds."
"Well yeah, but still you showed up and had fun right?" Graham implored.
"Almost," Hugh admitted. Finally when the "Bridget Jones's Diary" star walked away, fans saw the actor raise an eyebrow before leaving.
Grant's awkward evening continued on stage when he came out to present alongside his "Four Weddings and a Funeral" co-star Andie McDowell with an important message about moisturizing that sent him viral all over again.
He emphasized "the vital importance of using moisturizer," pointing out that McDowell has been using one "for the last 29 years, and I've never used one in my life."
He then gestured to his co-presenter and said, "Still stunning." Shifting his gesture to himself, Grant then deadpanned, "Basically a scrotum."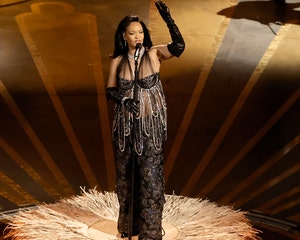 Pregnant Rihanna Stuns Performing Lift Me Up for First Time Live at Oscars
Rihanna Gets Support A$AP After Stunning Performance
Rihanna brought the Dolby Theatre to tears on Sunday night as she performed her Oscar-nominated song — "Lift Me Up" from "Black Panther: Wakanda Forever" — for the first time live.
The emotional performance featured an introduction from one of the film's stars, Danai Gurira, before the pregnant singer hit the stage in a Maison Margiela Artisanal look created especially for her by John Galliano. Rihanna was dripping in diamonds from head to toe, accentuating her growing belly in the gorgeous look.
Gurira already had people feeling emotional with her touching tribute to Chadwick Boseman, who starred in the original "Black Panther" film before succumbing to a battle with cancer he'd kept secret for years.
Rihanna is currently expecting her second child with A$AP Rocky, who was in the audience, cheering her on. Fans were definitely loving the support!
Rihanna lit up the red carpet before the broadcast, too, with her bump on full display in a stunning, form-fitted Alaïa gown. Twitter couldn't decide which moment was more exciting — though they definitely enjoyed her hamming it up for a selfie with Ashley Graham (who needed the pick-me-up).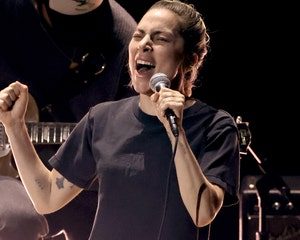 Lady Gaga Performs Raw, Stripped-Down Rendition of Hold My Hand at 2023 Oscars
Lady Gaga Strips Back Glam for 'Hold My Hand'
Looking as stripped back as she sounded, Lady Gaga appeared on stage in a t-shirt, jeans and sneakers, and seemingly removed her makeup, including bright red lipstick, that she donned on the red carpet, for her "Hold My Hand" performance.
The track is from the "Top Gun: Maverick" soundtrack, and is nominated for Best Original Song. However, instead of singing the chart-topping version of the song, Gaga sang a stripped-down, acoustic rendition of the track.
"I wrote this song with my friend Bloodpop for the film 'Top Gun: Maverick' in my studio basement," she said. "It's deeply personal for me. I think that we all need each other. We need a lot of love to walk through this life. And we all need a hero sometimes. There's heroes all around us in unassuming places, but you might find that you can be your own hero even if you feel broken inside."
After Gaga finished the song, the camera zoomed out, with the screen behind her featuring a photo of Tom Cruise and Tony Scott, who directed the first "Top Gun" film. Scott died by suicide in 2012.
According to Variety, Gaga's appearance was a last-minute addition, as she'd originally been unavailable due to filming commitments for "Joker: Folie à Deux." The stripped back presentation certainly got Twitter's attention.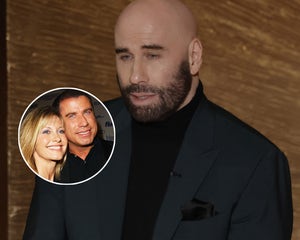 John Travolta Chokes Up Honoring Olivia Newton-John Ahead of Oscars In Memoriam
John Travolta's Emotional Tribute to Olivia Newton-John
Even before he walked out, the Academy Awards orchestra was playing "Hopelessly Devoted to You" and emotions were running high. John Travolta introduced the "In Memoriam" segment with a special tribute to his longtime friend, and "Grease" co-star, Olivia Newton-John.
"In this industry we have the rare luxury of getting to do what we love for a living. And sometimes getting to do it with people that we come to love," Travolta said after coming on stage and blowing kisses into the audience.
"Through their immeasurable contributions, each of them left an individual and indelible mark that shared and informed us," he said, his voice breaking more and more with each word. "They've touched our hearts, they've made us smile and became dear friends who we will always remain hopelessly devoted to."
The nod to a track from the film that cemented their long friendship four decades ago was not lost on Twitter, who found themselves just as moved by Travolta's touching tribute.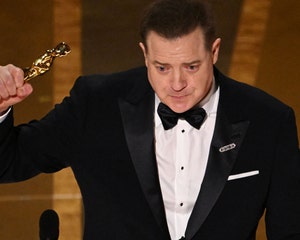 Brendan Fraser Wins Best Actor Oscar for The Whale
Brenaissance Reaches Its Oscar Peak
After returning to Hollywood following a long hiatus, Brendan Fraser achieved all of his dreams in one magical year dubbed by many the "Brenaissance." The actor, who was a staple on the big screen in the 1990s and early 2000s, has experienced a resurgence for his work in "The Whale."
On Sunday, Fraser won the Academy Award for Best Actor in a Leading Role. It was the first win and nomination of his career.
"So this is what the multiverse looks like!" he exclaimed, referencing "Everything Everywhere All at Once," before thanking director Darren Aronofsky, screenwriter Samuel D. Hunter — who also wrote the play on which the film is adapted — and his fellow nominees.
"Only whales can swim at the depth of the talent of Hong Chau and I started in this business 30 years ago and things, they didn't come easily to me," he said, before acknowledging his cast and family for all their support.
It was a bit of a frantic speech, filled with emotion, but it comes on the heels of an incredible awards season for Fraser, who has won the Screen Actors Guild Award for Outstanding Performance by a Male Actor in a Leading Role, and the Critics Choice Award for Best Actor for his role in "The Whale." He also received Golden Globes and BAFTA Awards nominations.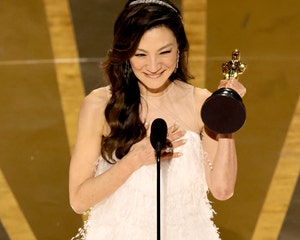 Michelle Yeoh Wins Best Actress Oscar, First Asian in Academy History
Michelle Yeoh's History-Making First Oscar
Michelle Yeoh made history on Sunday night, and did not hold back her joy in an emotional and powerful acceptance speech after winning for her work in "Everything Everywhere All at Once." With the win, she became the first actress of Asian descent to win an Oscar in the Best Actress category, and only the second woman of color after Halle Berry, who presented her the award.
"For all the little boys and girls who look like me watching tonight, this is a beacon of hope and possibilities," she said. "This is proof that dream big and dreams do come true. And ladies, don't let anybody tell you you are ever past your prime. Never give up."
"I have to dedicate this to my mom — all the moms in the world — because they are really the superheroes, and without them, none of us would be here tonight," Yeoh added. "She's 84, and I'm taking this home to her."
After thanking family and friends in Malaysia and Hong Kong, Yeoh concluded by saying, "Thank you to the Academy, this is history in the making. Thank you!"
The "Crazy Rich Asians" star made Academy Awards history even before her Oscars win on Sunday. With her nomination alone, Yeoh became the second Asian woman to receive a nod for the Best Actress Oscar. It was also the first time she was recognized by the Academy in her long-running career in Hollywood.
Yeoh has dominated the 2023 awards season, receiving many accolades for her role in "Everything Everywhere All At Once." In addition to the Oscar, she also won the Golden Globe for Best Performance by an Actress in a Motion Picture — Musical or Comedy and the Screen Actors Guild Award for Outstanding Performance by a Female Actor in a Leading Role. Among her other slew of nominations and wins were nods at the 2023 BAFTAs and Critics Choice Awards.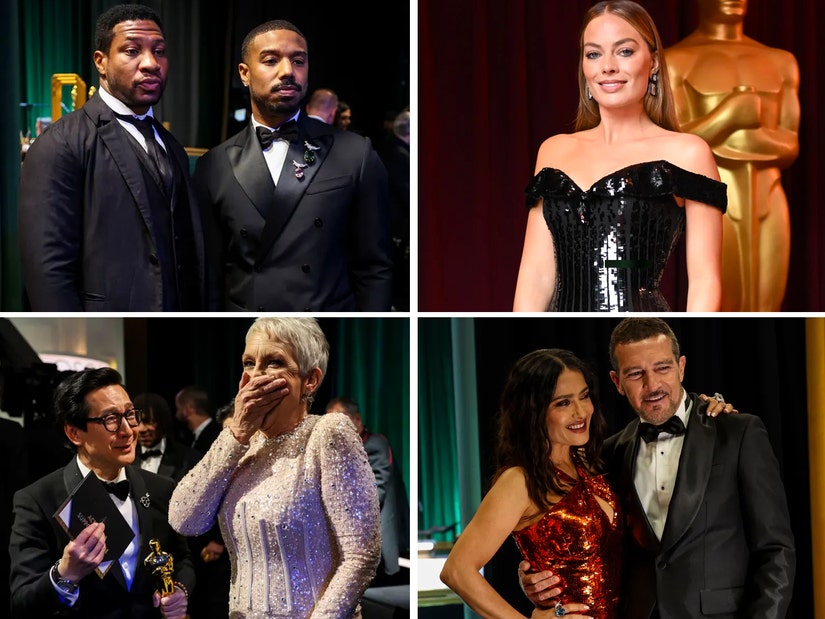 Source: Read Full Article