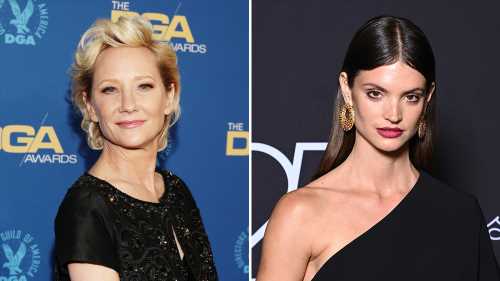 John Travolta introduced the Oscars In Memoriam segment, tearing up while remembering his "Grease" co-star Olivia Newton-John.
"They've made us smile, and became dear friends who we will always remain hopelessly devoted to," a visibly emotional Travolta said before the video montage began.
The Oscars recognized the actors and filmmakers we lost over the past year in the annual In Memoriam segment, which this year unfurled to the sound of Lenny Kravitz playing "Calling All Angels." The emotional segment is a viewer favorite, but omissions of high-profile Hollywood figures spark annual debate.
This year, Twitter lit up with people they thought should have been included during the show, including Anne Heche, "Triangle of Sadness" star Charlbi Dean and Paul Sorvino. However, all three were memorialized on the Oscars website.
Among the other stars not mentioned on-screen were Leslie Jordan, Gilbert Gottfried, Tom Sizemore and Cindy Williams.
The show is able to add entries to its In Memoriam list up to the actual ceremony date, which means that the celebrities included died between last year's Oscars on March 27 and this year's on March 12.
Hollywood greats like actors James Caan, Louise Fletcher, Angela Lansbury, Raquel Welch and Gina Lollobrigida, directors Bob Rafaelson and Wolfgang Petersen and songwriter Burt Bacharach were recognized. The final slide was reserved for Walter Mirisch, a producer and former Academy president.
Some Oscar observers were wondering whether Sacheen Littlefeather, who declined Marlon Brando's Oscar on his behalf at the 1973 Oscars and died in October, would be remembered at the Oscars. The Academy celebrated her legacy at a tribute event last year, though several articles questioned whether she was actually Native American. Littlefeather had a few small film roles and became an activist for Native American causes. She was ultimately listed on the Oscars website.
Another question was whether "In Cold Blood" star Robert Blake would be included. Not only did he die just three days before the ceremony, but his career was overshadowed by standing trial for the murder of his wife, though he was acquitted. He was found liable in a civil trial and ordered to pay her family $30 million. He was not listed either onscreen or on the Oscars website.
Read More About:
Source: Read Full Article