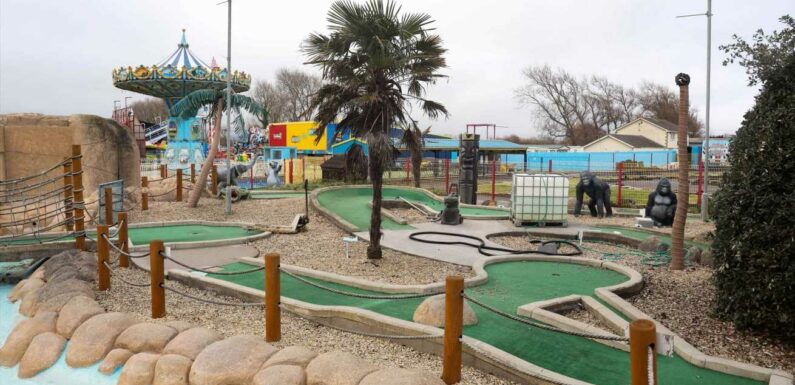 RESIDENTS of an idyllic seaside resort are devastated after it became a "ghost town" with empty bars and derelict shops.
Brean in Somerset is dominated by the giant Pontins Holiday Park, but this year thousands of holidaymakers will be missing.
For the next three years, the camp will be taken over by construction workers at the nearby Hinkley Point C nuclear power station.
Eight miles from Weston-super-Mare, empty bars and derelict shops give the impression of a resort that has seen better days – the only shops that remain open in the winter months are the Post Office and a general store.
Pontins isn't the only holiday park in Brean but it's the largest and best known so its closure will make a dent in the profits of local businesses.
Out of season, Brean is quite literally deserted. Walking down the resort's main road the atmosphere is eerie with so few people out an about.
Read More Property
Our town centre used to be a shopping hot spot – but now it's a 'ghost town'
We hate neighbour's 'Bond villain' house – it's a monstrosity & out of place
Roads normally packed with cars of holidaymakers with their suitcases and beach equipment, are empty and there is a ghostly silence in a place usually filled with noise, laughter and people having fun.
The only sound is the squawks from the seagulls above and the wind whipping across the Bristol Channel.
Most read in The Sun
Nicola Bulley's body was identified by dental records, inquest hears
Chaos at ITV as host pulls out minutes before live show
Mum failed by Nicola cops left suicide note saying 'hope my life saves another'
Horror moment Dan Walker knocked out after being hit by car & flung from bike
Outside Krackers Karaoke Bar, three men were building an extension to the bar dressed against the wintry elements in readiness of the village coming back to life in spring.
Former publican Gary Reid, 61, from Brean, said summed up the feeling of many living in the area.
He said: "It has the feel of a one-horse town where even the horse has left. At this time of year it's never very busy but we are fearful for the coming season.
"Pontins had a weekly turnover of 3000 people coming into the resort and although there are many caravan sites around the loss of so many visitors and there spending power will be huge."
Dan Dare, 57, a former motorbike stunt rider, from Weston-super-Mare, said: "Whenever I ride into Brean The Specials song 'Ghost Town' always comes into my head.
"I think that the loss of so many tourists will have a massive effect on small shop keepers in the area.
"All these construction workers aren't going to be buying buckets and spades or rubber rings for the beach.
"So the profits of these small shops are really going to be hit hard I think.
"Things might get a bit busier when the 'Brummie Navy' head to the coast. They come down in their hundreds from Birmingham because this is the closest seaside resort to the city."
Visitors Tony and Jackie Edwards from Evesham love coming to Brean for the very fact that it is quiet.
Jackie, 65, said: "It's not busy and that's the way we like it – it is our special place. Somewhere we can walk our dog Jackie and know we won't come across many people.
"It does lack atmosphere at this time of year when the holidaymakers aren't here and I'm sure it's a struggle for businesses around here."
It has the feel of a one-horse town where even the horse has left
A parade of shops opposite the entrance to Pontins looked very sad. Stardust Amusements, Brean Beach Shop, Giftique and the Bread and Butter bakery and sandwich shop were all closed for the winter.
The Brean Down Inn on Warren Road was also locked and bolted, the pub's bright blue converted horse trailer for 'Alfie's BDI Baps' takeaway parked outside, waiting for the holiday season to resume.
For the warden patrolling the beach in his truck, the winter months are reasonably uneventful as so few people visit the area.
Read More on The Sun
Boots makes big change to 2,247 stores pulling essential products from shelves
ITV confirms future of popular show after a year off screen
He said: "There will be a few Brummies coming back to their caravans soon but it doesn't really pick up before Easter.
"But I've lived and worked down here all my life. I love it here whether it's quiet or busy – I wouldn't want to be anywhere else."

Source: Read Full Article