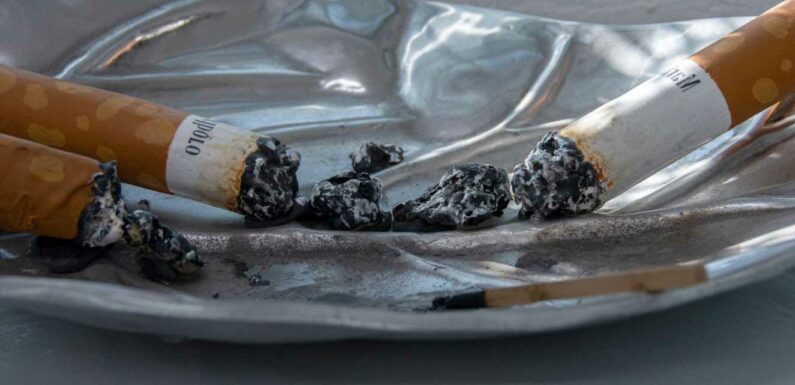 SMOKERS will see the cost of a pack of cigarettes hit a whopping £11.80 as the Chancellor announces a huge tobacco tax hike.
The price of a 20-pack will go up by £1.15 under the latest increase, which will come in at 6pm this evening.
Jeremy Hunt has confirmed the hike in the House of Commons as part of the Spring Budget.
Cigarettes levies will go up by 12.7% in line with the Retail Price Index (RPI), plus an extra minimum 2% on top which is applied to tobacco products.
This means a more than 15% increase.
The RPI is a measure of inflation that's published monthly and is used to measure the change in the cost of retail goods and services.
READ MORE IN MONEY
Follow live as Jeremy Hunt delivers 'back to work' Budget with free childcare
Smokers face biggest price hike ever next month with packs of fags set to rise
An average pack of 20 cigarettes will go up by £1.15 to around £11.80 from £10.65.
Meanwhile, the priciest pack could go up from £15.35 to £17.65 – a £2.30 increase.
Mr Hunt's price hike will see a 30g pack of hand rolling tobacco rise by £2 to £14.90 due to higher rates.
There had been predictions that the hated tax on cigarettes would be increased in today's Budget.
Most read in Money
Follow live as Jeremy Hunt delivers 'back to work' Budget with free childcare
Millions of households to save £160 on energy bills in huge Budget change
Massive Universal Credit change to be revealed that risks benefits being CUT
Jeremy Hunt's Budget is good news for parents and drivers
The last time cigarette prices were increased was in the 2021 Budget.
At the time, 88p was added to the most expensive pack – which saw its price go up from £12.73 to just over £13.60.
In 2020, the Chancellor announced an above-inflation tax increase on fags of 2%.
The price of cigarettes usually increases with inflation each year unless the Chancellor intervenes to freeze the rates.
This is what Rishi Sunak did in his Spring 2022 Budget, when he was Chancellor in Boris Johnson's cabinet.
Taxing tobacco is a huge revenue-raiser for the government, with £10.7billion collected in 2022 , which was 1.2% of the total tax take. 
The tax is charged to companies making or importing cigarettes in the UK.
When the tax is raised, the cost is passed on to consumers who have to pay more for tobacco products in the shops.
Ministers are currently aiming to make Britain "smoke free" by 2030, meaning fewer than 5 per cent of adults have the habit.
The hope is that with the ever-increasing price, it will deter people from buying them.
What else has been announced?
Meanwhile, households will be pleased to know that the Energy Price Guarantee is not increasing but is staying frozen at £2,500 for the average household until July.
Plus, drinkers face huge tax hikes after the Chancellor confirmed that the price of wine and spirits will rise from August.
Mr Hunt also confirmed that energy firms will be barred from charging four million families who use prepayment meters more for their energy.
Motorists have also been given a boost as local councils are set to receive £200million to fix potholes.
Drivers have escaped a price hike as fuel duty has been frozen for the 13th year in a row and the 5p cut has been kept.
Read More on The Sun
The Spanish hotspot which is 20C and has 88p beers
Nando's has made a major change to menus – and fans won't be happy
Do you have a money problem that needs sorting? Get in touch by emailing [email protected]
Source: Read Full Article