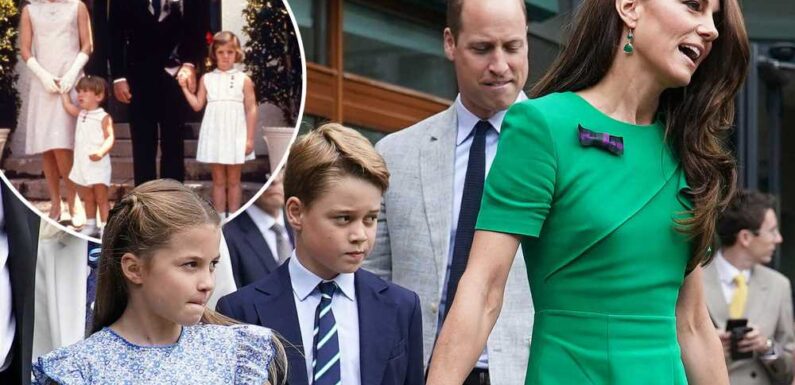 More On:
prince william
Royal family doesn't 'want another kid writing a book' after 'Spare': royal expert
Prince George celebrates milestone 10th birthday in symbolic blue-and-white ensemble
Kate Middleton keeps green streak going in Roland Mouret dress at the Wimbledon 2023 men's finals
Princess Charlotte makes her Wimbledon debut with Prince William, Kate Middleton
Prince William and Kate Middleton have presented a master class in image branding in the year since Queen Elizabeth's passing.
It began just a day after the 96-year-old monarch's passing on Sept. 8, 2022, as the new King Charles decreed that that William would be Prince of Wales and Kate, Princess of Wales — a title very much tied to fan favorite Princess Diana, William's mother.
The couple's lives — and those of their three children — changed in a heartbeat as they moved one rung closer to King and Queen and ushered in what royal watchers are describing as a "new Camelot."
Indeed, Kate and William have mounted a charm offensive like the one that saw President John F. Kennedy and First Lady Jackie Kennedy bewitch America and the world with their young family and style.
"William and Kate have created numerous official and informal photo opportunities, projecting a positive and united image as a couple," global PR and branding guru Mark Borkowski told Page Six.
"This curated and idealized image indicates their determination to own the narrative of hard-working, empathetic young royals."
Borkowski also noted that the Waleses, both 41, have left Prince Harry and Meghan Markle — with whom Page Six told they remain very firmly estranged — in the shade.
"William and Kate's image far outweighs Harry and Meghan's social media issues and their attempt to conquer Hollywood," said Borkowski.
And sources say that William and Kate, who like to document their lives with the help of glossy "home" videos made by filmmaker Will Warr, have figured out what it takes to win the PR war.
They brought Prince George, 10, and Princess Charlotte, 8, to the men's final at Wimbledon earlier this month — guaranteeing their cute smiles would dominate websites and newspapers. Five-year-old Prince Louis, meanwhile, made his first official engagement during the "Big Day Out" festivities for his grandfather King Charles' coronation. All three kids have joined their parents on the balcony at Buckingham Palace.
"Kate and William have given us a master class in introducing the children to 'The Firm' [the nickname for the royal family industry]," one palace staffer told Page Six. "It's a delicate way for the children to experience official engagements and get used to the public profile — and a careful balance when they're of an age that they and their schoolmates will be aware of when their pictures are in the papers."
As royal patron of the All England Lawn Tennis and Croquet Club (AELTC), Kate also released a video challenging tennis champ Roger Federer to a game and celebrating the work of Wimbledon's ballgirls and ballboys.
"The recent appearance of Kate pre-tournament with the ball boys and girls was a great stunt," said Borkowski.
"So was filling the Royal Box [at Wimbledon] with the kids and the endless long lens shots of the children's reactions. They clearly know there is a phony war with Harry and Meghan."
There has even been a change in William and Kate's body language — whereas they barely touched each other in public before, Kate can now be seen giving William a cheeky pat on the butt.
"A lot of people remarked to me how relaxed they look out and about, they're not just ribbon cutting," said a source who knows the couple: "They're both trying to deliver impact. They're excited about the work they're doing and with that is a sense of ease and confidence, they can get out there and really be their authentic selves."
Insiders say the effort really did begin the day Queen Elizabeth died, when Kate was at the school gates like any regular mom waiting to collect her kids, sources told Page Six.
It was Prince George, Princess Charlotte and Prince Louis' very first day at the private Lambrook School near their new home in Windsor.
Later, it was the Waleses who made the decision to call Harry and Meghan, despite the issues between the couples greeting mourners at Windsor.
"It's been a huge year for William and Kate," a source close to the couple said.
The source added the couple want to be extremely careful still about protecting their children's privacy — despite the fact that Charles loves having them on show and wants to have more outings with them.
During their first year as the Prince and Princess of Wales, they also made their first visit to the US in 13 years, visiting Boston in December to celebrate the Earthshot Prize, a cause launched, in part, by William.
Page Six was in the crowds as they made their way through the city, with hordes standing in the freezing rain to welcome them. William also met up JFK's daughter, Caroline Kennedy, and grandchildren Tatiana and Jack Schlossberg,
"It was a big deal for them," said the source, who confirmed the couple has not hired image experts. "There's no army of marketing and branding people behind the scenes shaping everything.
"There's a constant dialogue with their team about what's important to them. But every element of what they do is thought about."
Bethan Holt, royal fashion expert and fashion director at the UK's Telegraph, said that Kate's style has changed, too, as she's taken cues from the late Princess Diana
"There have been sure but subtle changes to Kate's style since she became Princess of Wales, said Holt.
"Her makeup has become sharper and more contoured which gives her a very elevated look. With her fashion, she's investing in a lot of new pieces, with less [mass market] and more designer and bespoke pieces. She's also opting for much more tailoring, which moves along her style from 'Dainty Duchess' to 'Power Princess.'"
Kate donned a mint-green, shoulder-padded Balmain jacket at Wimbledon, and an '80s-style emerald green outfit by Singaporean designer Andrew Gn with a matching wide-brimmed hat by Philip Treacy at Trooping the Colour in June. She completed the look with sapphire and diamond earrings that previously belonged to Princess Diana.
"I'd compare the style era we see Kate embracing now to Diana in the mid-'80s, which is often known as her 'Dynasty Di' era when she embraced power dressing and bold colors — really stepping into her high-profile future queen role," Holt said.
"We see that same confidence with Kate now. She knows everyone is looking at her and plays to that as a huge strength."
Hugo Vickers, royal historian and friend of the royal family, said that since the coronation, "Everything [Kate and Wiliam have done has been perfect … They get on with their duties, working within the system — unlike the Sussexes."
One British socialite who knew both Charles and Diana intimately believes William will create his own Camelot-style "shadow court" of friends and "thinkers" — just like Charles did with Camilla at his country estate, Highgrove, before he was king.
"It's a chance to play king without the responsibilities," said the source.
William will be back on American shores in September, jetting to NYC to attend the Earthshot Prize Annual Innovation Summit after his appearance was canceled last year due to his grandmother's death.
But it may not all be as easy as it looks.
"I do believe they have some challenges ahead — the hamster wheel has an infinite cycle demanding positivity weekly," said Borkowski.
The the source who knew Charles and Diana added: "They need keep on the right track. After all, Camelot did not end well for the Kennedys."
Share this article:
Source: Read Full Article