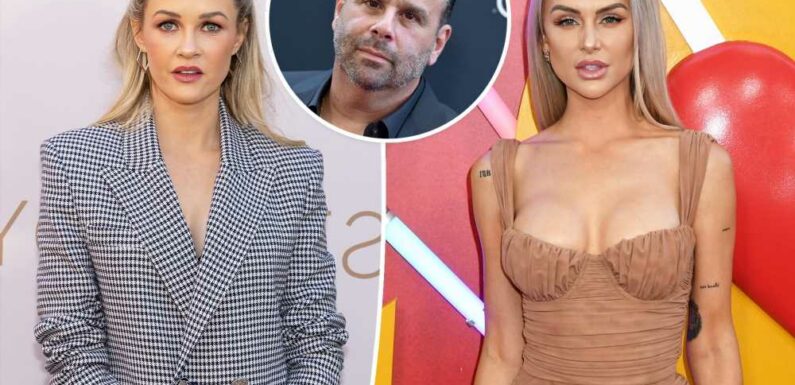 More On:
randall emmett
Randall Emmett's ex-assistant claims he had to pay the producer's prostitutes
Randall Emmett posts about taking 'high road' amid ex Ambyr Childers' claims
Lala Kent reflects on Randall Emmett split, supports his ex-wife, Ambyr Childers
Ambyr Childers claims ex Randall Emmett's attorney threatened to 'take this c–t out'
Randall Emmett claimed his ex-fiancé, Lala Kent, and his ex-wife, Ambyr Childers, are "working together" to take him down.
In court documents obtained by Page Six, the 51-year-old denied being emotionally and verbally abusive to Childers during their eight-year marriage.
"I believe that Ambyr and Lauren are working together in [an] attempt to destroy my reputation to give them both an advantage for custody," Emmett claimed. "Ambyr has completely fabricated abuse that never happened and I believe that Lauren has convinced her to do so."
Childers, 34, filed a restraining order — which has since been denied — against Emmett in October after she was allegedly sent "threatening" emails between her ex-husband and his lawyer, Ben Valencia.
"Ambyr has never made any allegations of domestic violence against me during our marriage, nor has she ever made allegations of domestic violence against me since we separated," he claimed.
"Ambyr states she cannot remember specific incidents of abuse. She cannot remember specific incidents, because there are none."
Emmett went on to allege that he has never put the daughters he shares with Childers — London, 12, and Rylee, 9 — in an unsafe situation.
However, he believes the two women have planned an elaborate scheme with one another in order to win their respective custody battles.
"Ambyr's claims now stem from her friendship with my former fiancée, Lauren Burningham, the mother of my youngest daughter, Ocean," he stated.
"Lauren and I are in the middle of a very contentious custody litigation, in which Lauren has made false allegations of abuse, though she has never filed a DVRO Request against me, because she knows she is not a victim of abuse."
In fact, the "Irishman" producer went on to claim that "if anyone is a victim of abuse in this relationship, it is me."
While Childers and Emmett split in 2017, the movie producer and "Vanderpump Rules" star, 32, went public with their relationship less than one year later.
Despite welcoming their 1-year-old daughter in March 2021, Kent and Emmett split that November after the reality star alleged that he "tackled" her and pushed her to the ground when she questioned his infidelity.

Kent and Emmett share 1-year-old daughter Ocean.
randallemmettfilms/Instagram

Kent and Emmett share 1-year-old daughter Ocean.
lalakent/Instagram
Tia Mowry shares 'awakening' that led to divorce from Cory Hardrict
View Slideshow
Source: Read Full Article