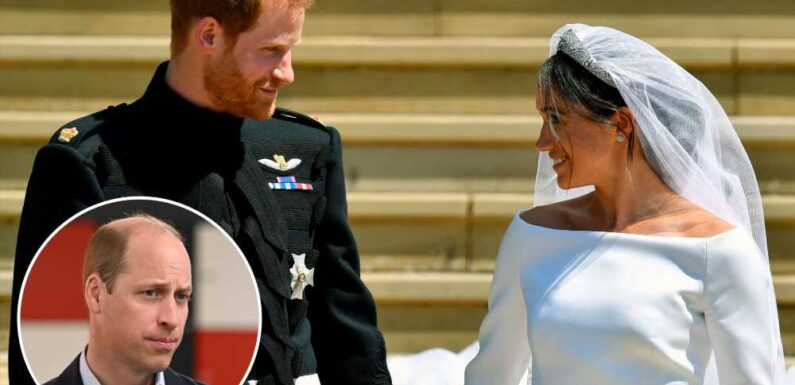 WITH the world watching, it's no surprise there was a bit of tension before Harry and Meghan's 2018 nuptials.
But despite rumours of behind-the-scenes feuds over bridesmaid dresses, Father-in-laws, and tiaras, it was the topic of facial hair that allegedly left Prince William fuming.
The wedding was inching closer when it became apparent Prince William wasn't happy with the fact Harry was planning to keep his beard for the big day, Harry noted in his memoir, Spare.
Despite his brother's fury over the beard, Harry had already received permission from his grandmother, the late Queen Elizabeth, to keep it.
In his memoir he explains that the beard made him feel calmer, so he was allowed to ditch the razor and keep his whiskers.
"But then I explained it to my brother and he… bristled?
READ MORE ON THE ROYALS
ROYAL ROMANCE
'Kate's got a naughty sense of humour', Prince William lifts lid on romance
FLIX OFF
The Crown blasted for 'piling suffering on Wills' with 'insensitive' scene
"Not the done thing, he said. Military rules, so forth."
"A beard was thought by some to be a clear violation of protocol and long-standing norms, especially since I was getting married in my Army uniform," Harry says in the book.
The confrontation eventually lead to Harry showing William that plenty of Royal men tied the knot with a beard throughout history, including Edward VII and George V.
But once William found out Harry had already got the Queen's permission to keep the beard things took a nasty turn.
Most read in Royals
SHY SUSSEX
'Awkward' Harry 'quietly suffering' alongside Meghan Markle at Katy Perry gig
MARKED TIME?
Meghan & Harry's marriage will last 'years rather than decades', claims editor
FRESH 'SNUB'
Harry 'snubs' Charles AGAIN and 'rejects invitation to King's birthday party'
ROYAL GESTURE
Camilla to make sweet tribute to late Queen at State Opening of Parliament
"You put her in an uncomfortable position, Harold! She had no choice but to say yes," Harry recalls William saying in the book.
The alleged row continued for the next week, both in person and over the phone.
Eventually, things came to a head when William ordered Harry to ditch the beard, admitting it wasn't fair because he wasn't allowed to keep his.
"Ah, there it was. After he'd come back from an assignment with Special Forces, Willy was sporting a full beard, and someone told him to be a good boy, run along and shave it.
"He hated the idea of me enjoying a perk he'd been denied," Harry says.
Despite the feud, Harry kept beard for the wedding, which took place at St George's Chapel.
He still sports the beard today, while William remains clean shaven, but has never publicly commented on the matter.

Source: Read Full Article