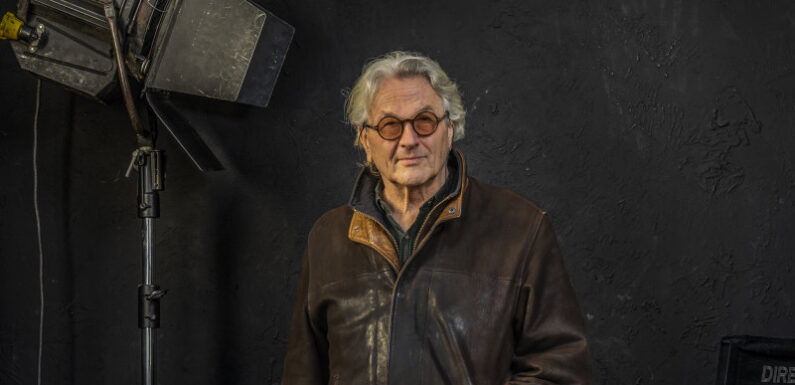 Save articles for later
Add articles to your saved list and come back to them any time.
Key points
The NSW government has cut incentives to the film and television industry, worth an estimated $60 million a year.
The incentives were originally designed to attract offshore and Australian films and television productions to the state.
Production houses say children's content and First Nation's programming will be particularly threatened.
One of the country's most distinguished filmmakers, George Miller, has described the cuts to film and television funding in the NSW budget as retrograde, misguided and naive.
The director of the Mad Max movies and Oscar-winning Happy Feet and its sequel said they would result in an exodus of screen talent to other locations – both within Australia and internationally – that still offered competitive filmmaking incentives.
"There's really no understanding about how these industries work": George MillerCredit: Tim Bauer
Miller, who is deep into post-production on the Mad Max film Furiosa in Sydney, said the Minns' government's cuts were particularly damaging to young people coming out of screen training institutions who would be left without work.
"It goes without saying really that it's pretty retrograde and misguided," he said. "There's really no understanding about how these industries work.
"There's going to be an exodus of already-existing skills talent, which seems to be a recurring narrative of the movie and television industry.
"And probably worse, with jobs being eroded, so many people coming out of all the educational institutions basically will have nowhere to go."
The screen industry has launched a campaign against cuts in this week's NSW budget to three major programs, worth an estimated $60 million and designed to attract film and television production and digital and visual effects work.
Industry representatives said these cuts threatened 85 film and television projects and almost 30,000 jobs across the state.
NSW Arts Minister John Graham has acknowledged the seriousness of the issue and restored $5 million for the most critical projects affected. He also promised to work through stranded submissions on a case-by-case basis in consultation with the sector.
While Graham blamed the former Coalition government for secret cuts shortly before the last election, the NSW Opposition has said the government should own its cuts.
Miller, who has also produced landmark Australian productions including Babe, Bodyline, The Dismissal, Vietnam and Dead Calm, said he was astonished by how many disciplines were involved in the screen industry compared to when he made his name with the first Mad Max films.
"There are mathematicians, physicists, code writers and innovators of all kinds," he said. "If they're already here, there'll be an exodus to places like Queensland or Victoria or even more dramatically to Wellington, New Zealand."
Miller said that government incentives had contributed to turning that city, which had less than a tenth the population of Sydney, into a film-making powerhouse that had attracted Hollywood talents such as James Cameron and Steven Spielberg to join New Zealand's own Peter Jackson.
"That's the story all around the world," he said. "Without these incentives, which are so meagre in the scheme of things, people just go to where it's available."
"George Miller with star Chris Hemsworth and producer Doug Mitchell at a 2021 announcement that Furiosa would shoot in NSW."Credit: "Brook Mitchell"
Miller, who said incentives and the talent pool were crucial in keeping Furiosa in NSW rather than in other states, said the government had to decide whether it wanted to have a film and television industry.
"We saw this happen in Hollywood," he said. "There was a big exodus to Toronto, Canada, when they [introduced more competitive] incentives, and within the United States.
"Georgia, Texas and New Mexico all ended up doing much more significant work than they had in Hollywood for the same reason that has NSW rather erratically frittering away of all this education and talent and skill set for no good reason. It doesn't make any sense"
Miller said he had been in the industry long enough to see that new governments often withdrew support until they recognised the benefits.
"There's no consistency, one government to the next," he said. "But people have to keep working.
"When there's no consistency, it's too unpredictable and too dysfunctional so they go to where these sorts of incentives are more stable."
Miller said the state government should reverse its "apparently casual decision" to cut funding.
"What they get back in return far exceeds the so-called investment by the state," he said. "It's not a hand-out at all.
"It's purely an incentive to attract the work. Everybody wins, right through the culture, right through the economy.
"I'm a bit bewildered by the inconsistency and, to be perfectly honest, the degree of naivety. It means they haven't really done their homework to understand how these economies work."
Email Garry Maddox at [email protected] and follow him on Twitter at @gmaddox.
Find out the next TV, streaming series and movies to add to your must-sees. Get The Watchlist delivered every Thursday.
Most Viewed in Culture
From our partners
Source: Read Full Article