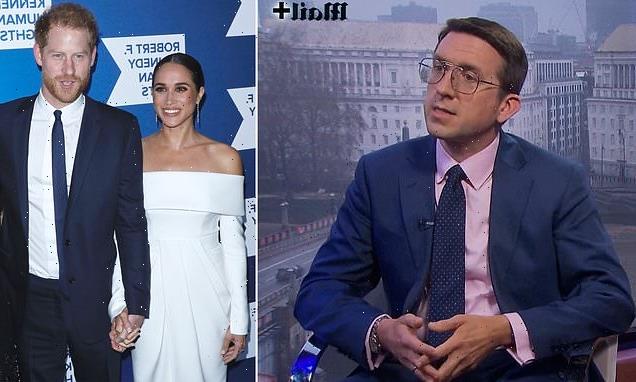 Harry and Meghan's 'revenge' on the royals? RICHARD EDEN tells Palace Confidential that announcing Archie and Lili's titles is a 'retaliation' for the loss of Frogmore Cottage
Royal experts ask the question if Prince Harry is seeking revenge on his father
After his eviction from Frogmore Cottage he revealed his children's titles 
READ MORE: Prince Harry and Meghan Markle are 'angry and shocked' 
Is Prince Harry enacting revenge on his father King Charles III for evicting him? That is the question hot the lips of our royal experts. 
After the Duke and Duchess of Sussex announced that their children will be 'Prince' and 'Princess' through the pages of People magazine, after a series of perceived slights against them, this could be an act of retaliation. 
So says the Daily Mail's Diary Editor Richard Eden who believes that Harry and Meghan will have felt particularly hurt when the King evicted them from their UK base, Frogmore Cottage a few weeks ago. 
Speaking on the Mail Plus Royal talk show Palace Confidential Richard said: 'It does strike me as revenge by Harry and Meghan. 
Prince Harry and Meghan Markle revealed this week that their children will be known as Prince Archie of Sussex and Princess Lilibet Diana of Sussex 
'What we've seen is two big developments over the past week.'
He continued: 'Last week it emerged that they're being evicted from their only British home, which they described as their forever home at Frogmore Cottage, but then we also learnt that Camilla's grandchildren were going to have roles at the Coronation.'  
'Both things I think will have upset Harry and Meghan,' he said. 
'They'll be thinking "What can we do to have our revenge?" and that's making sure that our children can have these two titles."'
Speaking on our Royal talk show Palace Confidential Daily Mail Diary Editor Richard Eden said he believed that the Sussexes were acting out of 'revenge'
Also speaking on the show the Daily Mail's Royal Editor Rebecca English suggested that the Sussexes 'forced the Palace's hand' over the matter after 'panicking' that the King could act to prevent it.
She explained that the latest tensions over titles arose after the death of the late Queen Elizabeth II, with Harry and Meghan upset that nothing had been updated on the Royal Family's official website.
'They were a bit panicky behind the scenes that the King could bring in letters patent to change the existing rules to make it not automatic they became a prince and princess and for Harry this was all tied up with issues of security,' she told the show. 
'So there has been a bit of toing and froing and I personally think the Sussexes have forced the Palace's hand on this.'
https://youtube.com/watch?v=iR_Prgh9iOk%3Frel%3D0%26showinfo%3D1%26hl%3Den-US
Source: Read Full Article