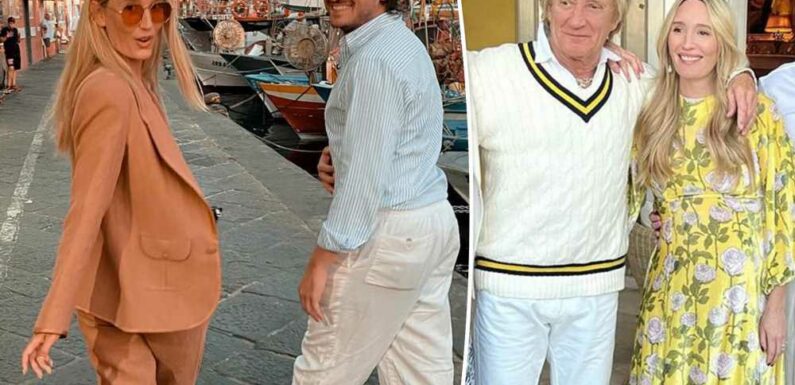 More On:
rod stewart
Rod Stewart's son Sean marries girlfriend Jody Weintraub in Las Vegas
Kimberly Stewart, Benicio del Toro pose for rare photo with daughter Delilah
Rod Stewart's son Aiden, 11, rushed to hospital after collapsing during soccer match
Rod Stewart's son Sean 'will make a full recovery' after car accident
Rod Stewart attended his pregnant daughter Ruby Stewart's baby shower after she announced she is expecting her first child with her fiancé, Jake Kalick.
The "Maggie May" singer, 78, flashed a big smile as he posed for rare photos with Ruby, 35, and other family members in several posts shared to her mom Kelly Emberg's Instagram Monday.
Rod looked like a proud dad and was dressed stylishly in a cream cable-knit sweater with a yellow-and-black trim layered over a collared shirt, white slacks and sneakers. His signature spiky blond hair looked tousled yet tame.
"What a beautiful baby shower! Ruby was glowing. Everyone is so excited to welcome baby Kalick into the world! I'm so happy for Ruby & Jake and of course me! 🤣🍼🤣. I can't wait!!!" Emberg, 63, captioned a selfie with her rock star ex.
In another post, she added, "Ruby you are so beautiful and I can't wait to experience you becoming a mother for the first time! Enjoy your baby moon with Jake! Only a month Mishroom away!"
Weeks later, she announced the couple's engagement with an emotional message on social media.
"Yes to…Always finding your hand to hold in the middle of the night… to always making a s—tty situation something we can laugh about… to calling me out on my passive aggressive bulls–t," Ruby wrote.
"to knowing how and when to hold me with out me even having to ask… to always telling me I'm beautiful even when I'm sick and swollen… to always hearing your tone deaf singing with all your heart… to never being able to dance with you with out laughing at you… to always knowing my home is wherever you are…"
Alongside a black-and-white photo with Kalick in which Ruby flashed her diamond engagement ring, she concluded, "Yes to this life… our love… Because Forever doesn't sound like a long time if it's spent with you… ♾️."
Along with Ruby, Stewart shares seven other children with four more women.
The knighted musician had a daughter, Sarah, now 59, with his ex-girlfriend Susannah Boffey.
He and his first wife, Alana Stewart, to whom he was married from 1979 to 1984, share two kids: Kimberly, 43, and Sean, 42.
Rod also shares daughter Renee, 30, and son Liam, 28, with his second wife, Rachel Hunter, to whom he was married from 1990 to 2006.
He then married his current wife, Penny Lancaster, in 2007. They share two sons: Alastair, 17, and Aiden, 12. Lancaster, 51, was formerly a lingerie model but now works as a police officer in London.
Stewart has a lot to celebrate lately, as his son Sean married Jody Weintraub in Las Vegas on Valentine's Day. The nuptials came after Sean recovered from a car accident in which he suffered minor injuries after being hit by a truck in October 2022.
Share this article:
Source: Read Full Article