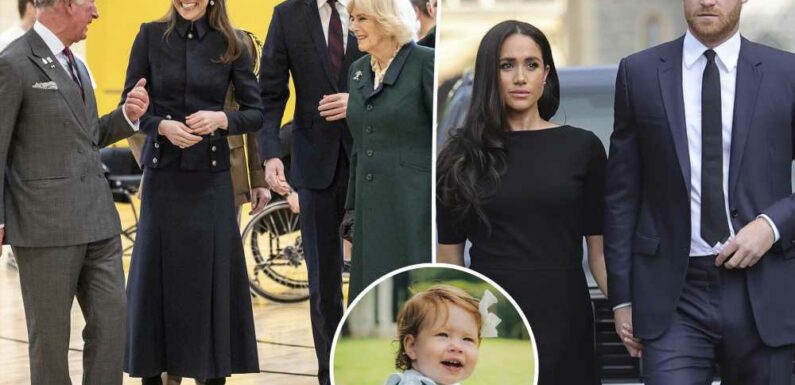 More On:
lilibet diana mountbatten-windsor
Princess Eugenie's son, August, looks just like Prince Harry's daughter, Lilibet
Prince Harry and Meghan Markle leave their kids out of holiday card
Meghan Markle's baby carrier for Lilibet and Archie has tons of great reviews
Prince Harry and Meghan Markle share unseen photos with kids Archie, Lilibet
A religious sacrament wasn't enough to bring the royal family to the US.
Prince Harry and Meghan Markle had their daughter, Princess Lilibet, christened last Friday and extended invitations to the royal family — but the family failed to attend, according to People.
However, Prince Harry, Kate Middleton, King Charles III and Queen Consort Camila were not among the group at the 21-month-old's reception.
Perry, 53, who allowed Harry and Meghan to stay at his house when they first arrived to California, was seen arriving in Montecito, Calif., last week ahead of the event.
He flew in from Atlanta with a 10-person gospel choir that sang "Oh Happy Day" and "This Little Light of Mine" — a song that was played at Meghan and Harry's wedding, the magazine reported.
More must-see royals coverage:
How Prince Harry and Meghan Markle met
Prince William and Kate Middleton's relationship timeline
Royal family tree and line of succession
Although Harry, 38, and Meghan, 41, exited the royal family, both Lilibet and her brother, Archie, received royal titles after Queen Elizabeth II's death under rules set out by King George V.
It appears invitations are being sent across the pond in both directions, as Harry and Meghan recently received "correspondence" regarding King Charles III's coronation in May.
"I can confirm The Duke has recently received email correspondence from His Majesty's office regarding the coronation," a spokesperson for the pair told The Sunday Times.
"An immediate decision on whether The Duke and Duchess will attend will not be disclosed by us at this time."
Share this article:
Source: Read Full Article