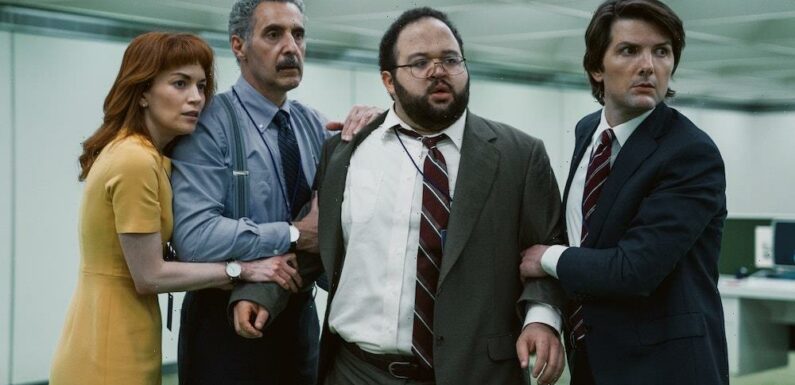 "Severance," "Station Eleven" and "The Daily Show" are among the frontrunners (with two nods each) as the Directors Guild of America has announced the 2023 nominees in television categories, including Dramatic Series; Comedy Series; Movies for Television and Limited Series; Variety/Talk/News/Sports – Regularly Scheduled Programming; Variety/Talk/News/Sports – Specials; Reality Program, as well as for children's programs, commercials and documentary.
This year's DGA Awards take place on Saturday, February 18, 2023 at The Beverly Hilton Hotel in Beverly Hills. Here are the nominees:
DRAMATIC SERIES
JASON BATEMAN
Ozark, "A Hard Way To Go"
(Netflix)
Mr. Bateman's Directorial Team:
Unit Production Managers: Dana Scott, Patrick Markey
First Assistant Director: Townson Wells
Second Assistant Director: Jill Somers
Second Second Assistant Director: Sarah Gorczyk
Additional Second Assistant Director: Evan Marsh
VINCE GILLIGAN
Better Call Saul, "Waterworks"
(AMC)
Mr. Gilligan's Directorial Team:
Unit Production Manager: Richard E. "Slab" Chaplain Jr.
First Assistant Director: Angie Meyer
Second Assistant Director: Louis A. Lanni
Second Second Assistant Director: Magin Gomez
Additional Second Assistant Director: Nathan E. Davis
SAM LEVINSON
Euphoria, "Stand Still Like the Hummingbird"
(HBO)
Mr. Levinson's Directorial Team:
Unit Production Manager: Will Greenfield
First Assistant Directors: Valerie Johnson, Sally Brunski
Second Assistant Directors: Cindy King, Colin Duffy
Second Second Assistant Directors: James Chestnut
Additional Second Assistant Director: Aaron Rose Leone
AOIFE MCARDLE
Severance, "Hide and Seek"
(Apple TV+)
Ms. McArdle's Directorial Team:
Unit Production Manager: Kristyn Macready
First Assistant Directors: Ellen Parnett, Kit Bland
Second Assistant Directors: Sahar Shmolevitz, Melinda Ziyadat
Second Second Assistant Directors: Kelsi Russell, Jack A. Birdsall
Additional Second Assistant Directors: Skylar Loraquette, Alexander Hirschl
Location Manager: Ryan Smith
BEN STILLER
Severance, "The We We Are"
(Apple TV+)
Mr. Stiller's Directorial Team:
Unit Production Manager: Kristyn Macready
First Assistant Director: Marco Londoner
Second Assistant Director: Matt Lake
Second Second Assistant Directors: Kelsi Russell, Justin Bischoff, Jack A. Birdsall
Location Manager: Ryan Smith
***
COMEDY SERIES
TIM BURTON
Wednesday, "Wednesday's Child is Full of Woe"
(Netflix)
BILL HADER
Barry, "710N"
(HBO)
Mr. Hader's Directorial Team:
Unit Production Manager: Aida Rodgers
First Assistant Director: Gavin Kleintop
Second Assistant Director: Erin Stern Linares
Second Second Assistant Directors: Yarden Levo, Chalis Romero
AMY SHERMAN‑PALLADINO
The Marvelous Mrs. Maisel, "How Do You Get to Carnegie Hall?"
(Amazon)
Ms. Sherman‑Palladino's Directorial Team:
Unit Production Managers: Dhana Rivera Gilbert, Meghan K. Wicker
First Assistant Director: Julie A. Bloom
Second Assistant Director: Lisa McPherson
Second Second Assistant Directors: Lincoln Major, Peter Nix
Additional Second Assistant Directors: Cameron Boone, Conor Griff
Assistant Unit Production Managers: Nick Thomason, Luca Waldman
Location Manager: Jose Guerrero
CHRISTOPHER STORER
The Bear, "Review"
(Hulu)
Mr. Storer's Directorial Team:
Unit Production Manager: Carrie Holt De Lama
First Assistant Director: Duccio Fabbri
Second Assistant Director: Dan Gutierrez
Second Second Assistant Director: Nicole McGovern
Location Manager: Maria C. Roxas
MIKE WHITE
The White Lotus, "BYG"
(HBO)
Mr. White's Directorial Team:
Unit Production Manager: Mark Kamine
First Assistant Director: Justin Ritson
Second Assistant Director: Joe Landry
Second Second Assistant Director: Bobby Teten
***
MOVIES FOR TELEVISION AND LIMITED SERIES
ERIC APPEL
Weird: The Al Yankovic Story
(Roku Channel)
Mr. Appel's Directorial Team:
Unit Production Manager: Jason C. Brown
First Assistant Director: Emily Neumann
Second Assistant Director: Julie Cummings
Second Second Assistant Director: Oscar Flores
DEBORAH CHOW
Obi‑Wan Kenobi
(Disney+)
Ms. Chow's Directorial Team:
Unit Production Managers: Thomas Hayslip, Susan McNamara
First Assistant Director: Katterli Frauenfelder
Second Assistant Director: Jeff Hubbard
Second Second Assistant Directors: Isaac Mejia, Franny Stafford
Additional Second Assistant Director: Alaina Neumann
JEREMY PODESWA
Station Eleven, "Unbroken Circle"
(HBO Max)
Mr. Podeswa's Directorial Team:
Unit Production Manager: David Nicksay
First Assistant Directors: Andrew Shea, Derek Peterson, Jennifer Wilkinson
HELEN SHAVER
Station Eleven, "Who's There?"
(HBO Max)
Ms. Shaver's Directorial Team:
Unit Production Manager: David Nicksay
First Assistant Director: Jennifer Wilkinson
Second Assistant Director: Anna Vogt
TOM VERICA
Inventing Anna, "The Devil Wore Anna"
(Netflix)
Mr. Verica's Directorial Team:
Unit Production Manager: Brette Billow, Mary Kane (LA Unit)
First Assistant Directors: Dylan Hopkins, Marisia Moreno, Carol Vitkay (LA Unit)
Second Assistant Directors: Adam Bernard, Maggie Callis, Cara McCastlain Fisher (LA Unit)
Second Second Assistant Director: Pam Giangreco, Ellen Parnett, Heidi Hinzman (LA Unit)
Location Manager: Kristin Dromboski
***
VARIETY/TALK/NEWS/SPORTS – REGULARLY SCHEDULED PROGRAMMING
PAUL G. CASEY
Real Time With Bill Maher, "Episode #2010"
(HBO)
Mr. Casey's Directorial Team:
Associate Director: Stacy Talbot
Stage Managers: Brian Anderson, Patrick Whitney
JIM HOSKINSON
The Late Show with Stephen Colbert, "Episode #1333"
(CBS)
Mr. Hoskinson's Directorial Team:
Associate Directors: Yvonne De Mare, Karen Yaeger
Stage Managers: Mark McKenna, Jeff Leib
DAVID PAUL MEYER
The Daily Show with Trevor Noah, "Brandi Carlile Discusses Her New Deluxe Album and Performs "You and Me on the Rock""
(Comedy Central)
Mr. Meyer's Directorial Team:
Associate Director: Adrienne Ford
Stage Managers: Bennymar Almonte, Nick Bailey
LIZ PATRICK
Saturday Night Live, "Host and Musical Guest Jack Harlow"
(NBC)
Ms. Patrick's Directorial Team:
Associate Directors: Michael Mancini, Michael Poole, Laura Ouziel‑Mack
Stage Managers: Gena Rositano, Chris Kelly, Eddie Valk
PAUL PENNOLINO
Last Week Tonight with John Oliver, "Afghanistan"
(HBO)
Mr. Pennolino's Directorial Team:
Associate Director: Elliot Mendelson
Stage Managers: Jeff Leib, Mark McKenna, Craig Spinney
***
VARIETY/TALK/NEWS/SPORTS – SPECIALS
IAN BERGER
The Daily Show with Trevor Noah Presents: Jordan Klepper Fingers the Globe ‑ Hungary for Democracy
(Comedy Central)
HAMISH HAMILTON
Super Bowl LVI Halftime Show 2022
(NBC)
Mr. Hamilton's Directorial Team:
Associate Directors: Hayley Collett, Sara Niimi
Stage Managers: Gary Natoli, Jeffry Gitter, Karen Tasch Weiss, Donna Parker, Tammy Raab, Zachary Figures, Jackie Stathis, Johnny Pruitt, Jennifer Marquet
JAMES MERRYMAN
Norman Lear: 100 Years of Music and Laughter
(ABC)
Mr. Merryman's Directorial Team:
Associate Directors: Lizz Zanin, Leslie Vincent
Stage Managers: Ron Paul, Jackie Paul, Jackie Stathis, Alissa Levisohn Hoyo, Jason Drew
MARCUS RABOY
Mark Twain Prize 2022: Celebrating Jon Stewart
(PBS)
Mr. Raboy's Directorial Team:
Associate Directors: Robin Mishkin Abrams, Kelly Hernacki
Stage Managers: Rhoda Gilmore, Doug Fogel, Annette Powlis
GLENN WEISS
The 75th Annual Tony Awards
(CBS)
Mr. Weiss's Directorial Team:
Associate Directors: Ken Diego, Robin Abrams, Susan Kopensky, Ricky Kirshner
Stage Managers: Garry Hood, Bennymar Almonte, Phyllis Digilio, Peter Epstein, Andrew Feigin, Doug Fogel, Jeffry Gitter, Tyler Goldman, Arthur Lewis, Kevin Lishawa, Julie LoRusso, Seth Mellman, Jason Pacella, Jeffrey Pearl, Annette Powlis, Lauren Class Schneider, Eddie Valk
***
REALITY PROGRAMS
JOSEPH H. GUIDRY
The Big Brunch, "Carb Loading Brunch"
(HBO Max)
Mr. Guidry's Directorial Team:
Associate Director: Sean P. Galvin
Stage Managers: Rachel Shimko, J.C. Babas, Winston Churchill, Patty Sosa
CARRIE HAVEL
The Go‑Big Show, "Only One Can Win"
(TBS)
Ms. Havel's Directorial Team:
Associate Director: Dara DiGerolamo
Stage Managers: Rafael Orozco, Linda Carizzo, Patricia Sosa, Greg Rosa, Ike Fuchs, Theresa Moio
RICH KIM
Lego Masters, "Jurass‑brick World"
(FOX)
Mr. Kim's Directorial Team:
Associate Director: Ryan Bunnell
Stage Managers: Will Baker, Ken Cooper
MICHAEL SHEA
FBoy Island, "Do You Like Cats?"
(HBO Max)
Mr. Shea's Directorial Team:
Associate Director: Tori Himes
Stage Managers: J.C. Babas
BEN SIMMS
Running Wild with Bear Grylls, "Florence Pugh in the Volcanic Rainforests of Costa Rica"
(National Geographic Channel)
Mr. Simms's Directorial Team:
Associate Director: Sara Brown
***
CHILDREN'S PROGRAMS
TIM FEDERLE
Better Nate Than Ever
(Disney+)
Mr. Federle's Directorial Team:
Unit Production Managers: Guy Efrat, Pamela Thur
First Assistant Director: Danielle Rigby
Second Assistant Director: Brad Robinson
Second Second Assistant Director: Billy Brennan
Additional Second Assistant Directors: Annie Tompkins, Jes Norris
Location Manager: Michael Buonanno
BONNIE HUNT
Amber Brown, "I, Amber Brown"
(Apple TV+)
Ms. Hunt's Directorial Team:
Unit Production Manager: Jeff T. Miller
First Assistant Director: Troy Rohovit
Second Assistant Director: Cody Harbaugh
Second Second Assistant Director: Rachel Moceri
DEAN ISRAELITE
Are You Afraid of the Dark?, "The Tale of Room 13"
(Nickelodeon)
Mr. Israelite's Directorial Team:
First Assistant Director: Sinan Saber
Second Assistant Director: Ashley Bell
MICHAEL LEMBECK
Snow Day The Musical
(Paramount+)
Mr. Lembeck's Directorial Team:
Unit Production Manager: Julie Kovisars
ANNE RENTON
Best Foot Forward, "Halloween"
(Apple TV+)
Ms. Renton's Directorial Team:
Unit Production Manager: Lance W. Lanfear
First Assistant Director: Nandi Bowe
Second Assistant Director: Susie Balaban
Second Second Assistant Director: Tim Neven
***
COMMERCIALS
JUAN CABRAL
(MJZ)
For All Life's Moments, John Lewis ‑ adam&eveDDB
First Assistant Director: Ben Glickman
Share the Joy, Apple AirPods ‑ TBWA\Media Arts Lab
KIM GEHRIG
(Somesuch, Inc.)
Accessibility, Apple ‑ Apple (Direct)
First Assistant Directors: Michael Estrella
Second Assistant Director: Brian Steffen
Second Second Assistant Director: Shauna Frontera
Run Baby Run, iPhone ‑ Apple (Direct)
First Assistant Director: Matias Nilsson
Second Assistant Director: Carl Jackson
Second Second Assistant Director: Michael Paulson
CRAIG GILLESPIE
(MJZ)
Hard Knocks, Apple Watch Series 7 ‑ Apple
First Assistant Director: Christian Van Fleet
Problem, Jimmy John's ‑ Anomaly
First Assistant Director: Christian Van Fleet
Second Assistant Director: Greg Moutran
Second Second Assistant Director: Christopher Maltauro
Thrill Driver, Nissan ‑ TBWA\Chiat\Day NY
First Assistant Director: Francois Caillaud
Second Assistant Director: Rob Topp
Second Second Assistant Director: Michael Dudley
DAVID SHANE
(O Positive, LLC)
Detectives, iPhone 13 Pro ‑ Apple
First Assistant Director: Greg McCollum
Second Assistant Director: Heidi Vanderjagt
Smile, ITVX ‑ Uncommon
Traffic Stop, Native ‑ M/H
IVAN ZACHARIÁŠ
(SMUGGLER)
Data Auction, iPhone ‑ TBWA\ Media Arts Lab
First Assistant Director: Brian Carmody
This Is How We Work Now, Upwork ‑ Alto
***
DOCUMENTARY
SARA DOSA
Fire of Love
(National Geographic)
MATTHEW HEINEMAN
Retrograde
(Disney+)
LAURA POITRAS
All the Beauty and the Bloodshed
(NEON)
DANIEL ROHER
Navalny
(CNN+/HBO Max)
SHAUNAK SEN
All That Breathes
(HBO/HBO Max)
Read More About:
Source: Read Full Article