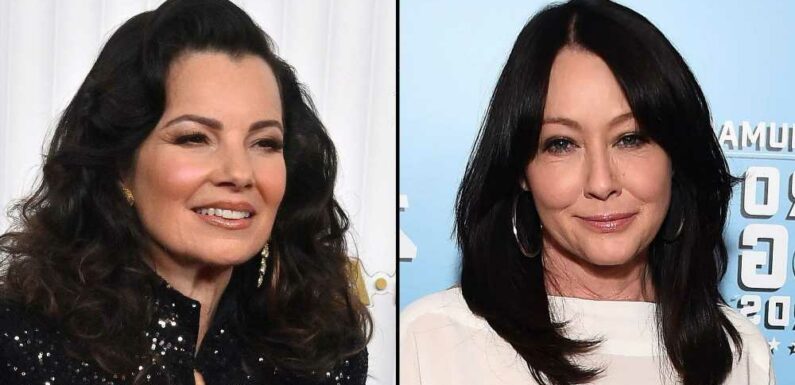 Actress Shannen Doherty is in the middle of her cancer treatment, which she claims has been made more difficult without proper health insurance coverage.
'90210' Alum Shannen Doherty's Cancer Battle in Her Own Words
"@Officialfrandrescher I'm curious for people like me who have worked since they were 10 and paid dues to @sagaftra how when we aren't able to work for health reasons why our union abandons us," the Beverly Hills, 90210 alum, 51, wrote via Instagram on Wednesday, March 8, tagging the Nanny alum, 65, who is the current president of the SAG-AFTRA organization. "I think we can do better for all our members and I think you're [the] person to do it."
Doherty continued: "Health insurance shouldn't be based on annual income. It's a lifetime contribution. And for me and many others, we have paid a lifetime of dues to only be canceled because we don't meet your current criteria. Not OK."
The Tennessee native, who was first diagnosed with breast cancer in 2015, also snapped a selfie of herself receiving an IV treatment alongside her candid post.
Shannen Doherty Through the Years: Her Career Highs, Health Struggles
Drescher was elected president of SAG-AFTRA, the union that represents performers and media professionals, in 2021 after Doherty's former Beverly Hills, 90210 costar Gabrielle Carteris announced that she wouldn't seek re-election after her own five-year term.
While neither Drescher nor the acting union have addressed the Charmed alum's suggestions, several of her famous friends are in her corner. "100 💯 100 💯 too many of my friends have gone through this — it makes no sense. @sagaftra must do better!!" Busy Philipps commented on Wednesday.
In order to view the video, please allow Manage Cookies
Candace Cameron Bure, Alyssa Milano, Kelly Hu, fellow Beverly Hills, 90210 alum Christine Elise McCarthy and other stars have also publicly shared their support.
"I agree! I've been a member of SAG for 50 years. Since they arbitrarily changed the rules, me and many other senior actors have lost our SAG insurance," Alana Stewart, who was previously married to rocker Rod Stewart, claimed in her own Instagram comment. "It's outrageous to pay dues your whole career and end up with no insurance."
'Beverly Hills, 90210' Cast: Where Are They Now?
While Doherty did not go into specifics about why she is unhappy with her health insurance, she has long been candid about her medical challenges. The Mallrats actress was first diagnosed with breast cancer in March 2015. After briefly entering remission, Doherty revealed in February 2020 that the illness had returned.
"It's going to come out in a matter of days or a week that — I'm stage IV. So my cancer came back. And that's why I'm here," the Heathers star said on Good Morning America at the time. "I don't think I've processed it. It's a bitter pill to swallow in a lot of ways. … I definitely have days where I say, 'Why me?' And then I go, 'Well, why not me? Who else? Who else besides me deserves this?' None of us do."
For access to all our exclusive celebrity videos and interviews – Subscribe on YouTube!
Source: Read Full Article