If you've been looking for a sign that Khloé Kardashian and Tristan Thompson are still together, this might be it. Late Monday night, Thompson shared a few Snapchats featuring Kardashian — and a bit of PDA — that seemed to confirm that, at least for now, they're trying to make things work. And despite how some fans might feel about their relationship, it does seem like they're pretty happy together… at least, according to these Snapchat videos, anyway.
Kardashian and Thompson's relationship status has been a bit confusing for the past few months after rumors surfaced that he had allegedly been cheating on Kardashian just days before she gave birth to the couple's first daughter together, True Thompson. (Bustle previously reached out to reps for the couple about the allegations, but did not hear back.) It wasn't immediately clear whether or not Kardashian would stay with the NBA player or not, and after her recent move back to Los Angeles from Cleveland, fans have been even more curious if she finally decided to call it quits. But now, it seems like everything is cool between them.
In the videos, which Thompson posted on his account, he's lip syncing along to Swae Lee's "Guatemala" with Kardashian by his side. They seem to be having a good time, and more than once, he leans over to kiss her head, planting a big smooch right on her lips toward the end of the video.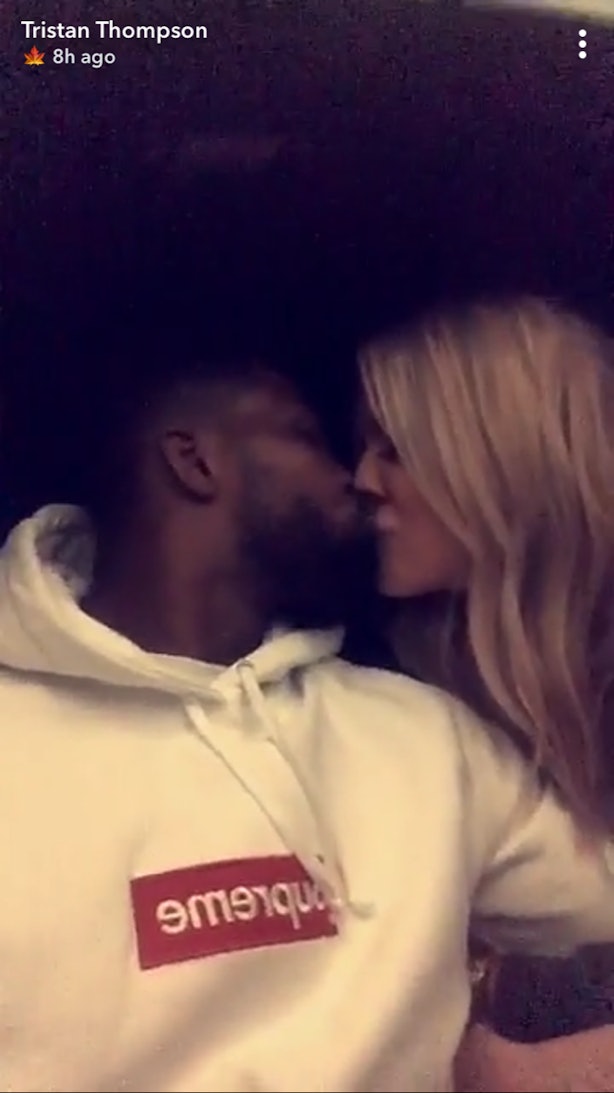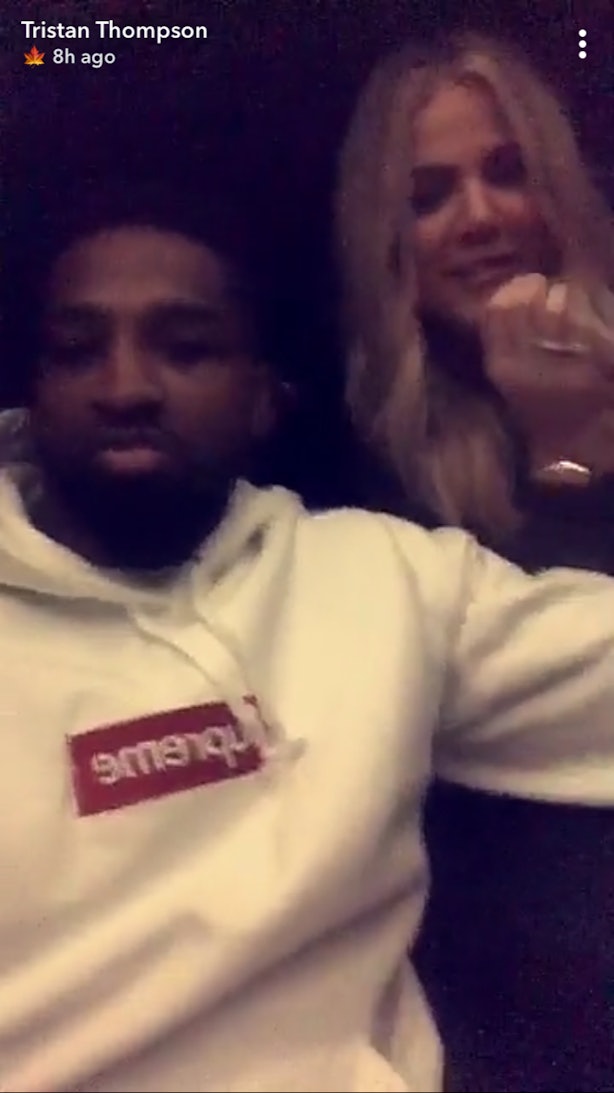 It does seem that, slowly but surely, Thompson is getting back into the Kardashian family's good graces. In fact, just over a week ago, Kardashian's sister, Kim, made Thompson unblock her on Instagram while they were together at Kardashian's birthday party.
"'What's up? We're all in the same room again, can I get a follow, can I get an unblock at least?'" Kim said when she explained the situation to Extra, adding, "I had to do it. I had to."
Between Thompson hanging out with Kardashian's fam at her birthday, finally removing Kim from his blocked list, and now the Snapchat video, it would definitely appear that things are on the mend between True's mom and dad. It's easy to feel defensive of Kardashian after what had to have been such a complicated and difficult situation to cope with around the same time she welcomed her daughter into the world, but it's ultimately up to her how she chooses to proceed, and for now, Thompson seems to be her choice.
Whatever is going on with Thompson and Kardashian may always remain a mystery to fans (unless they go into it on the next season of Keeping Up With The Kardashians, which conveniently begins airing next month). But if Kardashian is happy — and baby True's parents can find some way to get along, together or apart — isn't that all that truly matters?
Source: Read Full Article