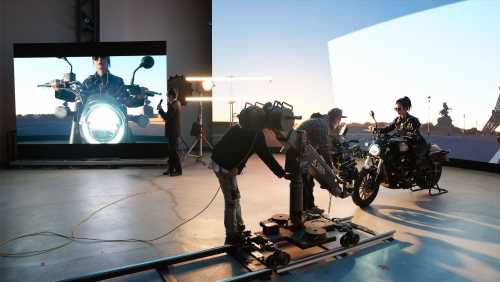 Japanese electronics giant, Sony has opened a virtual production studio in Shanghai, China, that it says can be used for shooting film, TV and commercials.
The studio opened last month and is jointly operated with Gwantsi, one of China's largest commercials production companies.
Virtual production involves the use of high-resolution screens that create a backdrop in front of which actors perform. This can reduce the need for location travel, cut set-up times, shorten post-production and provide a more life-like environment for performers than traditional green-screen environments. VP studios are also well adapted to motion capture production.
"The Mandalorian" is considered a pioneering example of VP, while 2021 movies "The Suicide Squad" and "Dune" used combinations of VP and motion capture. The technology was also given a boost by social distancing requirements and travel restrictions created by COVID.
The Shanghai studio features an 83 square meter screen that uses Sony Black Color Crystal B series LED screens with a height of 5.47 meters and an arc length of 15.2 meters, combined with the company's CineAltaV 2 movie camera, a Sony 4K HDR monitor and an Epic engine for VP. Other innovations allow wide angle filming, close-up filming, two-camera operation and software that controls the LED's color temperature.
The screen's high brightness and low reflection levels mean that studio lights can be used at the same time and that they create little interference.
"Sony aims to empower the creators in virtual production by providing advanced technology, products, and solutions. Sony and Gwantsi share the same vision for the industry and a strong sense of responsibility and mission, both are making joint efforts to build a high-quality virtual production studio in China, and contribute to China's virtual filming," Sony said in a statement emailed to Variety.
Virtual production facilities have now been opened in multiple locations around Asia, including those in Korea (Dexter Studios, VA Corp.) and Thailand (Supreme Studios). The unit in Shanghai is the third to be operated by Sony, after it opened others in Japan and the U.S.
Read More About:
Source: Read Full Article