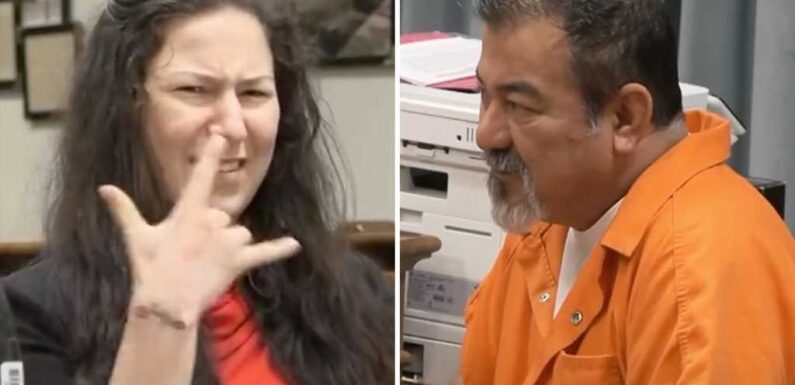 Schabusiness, who a jury found guilty of murdering, dismembering and decapitating her lover, made a number of facial and hand gestures as her dad took the stand in the second phase of her trial.
The the trial of a Wisconsin woman found guilty of murdering and dismembering her lover continues, as the jury must now decide whether they believe she suffered from a "mental disease or defect" at the time of the crime.
On Wednesday, she was found guilty of first-degree intentional homicide, mutilating a corpse, and third-degree sexual assault of 24-year-old Shad Thyrion, whose severed head was discovered by his own mother in her basement on February 23, 2022.
Though she was found guilty of the charges against her, the trial moved into a second phase Thursday, as the jury must now determine whether Schabusiness "is not responsible" for the crimes "by reason of mental disease or defect" at the time they were committed. The verdict here will decide whether she'll be sent to prison or — if found not responsible — a mental health institution.
Unable to render YouTube Video.
The first person to take the stand in her defense was her father, Arturo Coronado, who testified while wearing an orange jumpsuit from jail. During his testimony, he said the death of Taylor's mother in 2009 took a toll on her. He also noted that his son, Taylor's brother, died last year.
When asked whether her behavior changed after her mother's death, Coronado said she was "a little rambunctious" but was "a pretty normal kid." Though he noted she "got in trouble a little bit in school," he also said it was "nothing major."
At one point, he asked asked whether he ever reviewed any of her medical records. As the prosecution objected, Schabusiness made a hand gesture toward her father — appearing to say "I love you" via sign language. She also appeared to smile, smirk and laugh throughout his testimony.
Waiting for your permission to load the Instagram Media.
Instagram Media Unavailable
Coronado later testified that his daughter spent time in a psychiatric center because she "wasn't in the right state of mind." He also said she has been put on medications for treatment in the past — and added he had concerns about her physical and mental health "always."
During cross-examination, he said she was "going really well" until her husband got out of jail — something he said "turned everything upside down" due to meth use. He said they used meth and heroin, calling them "pretty bad" drugs.
"The kid was already doing that s— before and just a f—ing loser and he got my daughter involved in that s—," he added. As he walked out, Taylor's father told her that he loved her, adding, "Go Bears!" She repeated both statements back to him.
A forensic psychologist also testified for the defense, reportedly saying Schabusiness was non-verbal during two of their meetings — and added that, during one visit, Taylor threw a chair at her. She also testified that, in her belief, Schabusiness was psychotic.
While the defense has rested its case, the prosecution's is ongoing.
Source: Read Full Article