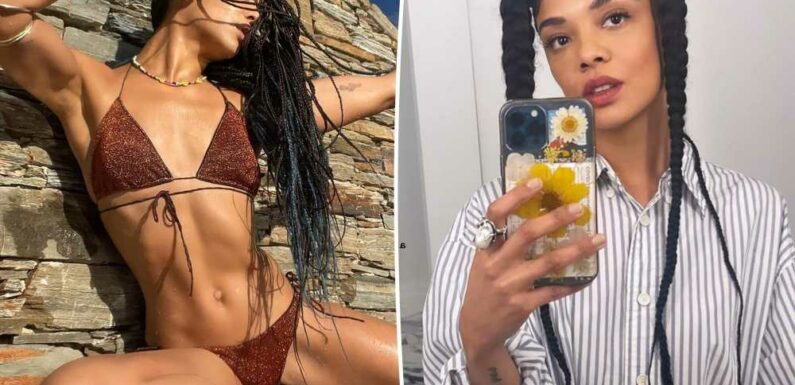 More On:
tessa thompson
Rita Ora breaks silence on Taika Waititi, Tessa Thompson 'throuple' pics
Natalie Portman's 'Clueless' homage gets Alicia Silverstone's stamp of approval
Taika Waititi addresses three-way kiss with Rita Ora, Tessa Thompson
Tessa Thompson spotted kissing new man after Rita Ora, Taika Waititi PDA
Tessa Thompson won't be hitting the McDonald's drive-thru anytime soon.
The "Creed" star, 39, admitted in a new interview that she has never eaten a burger — and only recently tried eggs for the first time.
"I've never had a hamburger in my life," she told English TV presenter Amelia Dimoldenberg on the red carpet at Vanity Fair's 2023 Oscars party Sunday.
When the "Chicken Shop Date" host asked Thompson whether she was a vegetarian, the actress responded, "No."
Thompson also dished on her experience eating her first egg, noting she was unimpressed.
She does, however, "love potatoes," which Dimoldenberg retorted are "famously versatile, too."
Get more of Page Six's Oscars 2023 coverage
Oscars live red carpet 2023: See all the celebrity outfits
How to watch the 2023 Oscars
The sexiest Oscars dress of all time
Oscars 2023 live updates: Full list of winners and nominees
Thompson attended the star-studded party after reprising her role as Bianca in the Michael B. Jordan-directed blockbuster "Creed lll."
The "Westworld" alum recently revealed that she and Jordan, who portrays her boxer husband, Adonis Creed, went to couple's therapy together "in character" to prepare for the third film in the franchise.
Thompson noted that the therapy sessions helped her and Jordan, 36, reflect on their real-life relationships.
Share this article:
Source: Read Full Article