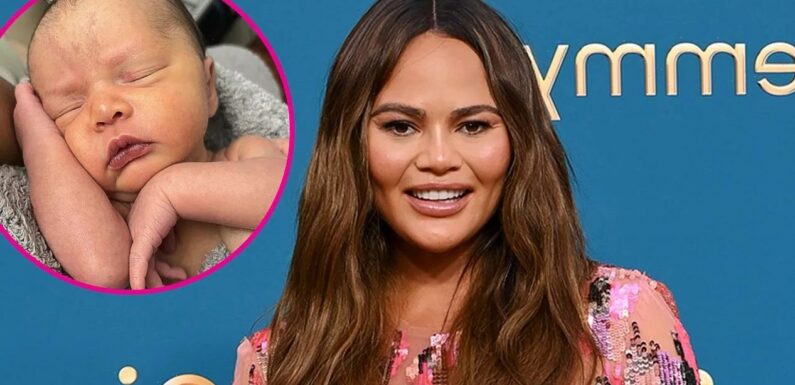 Too cute for words! Chrissy Teigen gave her daughter Esti the superstar treatment as she snapped her first close-up photo.
Welcome to the World! Celebrity Babies of 2023: See Which Stars Gave Birth
"Look at [you] out here lookin like a baby," the Cravings cookbook author, 37, wrote via Instagram alongside the first solo shot of the newborn swaddled in a gray blanket resting in Teigen's arms.
The former model and Legend, 44, welcomed their third child on January 13. The couple are also parents to Luna, 6, and Miles, 4.
"What a blessed day," the "All of Me" crooner gushed during a private concert that night, per social media footage. Legend added that he hadn't gotten "a lot of sleep" but felt "energized" with the arrival of his baby girl.
Party of 5! Chrissy Teigen and John Legend's Family Album
Esti made her official debut on the Chrissy's Court alum's social media on January 19 in a photo surrounded by her siblings.
"She's here! Esti Maxine Stephens — the house is bustling and our family could not be happier 💕," Teigen wrote via Instagram at the time. "Daddy sheds nightly tears of joy seeing Luna and Miles so full of love, and I am learning you still need diapers with a c section!? We are in bliss. Thank you for all the love and well wishes – we feel it all!"
In August 2022, the couple announced they were expecting their third child. Three years prior, the Lip Sync Battle host suffered a miscarriage with her and The Voice coach's late son Jack.
"The last few years have been a blur of emotions to say the least, but joy has filled our home and hearts again. 1 billion shots later (in the leg lately, as u can see!) we have another on the way," Teigen wrote via Instagram at the time, referencing her previous fertility struggles and IVF journey. "Every appointment I've said to myself, 'OK if it's healthy today I'll announce' but then I breathe a sigh of relief to hear a heartbeat and decide I'm just too nervous still. I don't think I'll ever walk out of an appointment with more excitement than nerves but so far, everything is perfect and beautiful and I'm feeling hopeful and amazing. OK phew, it's been very hard keeping this in for so long!"
Chrissy Teigen's Honest Quotes About Fertility, Pregnancy Journeys
While Teigen has been candid about how devastated she was after losing her son at 20 weeks pregnant, Legend was unsure if he wanted to open up about his family's tragic loss.
"It was difficult and I was hesitant to share it," the Grammy winner confessed in an interview with BBC Radio 4's "Desert Island Discs" in August 2022. "I think Chrissy was really right in encouraging us to share it because I think it really was powerful for a lot of people."
For access to all our exclusive celebrity videos and interviews – Subscribe on YouTube!
Source: Read Full Article