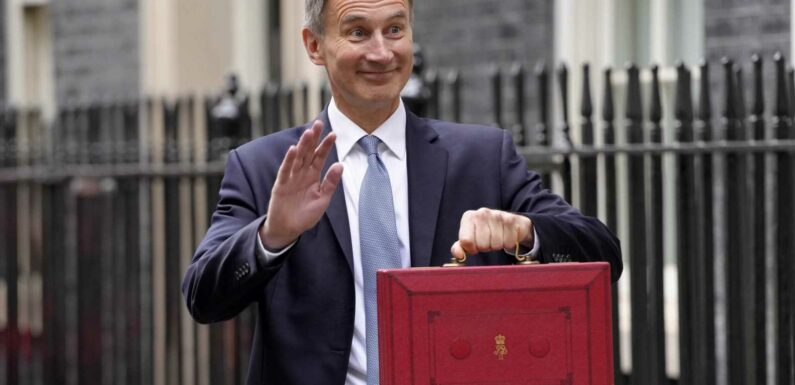 JEREMY Hunt has today unveiled a Budget he hopes will pull Britain out of the economic doldrums by luring more people into jobs.
The Chancellor announced a raft of measures to "tear down the barriers" to work including major boosts for childcare, pensions and Universal Credit.
Better-than-expected forecasts means the country will dodge recession and give Mr Hunt more breathing space to splash the cash.
Drivers and pub landlords were among the winners from the Budget – while businesses are still bracing for a Corporation Tax whack.
Here are the main announcements.
Childcare support
Mr Hunt announced sweeping reforms to help parents with crippling childcare costs.
READ MORE ON THE BUDGET
Nine Universal Credit and benefits changes revealed in the Spring Budget
Spring Budget 2023 tool – check what Hunt's announcements today mean for you
The 30 hours of free childcare currently for three and four-year-olds will be expanded to parents of kids older than nine months in 2025.
Meanwhile the childcare allowance for parents on Universal Credit is being raised from £646 a month for a single child to £950, and from £1,108 for two children to £1,630.
Mr Hunt also confirmed payments will also be made up front rather than in arrears in a victory for the Sun's Make Universal Credit Work crusade.
And a pilot will pay £600 for childminders who sign up to the profession, rising to £1,200 for those who join through an agency.
Fuel Duty freeze
Fuel duty will remain frozen for the 13th consecutive year and the 5p cut will be extended for another 12 months, Mr Hunt announced.
It is a huge win for the Sun's Keep It Down campaign and saves squeezed drivers a total £100 at the pumps this year.
In the chamber Mr Hunt personally paid tribute to the Sun's relentless crusade to protect drivers.
Most read in The Sun
BBC is hounding my Claudia for TV licence fee… 14yrs after she went missing
Strictly's Giovanni Pernice & Jowita Przystal call it quits after romance
Smiling killer tells cops 'I know what happened' as he returns to scene
Watch emotional moment groom cries after Dysart Dynamo survives horror fall
Pensions boost
In a surprise move, the Chancellor abolished the lifetime pension allowance to keep more people in work for longer.
Under the existing scheme workers could only save £1.07million into their pot before being taxed.
Mr Hunt said the change will stop more than 80 per cent of NHS doctors from being taxed and "incentivise our most experienced and productive workers to stay in work for longer".
Universal Credit crackdown
More than 100,000 Universal Credit claimants will have to step up their search for work or face having their benefits cut, the Chancellor confirmed.
The minimum hours they must work before having to meet DWP job coaches are raising from 15 to 18 hours.
Pubs win… but booze still going up
Jeremy Hunt vowed to protect one of our "treasured community institutions – the great British pub".
From August 1 the duty on draught products in pubs like beer will be up to 11p lower than the duty in supermarkets.
But the overall alcohol duty is still going up with inflation in the summer.
Cost of smoking up
Smokers will see the cost of a pack of cigarettes hit a whopping £11.80 as the Chancellor announces a huge tobacco tax hike.
The price of a 20-pack will go up by £1.15 under the latest increase, the biggest ever hike.
Energy bills frozen
Jeremy Hunt confirmed the energy bills cap will be frozen at £2,500 for another three months. 
The Treasury expects this to save families an average £160 until the end of June, by which point it hopes wholesale prices will have fallen anyway. 
Cash for defence
After announcing £5billion for defence over next two years, Jeremy Hunt and £6billion to upgrade our nuclear deterrent over the next five years.
And a further £30million will be earmarked to help veterans.
Investment Zones
The Chancellor has announced the creation of 12 new Investment Zones to drive growth.
The handpicked areas will benefit from lower business rates and national insurance contributions in a slimmed-down idea first dreamt up by Liz Truss.
Corporation Tax rise
Mr Hunt has confirmed he will push ahead with a rise in Corporation Tax from 19 to 25 per cent from April.
Read More on The Sun
The Spanish hotspot which is 20C and has 88p beers
Nando's has made a major change to menus – and fans won't be happy
Staring down disgruntled Tory MPs, he insisted it was necessary to help get borrowing down. 
But he offset the rise by increasing the tax deduction allowance worth £9billion a year.
Source: Read Full Article