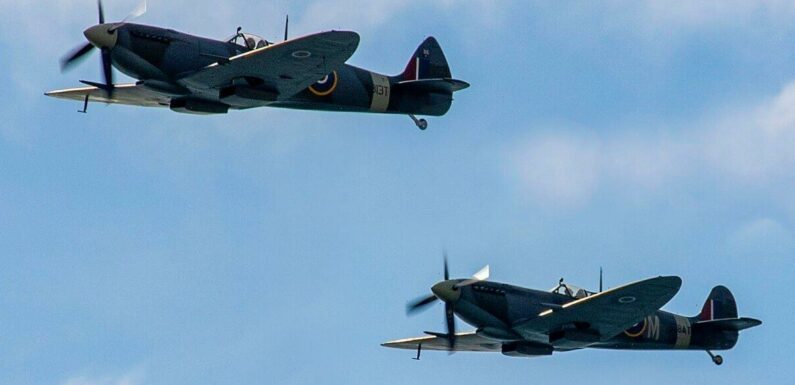 We use your sign-up to provide content in ways you've consented to and to improve our understanding of you. This may include adverts from us and 3rd parties based on our understanding. You can unsubscribe at any time. More info
RAF Bomber Command veteran George Dunn DFC was celebrating his century with a pub lunch when he was treated to the surprise fly-past by the iconic planes. And the aerial spectacle along the Sussex coast brought a proud tear to his eye.
George told the Daily Express: "It's a fine aircraft. That was great. Absolutely great."
He added: "The Spitfire is a lovely aircraft but I have to say I actually prefer the Mosquito.
"In terms of performance, the Mosquito is just a better aircraft. But the Spitfire is still lovely of course."
And he should know. During a glittering military career, George piloted many different planes, both bombers and fighters.
He was just 17 when he defied a life threatening lung condition to sign up to the RAF.
At first he worked as a Wireless Operator/Air Gunner, before training in Canada to become a pilot.
He went on to complete 4 4 death-defying missions during the war – 30 flying Halifax bombers and 14 in Mosquitos.
He took part in Operation Gomorrah, the bombing of Hamburg, and the raid on the German rocket testing range at Peenenmunde in August 1943 – considered one of the most dangerous operations of Britain's bombing campaign.
The hero's experience with Spitfires came in 1946 when he delivered the iconic aircraft to the Greek Air Force.
After the war, George married his late wife Dorothy in 1951.
He returned to work at removals firm Pickfords in Whitstable, Kent, and worked there as a branch manager before retiring at 60.
Since then, George – an ambassador for the Royal Air Force Benevolent Fund – has been living by the sea in Saltdean, East Sussex.
The centenarian was surrounded by family and friends at the Coach House pub in nearby Rottingdean for his birthday lunch, which included a cake decorated with medals and a warbird.
Guests included fellow veteran John Bell, 99 – former Bomber Command Dambuster squadron bomb-aimer.
The birthday boy said he was looking forward to receiving his telegram from the King Charles – one of the first in the country from the new monarch – when the post arrived.
"It hadn't come when I left the house unfortunately," George said.
But the flypast, organised by flyaspitfire.com from The Biggin Hill Heritage Hangar, more than made up for that.
Source: Read Full Article