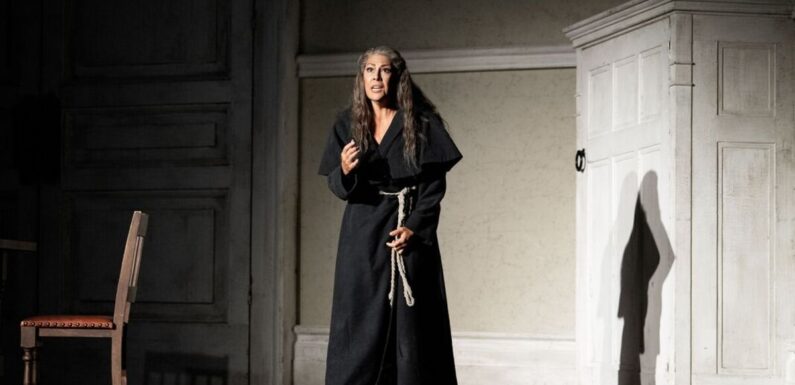 Verdi's Force of Destiny is a magnificent work. Some four and a half hours long, it is packed with beautiful and stirring music and has a gripping, tragic plot, as one would expect from anything with 'Destiny' in the title. For this sumptuous revival of Christoph Loy's 2019 production, the Royal Opera House has put together an excellent cast who gave a very impressive performance.
The tragic plot involves love, death and revenge. Don Alvaro, who is the son of a Spanish grandee and an Inca Princess, is in love with Donna Leonora, whose father, the Marquis of Calatrava, thoroughly disapproves of him because of his mixed ancestry.
Alvaro and Leonora plan to elope, but the Marquis foils their getaway.
The honorable Alvaro surrenders to him and throws down his gun, which accidentally goes off, killing the Marquis who curses both Alvaro and his daughter with his dying breath. Pandemonium ensues and both Alvaro and Leonora flee, but not together.
They both change their identities, Alvaro becomes a soldier and Leonora seeks refuge in a monastery, while Leonora's brother, Don Carlo, vows to kill them both as vengeance for his father's death.
READ MORE The Little Big Things review – Utterly beautiful 'I cheered through my tears'
Caught up in the turmoil of war between Spain, Italy and Germany, Don Carlo and Alvaro fail to recognise each other when they meet, save each other's lives and vow eternal friendship before resuming hostilities. Unsurprisingly no-one lives happily ever after.
American tenor Brian Jagde gave a fine performance as Don Alvaro, excellently matched by French-Canadian baritone Etienne Dupuis as Don Carlo.
Both men displayed strong and versatile voices, perfectly suited for their duets whether vowing friendship and fidelity or trying to kill each other.
The real star of the night, however, was American-Canadian soprano Sondra Radvanovsky who, despite now being in her fifties, showed perfect control of a glorious voice that must be the envy of any singer even 20 or 30 years younger.
From the moment she started singing, she banished any doubts that may have existed about her ability to play the role of a much younger woman.
Don't miss…
The driving accident that changed everything- the little big things review[LATEST]
'It is a pity that there isn't a better play to do the actors justice' – review[INSIGHT]
A Golden start for the Royal Opera season – Das Rheingold review[DISCOVER]
We use your sign-up to provide content in ways you've consented to and to improve our understanding of you. This may include adverts from us and 3rd parties based on our understanding. You can unsubscribe at any time. More info
Having these three in the main roles guaranteed an excellent performance, but many of the supporting cast also excelled.
The Russian bass Evgeny Stavinsky was convincingly authoritative in the part of Padre Guardiano, Father Superior of the monastery where Leonora isolated herself, while the Russian mezzo-soprano Vasilisa Berzhanskaya showed impressive skills at both singing and dancing in the role of the gypsy fortune-teller Preziosilla.
Add to all this the meticulous and thoughtful conducting of Sir Mark Elder, which drew beautifully sensitive playing from the orchestra, and the entire performance was near perfect.
My only reservations come with Christof Loy's production. At the start, during the overture, we saw acted on stage a sort of prequel to the plot, showing the tragic early history of the Calatrava family and the upbringing of Leonora.
This has a strong risk of being very confusing to an audience coming fresh to the opera, unless they have had time to read the programme synopsis beforehand.
Also unnecessary is the director's occasional habit of projecting onto the back of the stage large filmed images of the main characters from earlier in the opera as if to show what memories are passing through their minds.
This distracts more than it explains. However, those are minor quibbles in a generally great evening.
La Forza del Destino, Royal Opera House, Box Office: roh.org.uk or 020 7304 4000 (various dates until 9 October 2023)
Source: Read Full Article