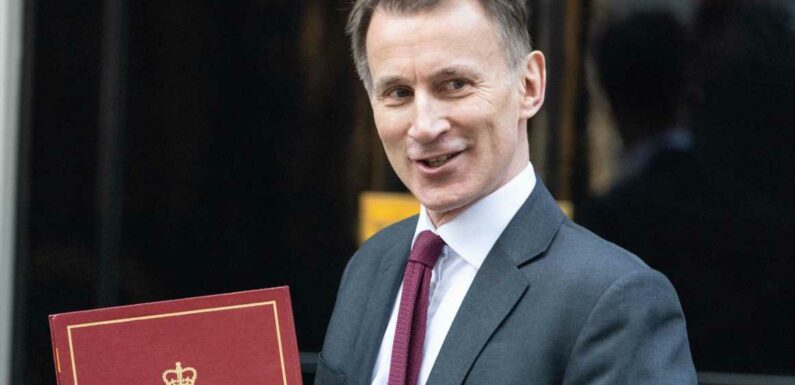 THE government's Spring Budget is being revealed on Wednesday.
Chancellor Jeremy Hunt will be outlining the financial plan for the rest of the year – including how prices will change and any new benefits updates.
With the rising cost of living hitting Brits hard at the moment, they'll also be keen for more information on any support packages or help available.
The Treasury is pretty tight lipped on specific policies and updates, with changes being made right up until the day before when they're officially confirmed.
But, sources in the department have shared a taste of what we can expect.
Below we explain what the Budget is and how it affects households,as well as what you can expect to be announced.
READ MORE IN MONEY
Pension boost for middle-class workers expected in Budget next week
What to expect from the Budget next week from energy bills to fuel duty
When is the Budget?
The Government has asked the Office for Budget Responsibility, Britain's independent budget office, to produce new forecasts on Wednesday, March 15.
On that day it will release the latest outlook for the economy and public finances.
This means that chancellor Jeremy Hunt will also deliver his mid-year Spring Statement update on that day.
What is the Budget?
The Budget is when the Government outlines its plans for tax hikes, cuts and things like changes to Universal Credit and the minimum wage.
Most read in Money
Big supermarket chain investigated for selling 'fake British beef' NAMED
Sports chain closing shops including iconic store loved by Gallagher brothers
High street chain recalls Easter eggs over health fears
Major high street brands closing a dozen shops tomorrow – is your local going?
It's different to the Spending Review, which sets out how much public cash will go towards funding certain departments, devolved governments and services, such as the NHS.
The Budget is read out in the House of Commons by the Chancellor of the Exchequer.
It will be Jeremy Hunt's first Spring Budget as Chancellor.
It will be the first full Budget since last year, following the mini-Budget in September and the Autumn Statement in November.
Mr Hunt has told Tories he will "put meat on the bones" of the PM's plan to fix the economy.
What can we expect from the Budget 2023?
The Government is under pressure to extend help for cash-strapped families and businesses facing rising costs and energy bills.
A number of policies were already announced during the Autumn Statement such as the £900 cost of living payment for hard-up households and benefits being uprated to match inflation.
And these are set to take effect in April.
Here is what else you can expect to be announced on Wednesday.
Energy bill help
The Chancellor is expected to extend the current Energy Price Guarantee until July rather than increasing it.
Energy bills were due to be hiked from £2,500 to £3,000 in April when the EPG went up.
But lower than expected borrowing has left room for the cap on gas and electricity costs to be extended.
Then in July, when the price guarantee ends, it's expected bills will fall to £2,000.
Booze duty
Booze duty will be frozen until August, which is good news for pubs and brewers.
Alcohol levies were due to be hiked on February 1, but the Chancellor is expected to delay that move for another six months until August 1.
Cigarette prices
It's bad news for smokers as they face the biggest ever price hike in cigarettes next month as Mr Hunt is poised to raise tobacco duty – with a pack of 20 going up by £1.15. 
Industry insiders are bracing for taxes on cigarettes to increase with inflation.
Hiking cigarette levies with 12.7% RPI – plus an extra minimum 2% bump applied to tobacco products – means a pack would jump by more than 15%. 
It would see a 30g pack of tobacco go up by £2 thanks to higher rates.
Fuel duty
The Treasury is under pressure to keep the popular 12-year fuel duty freeze.
While Mr Hunt is also being lobbied to keep the 5p cut.
The Treasury remains undecided on both policies – and officials in No11 are said to be concerned by the £6billion per year price tag.
The Sun's Keep it Down campaign has forced ministers to freeze duties for 12 years in a row.
Cost of living support
Around eight million households will get a £900 cost of living payment in April.
Unlike last year's help, this cost of living payment will be paid in three, not two, instalments.
You don't need to apply for the help – instead, the Department for Work and Pensions will be in touch.
Back to work drive
The Chancellor will announce a major plan to drive millions of economically inactive Brits back to work.
The package of policies will focus on the long-term sick, those with short-term illnesses, early retirees and those on welfare.
A source said: "Those who can work, will. Those who can't, we will always help."
Corporation tax
Corporation tax will rise to 25%, despite protests from a number of Tory MPs.
The Chancellor has told MPs that the UK will still have the lowest rate in G7, and that 70% of businesses won't see any increase whatsoever.
Only 10% of large corporations will end up paying the full 25%.
Income tax and national insurance
Income tax and national insurance will remain at current levels.
However, Rishi Sunak has vowed to cut personal taxes as soon as the economy gets into better shape.
Universal Credit
Benefits and Universal Credit payments will rise in line with 2022's September's inflation rate of 10.1% in April.
The chancellor said in the Autumn Statement that those on Universal Credit will benefit by around £600 a year.
The DWP usually uses September's inflation figures to make the decision on uprating benefit and pension payments from the following April.
And an increase in line with inflation is designed to help people keep up with rising prices.
Pensions
As with benefits, pensions will be hiked in line with inflation from April.
Read More on The Sun
Legendary TV channel axed after 17 years on screens in major streaming shake-up
People are just realizing they're closing iPhone apps wrong
State pensioners will receive £203.85 per week – up from £185.15 in 2022/23.
The Pension Credit standard minimum guarantee (delivered by the Guarantee Credit part of Pension Credit) will also increase by 10.1%, to £201.05 per week for single claimants and £306.85 per week for couples
Do you have a money problem that needs sorting? Get in touch by emailing [email protected]
Source: Read Full Article