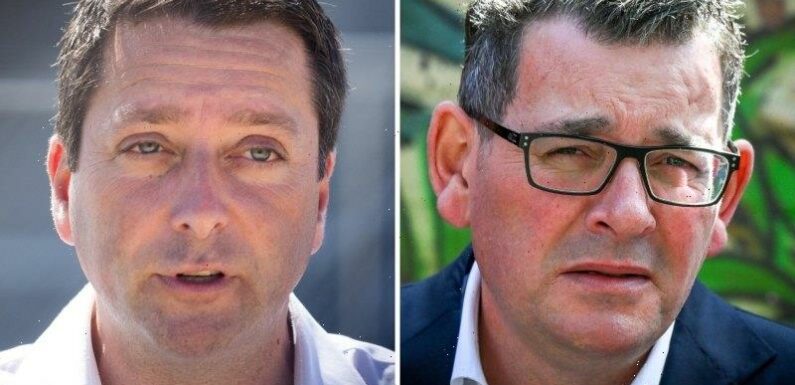 Words are the counterfeit currency of this election campaign. They're crafted and buffed to impress, but they're short on value, meaning or substance.
Both leaders talk grandly about their vision for the state, and then don't present one.
Premier Daniel Andrews and Opposition Leader Matthew Guy. Both leaders talk grandly about their visions for the state.Credit:Eddie Jim, Jason South
Daniel Andrews promises an "optimistic and positive plan" and then builds the future around a dodgy underground train line without a credible business case and a new State Electricity Commission (SEC) which some industry experts treat as a joke.
Matthew Guy says his answer is "a sensible vision" but it's a platform based on a horribly thin energy plan and targeted handouts. His best idea is to use the rail loop money on hospitals, but that's more management than vision.
So, what about the horrendous debt? It threatens to return Victoria to rust bucket times. There's no plan, just dodging. What about health? The system needs rebuilding. There's no plan, just patches. What about the city? It must change to survive.
What about public pride and confidence? Both are eroding, but neither leader sees Victoria has turned sour, and craves inclusive leadership. Neither has noticed the need to promote hope and vision.
Neither leader has realised that voters crave inclusive leadership.Credit:Fairfax Media
Instead, this week the campaign turned nasty. Respect evaporated. A union leader described the Liberals as "a virus". Police were called to polling booths.
Liberal frontbenchers were accused of looking at social media photos of barely dressed women. Mary-Anne Thomas, the health minister, was outraged. She said they were behaving like year 9 boys. She was right with the description, over the top with the outrage. At worst, they were guilty of hypocrisy and stupidity. Big surprise, they're politicians.
It got worse. Allegations emerged of professional trading of preferences, a legal but cynical corruption of democracy. The premier knew nothing of it, he said, although the broad problem was raised with him in 2014. He didn't act then and hasn't since. Why? The deals can help Labor. The Greens said his answer was "farcical". Transparency looked mythical.
Matthew Guy was hardly watching from high moral ground. The alleged attempts by his former chief of staff to organise a salary top-up lurched out of nowhere when the Victorian Electoral Commission (VEC) referred it to the Independent Broad-based Anti-corruption Commission (IBAC) with a statement so political it might have come from Labor headquarters.
It said wrongdoing could not be discounted, and not everybody had co-operated with the investigation. Under questioning they said Guy's answers had been unsatisfactory. He looked evasive. Transparency trashed again.
This strategy to play us as fools adds to the underlying sense of anger across the community. Abuse of service staff is rampant. People run red lights, jump queues. The generosity, decency and courtesy that was our culture is threatened.
Some argue it's a byproduct of leadership style and political bitterness. Some blame a sour media. Whatever, political discourse has not helped the past two weeks.
The anger was even obvious at pre-polling centres. Once there was gentle rivalry between the party representatives. Now it's aggression. Conservative voters brandished political baseball bats. Labor supporters heckled. It was trench warfare. Even the VEC condemned it.
It's now clear whoever wins this election has to rebuild Victoria, financially and psychologically. We feel beaten and we're blaming each other.
So, where are the plans? Both promise to fix debt, but have no solid suggestions. Labor is strategically vague. The Liberals promise no new taxes and no spending cuts.
The world is verging on recession. Our only strategy can be cuts and taxes. Whoever is premier will admit that once they're in the big office. But where's the vision from either side? Where's the transparency?
Then there's health. What's needed is a summit: doctors, nurses, ambulances, hospital administrators, aged care providers, federal officials and yes, bean counters. It's the way to rebuild a cumbersome, wasteful machine that has evolved over years of neglect.
What about Melbourne? It's crumbling. People avoid the city and much of the rest of the state is pocked by potholes, scarred by graffiti and so unkempt it resembles a scene from an apocalypse movie. What does Melbourne become if the workers stay home? And an injecting room in the CBD: seriously?
To rebuild Victoria, the winner next Saturday must embrace decency, transparency, accountability. They must take people with them, not order them to follow. They must restore trust. They must rebuild Victoria's economy and self-confidence.
Whoever wins will need to manage a zoo in the upper house and a fragile lower house. The whackos and fringe dwellers will carry unreasonable influence.
A strong leader will manage that. A perceptive premier will restore pride and a sense of purpose. The winner has an opportunity to be a great leader, but will lead in tough times. There's pain ahead.
It's reasonable today to question whether either man offered is up to it. But there must be a choice. Democracy says that's your problem.
The Morning Edition newsletter is our guide to the day's most important and interesting stories, analysis and insights. Sign up here.
Most Viewed in Politics
From our partners
Source: Read Full Article