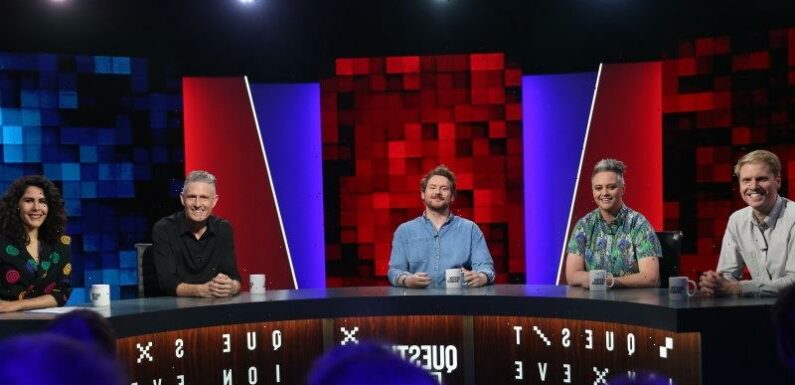 Wil Anderson has a proposition he'd like to make to the ABC: Let him come in and oversee five nights a week of late-night TV hosted by young comedians.
"Let's make something," he says. "Let's get all these young people and give them more shows and do something in a slot – I don't care where it is, it could be 10.30 on a Friday night, or we find a channel and we do it every night — let's just invest in people."
Question Everything – hosted by Wil Anderson with (from left) Mark Humphries, Geraldine Hickey, Cameron James and Jan Fran (far right).
Anderson made the comment in light of the ongoing discussion about whether the ABC is doing enough to foster young talent. The debate was sparked after the broadcaster named long-time radio host Fran Kelly as host of the channel's new Friday night chat show, Frankly. Critics said the appointment was another example of the ABC not promoting younger talent. The ABC then hit back, calling the criticism of 64-year-old Kelly "ageist".
Anderson said his show could be hosted by a different comedian every night, such as Aaron Chen, Nina Oyama or Jordan Raskopolous – and could live on iview.
"Part of the problem is absolutely the discrepancy between the audience who watch ABC and the audience they try to attract," he says. "It's chicken or egg: are young people not watching ABC because the ABC doesn't have good programs for young people or are young people just not watching free to air TV?
"So let's meet them halfway. You don't need a heap of money. Give me a studio that's set up the same way and you then give each of those people a team of people to put together their version of a tonight show.
"It doesn't have to be a forever thing. But you'd also be training young camera operators and young editors and young directors and young writers. And you'd be aware of the fact it's going to offend people, and they're going to get things wrong, and sometimes it's going to be terrible and sometimes you're not going to understand it. Great. That's the whole point of it — to be messy and experiment and take risks on things."
"Sometimes it's going to be terrible and sometimes you're not going to understand it. Great. That's the whole point of it."
Anderson is already giving emerging comedians a shot at live television. His show, Question Everything, gives a couple of seats each week to younger comedians. For many, it's their first experience on live TV. And it's not just when the cameras are rolling. Other comedians are brought in during rehearsals to effectively audition for the show, while the writers' room also makes room for interns.
It's a practice run that has so far worked well for Tom Cashman. The comedian didn't have any agent when he first appeared on Question Everything last year, now he will co-host the TV show, Taskmaster, with Tom Gleeson on Ten next year.
The ABC used to be renowned for giving emerging talent a shot. Think The D-Generation, The Late Show, The Big Gig, Blah, Blah, Blah, The Chaser's War on Everything and Hungry Beast. All produced household names who either still work in front of the camera or on radio or in film and TV production.
Even Anderson got his start on the ABC. He was 27 when he started hosting The Glass House in 2001 and he is aware people might say he should give up his place on the ABC for a younger comedian.
"I guess the argument could come back in the other direction: 'Well, you've been there forever, why don't you f— off?'," he says. "Well, here's why. I am only on TV for 10 hours a year. So it's not a huge amount. I already don't do a lot.
"But if I go, they're not replacing me with Aaron Chen, that's the truth. So the best work I can do is try to create something where I can put those people on the show."
Find out the next TV, streaming series and movies to add to your must-sees. Get The Watchlist delivered every Thursday.
Most Viewed in Culture
From our partners
Source: Read Full Article