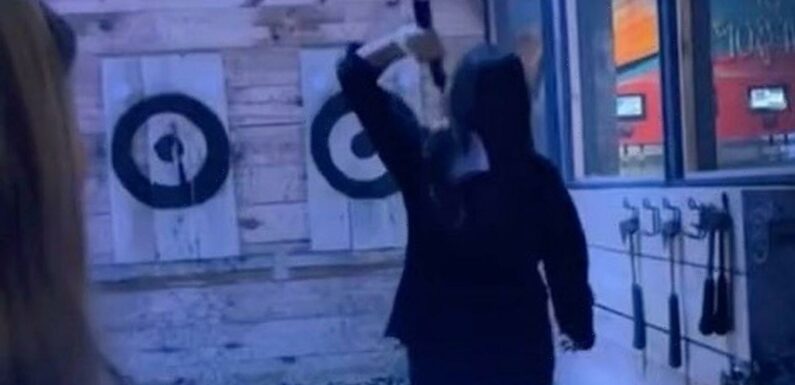 A woman is 'lucky to have teeth' after her axe throwing session went wrong like a scene from 'Final Destination'.
Kameron Davis, 25, took a trip to Civil Axe in Memphis, US, where punters can throw axes at targets.
With plenty of different axe throwing 'for fun' businesses gaining popularity in the last few years, the danger is minimal – if done right.
READ MORE: 'I'm a pretty girl so I get things for free – I only spent £30 in Las Vegas'
However, Kameron's axe throwing abilities came under scrutiny online after she was nearly in a 'freak accident' with the sharp blade.
She posted the moment on TikTok for all to see where the horrifying clip has now racked up millions of views and counting.
With the sharp axe in her right hand, Kameron placed one foot behind the blue throwing line and lunged forward with the other in attempt to hit the bullseye.
But the wood cutting instrument had another target in mind…
As Kameron threw the axe, it bounced off of the floor, and as she gazed on, span and hit her smack bang in the face.
In shock at the could have been life changing moment, she covered her face and grinned in disbelief as she made her way back to her gasping friends.
"Actually yes I somehow still have all my teeth", she surprisingly revealed.
Terrified at the close call, many people fled to the comments to share their horror at the incident – some even compared it to a scene from gory film franchise 'Final Destination'.
One person gasped: "It's giving Final Destination."
Another user added: "No survival skills."
While a third voiced: "This is why I will NEVER partake in this.
"It's terrifying to me. Glad you're okay for real."
Someone else bellowed: "GIRL WHERE ARE YOUR REFLEXES."
Meanwhile, a fifth declared: "I will NEVER partake in this.
"I threw a real dart at the board and it bounced to the vein in my foot and I'm traumatized. Imagine an AXE."
READ NEXT:
Woman with 'world's largest mouth' embraces massive gob – despite cruel trolls

Woman born without nose bone becomes influencer – despite cruel trolls

Mum born with no collarbones shows off 'party trick' by folding body in half

Woman who can't smile told 'turn that frown upside down' defies trolls to become model

Woman with 'lazy' eye joins OnlyFans and feels 'free' exposing body – despite trolls

For more lifestyle stories, sign up to the free Hot Topics newsletter here
Source: Read Full Article