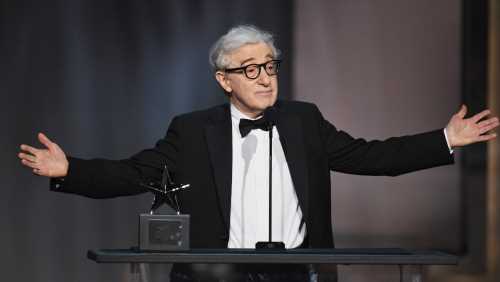 Woody Allen got a warm ovation from journalists at the press conference for "Coup de Chance" at the Venice Film Festival, where he managed to avoid any controversial questions about his stalled career and the sexual abuse allegations made against him by his daughter, Dylan Farrow. That was in large part thanks to his longtime cinematographer, Italian superstar Vittorio Storaro, who spoke for nearly a third of the press conference, while answering a single question.
When asked if he would consider making another film in New York, Allen said he's got "a very good idea for New York." "If some guy steps out of the shadow and says 'we'll finance your film in New York' and obey all my restrictions — if some foolish person agrees to that, then I will make the film in New York."
The press conference was also attended by Lou de Laage and Valerie Lemercier, the stars of his French-language movie, "Coup de Chance," which premieres out of competition today.
In an exclusive interview with Variety in Venice, Allen said he considered retiring after this film. "I have so many ideas for films that I would be tempted to do it, if it was easy to finance. But beyond that, I don't know if I have the same verve to go out and spend a lot of time raising money."
Allen, who was last in Venice with "Cassandra's Dream," starring Colin Farrell and Ewan McGregor in 2007, has fallen out of the marketplace entirely in the U.S. after press coverage of the allegations of sexual abuse by his daughter Dylan Farrow intensified in the wake of the #MeToo movement. Allen denies the claims.
He said he had initially imagined making "Coup de Chance" about Americans living in Paris and ultimately decided to shoot it in France because he loves Paris and European cinema. Later during the press conference, he suggested the financing also played a crucial part in the choice of filming locations and backdrop for his movies.
"Sometimes I'll get a phone call from someone in a country who says 'We will finance your film if you make it in Icelandic or an another language. And if I have an idea that's good for Italy or Germany or wherever, then I consider it. Sometimes I don't know the country well, but I had such a nice experience making it in France that [making movies in another languages] is something I would consider."
"Coup de Chance" will be released in France by Metropolitan FilmExport, one of the country's biggest independent distributors. While Allen's movies have also always been widely popular in France, his previous film "Rifkin's Festival" was a disappointment, selling under 100,000 tickets after world premiering at the San Sebastian Festival.
Read More About:
Source: Read Full Article