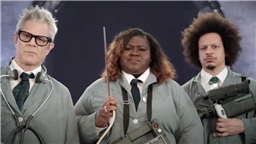 OK, that was surreal. Johnny Knoxville, Eric Andre and Gabourey Sidibe re-creating the famous "Ghostbusters" commercial from the 1984 movie, but promoting a hotline for… pranks? But it's all real, the phone number works (1-855-PRANX4U) and the three of them have indeed gotten into the pranks business via their upcoming ABC series "The Prank Panel." Scroll below to watch the promo.
Oscars host Jimmy Kimmel is one of the executive producers on "The Prank Panel," which airs this summer. On the show, everyday people pitch pranks targeting family members, friends and co-workers to the prankster panel — Knoxville, Andre and Sidibe. They then help plot the schemes, and serve as mentors and saboteurs as the pranks are carried out (and with the help of celebrity guest stars).
The show has already generated some headlines, as a handyman named Khalil Khan sued the show last fall, alleging he was the object of a prank that he described as a "terrifying ordeal" after signing up for a job on TaskRabbit in October.
Knoxville, who's known for his stunts and pranks on the long-running "Jackass" TV and film franchise, most recently starred on the critical fave comedy "Reboot." Andre, who just appeared this weekend at Variety's Power of Comedy event at SXSW, is about to launch a new season of "The Eric Andre Show" on Adult Swim. And Sidibe has most recently appeared in multiple seasons of "American Horror Story" in various roles.
"The Prank Panel" is produced by Kimmelot and ITV America, with exec producers including Matt Silverstein and Dave Jeser, Jimmy Kimmel and Scott Lonker for Kimmelot, Johnny Knoxville and Eric Andre, and Jordana Hochman, Bernie Schaeffer and Vin Rubino for ITV America.
If you don't have time to dial the phone number, check out the audio here. Watch the promo below:
https://youtube.com/watch?v=CCL_kJNO-r0%3Fversion%3D3%26%23038%3Brel%3D1%26%23038%3Bshowsearch%3D0%26%23038%3Bshowinfo%3D1%26%23038%3Biv_load_policy%3D1%26%23038%3Bfs%3D1%26%23038%3Bhl%3Den-US%26%23038%3Bautohide%3D2%26%23038%3Bwmode%3Dtransparent
Read More About:
Source: Read Full Article