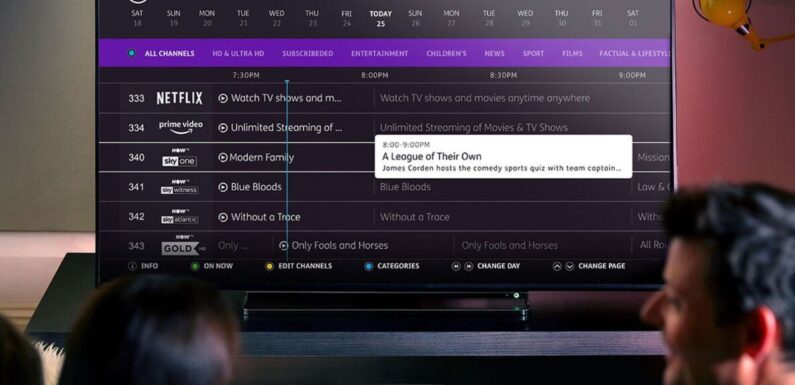 A major shakeup is coming to BT TV that will see all customers receiving a shiny new look to their television planner. In the coming weeks, BT TV will be rebranded to EE TV instead with the changes including the on-screen design switching from purple to aqua and an EE logo replacing BT's. The glowing light on the front of the device will also be switched over to that new colour scheme.
For those unaware, BT bought the EE network all the way back in 2015 and now wants to turn it into its main consumer-facing brand for television and the internet.
Those with a current BT TV box won't see any other changes and the price will remain the same but it's hoped they will be able to access new features in the future.
EE has big plans for its TV products and recently announced the launch of a brand new set-top device called the EE TV Box Pro.
This latest gadget features full access to a swathe of services including Freeview, Sky Sports, TNT Sports and Netflix. Content be viewed via a standard aerial or using broadband plus it features a sleek black design that fits neatly under your telly. There is also the option to add extra mini devices to homes for multi-room viewing.
Unlike Sky's latest devices which use cloud recordings to store shows and movies, tucked inside the plastic casing of EE's Pro box is an internal hard drive that can store up to 600 hours of content. That means once its recorded it won't disappear until the user hits the delete button.
There are also a number of other features including search, 7-day scroll back from the TV guide, Dolly Atmos support and full compatibility with 4K. EE is also teaming up with partners such as NOW, Prime Video and TNT to offer flexible viewing of premium content.
Support fearless journalism
Read The Daily Express online, advert free
Get super-fast page loading
The EE TV Box Pro with multi-room is due to launch in the coming months.
Along with that television upgrade, EE has also just released the UK's fastest broadband with homes now able to sign up for speeds in excess of 1.5Gbps – that's around 20 times faster than the current UK average.
Source: Read Full Article