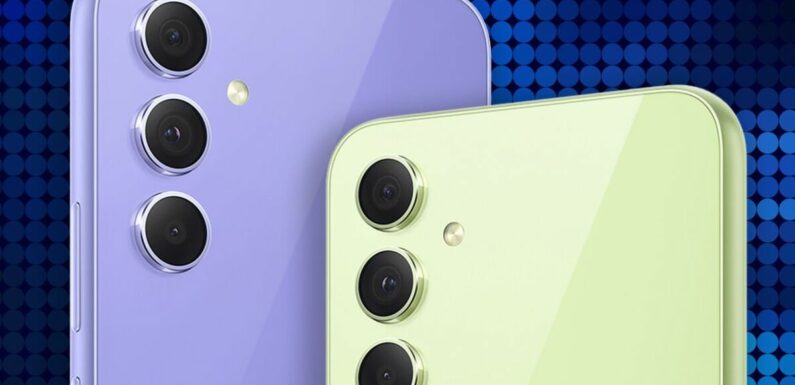 We use your sign-up to provide content in ways you've consented to and to improve our understanding of you. This may include adverts from us and 3rd parties based on our understanding. You can unsubscribe at any time. More info
Samsung's flagship Galaxy S23 series might be some of the best devices money can buy but the firm has now launched much cheaper alternatives and there's one big reason to consider buying them. The latest A34 5G and A54 5G both include the ability to boost the all-important internal storage to a whopping 1TB via a microSD card.
Get Galaxy Bud2 FREE with Samsung A54 5G
£449 View Deal
For a limited time, Samsung is bundling a pair of its Galaxy Buds2 (worth £139) wireless earbuds with the Galaxy A54 5G. All orders from the Samsung store include free next-day delivery
Get Galaxy Bud2 FREE with Samsung A34 5G
£349 View Deal
Likewise, the same Samsung Galaxy Buds2 (worth £139) are included with all Galaxy A34 5G orders for a limited time. You'll also get free next-day UK delivery on all orders
Incredibly, that's something owners of the much more premium Galaxy S23 and Galaxy S23 Ultra don't get access to with these devices not featuring upgradable memory. Admittedly, Samsung has boosted the options on its new S23 range with the Plus and Ultra models now starting with a minimum of 256GB but those who want a cheap way to increase things up to a mighty 1TB might fancy considering the new A Series.
And it's not just that expandable storage that looks impressive on these phones as there are plenty of other treats tucked inside.
Both feature 5G data speeds and new triple-lens cameras which Samsung is promising will take much-improved photos in low light and offer better image stabilisation.
"With the largest camera sensor yet in a Galaxy A Series device, users can take blur-free photos and smoother videos even in low light environments," the company said in an online post.
Other features include under-screen fingerprint sensors, massive 5,000mAh batteries and very fast charging for speedy refills.
Those buying the cheaper £349 A34 5G will be treated to a 6.6-inch FHD+ Super AMOLED Display with a speedy 120HZ refresh rate. This device also gets a MediaTek processor and design that's built to withstand the elements.
Want something more powerful? The £499 A54 5G gets a quicker 5nm Exynos chip, a more pixel-packed camera and a slightly smaller 6.4-inch 120Hz FHD+ screen.
The Galaxy A54 5G will be available in four colour options, including Awesome Lime, Awesome Graphite, Awesome Violet, and Awesome White. The Galaxy A34 5G will be available in four colour options, including Awesome Lime, Awesome Graphite, Awesome Violet, and Awesome Silver. Both Galaxy A54 5G and Galaxy A34 5G will be available in March
HERE'S FULL PRICING
Galaxy A54 5G RRP: 8GB RAM + 128GB, £449 • 8GB RAM + 256GB, £499
Galaxy A34 5G RRP: 6GB + 128GB, £349 • 8GB RAM + 256GB, £399
Those buying one of these devices ahead of the official launch will also be able to pick up free Galaxy Buds 2 worth over £125.
"At Samsung, we are constantly looking to push the boundaries and find ways of making our innovative technology more accessible to our customers", said VP Head of MX Division, Samsung UK and Ireland, James Kitto. "With the Galaxy A series, we're determined to give customers top-quality devices at highly competitive prices that still boast ground-breaking innovation, including revolutionary camera capabilities with our light boosting technology".
Source: Read Full Article