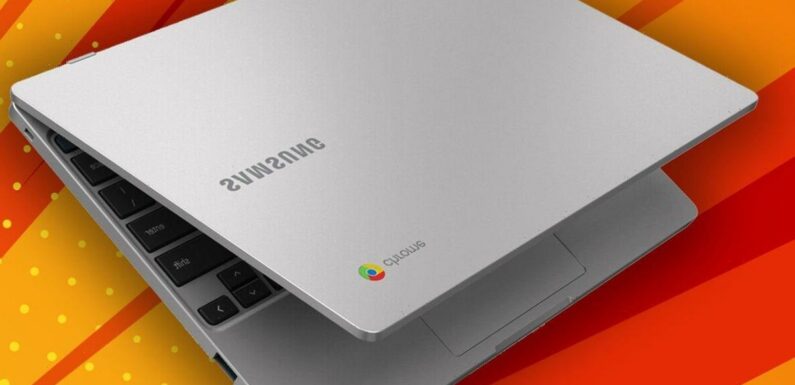 We use your sign-up to provide content in ways you've consented to and to improve our understanding of you. This may include adverts from us and 3rd parties based on our understanding. You can unsubscribe at any time. More info
Samsung is currently offering a stand-out deal that could be very hard to refuse. The Korean technology firm is dishing out free Galaxy laptops to anyone who buys one of its current Galaxy S22 flagship devices – including the award-winning S22 Ultra which comes packed with its very own S-Pen stylus.
Get Samsung Chromebook laptop and Disney+ subscription for FREE with this HALF PRICE Galaxy S22 Ultra deal
£64 £32 View Deal
For a limited time, get Galaxy S22 Ultra at half price for the first six months of your pay monthly contract from Three. You'll get unlimited 5G mobile data, text messages and calls. Not only that, but you'll also get a Samsung Galaxy Chromebook 4 and one-year of Disney Plus for free!
It's an offer that's worth a whopping £299 and one that's definitely worth considering for anyone who fancies an upgraded Android phone and is also in need of a new portable PC with the promotion including a Galaxy Chromebook 4. This device features an 11.6-inch screen, speedy Intel processor and long battery life along with being powered by Google's Chome OS software.
If that all sounds enticing then you can find the deal here but before you tap the buy button beware.
Rumours are now rife that Samsung will reveal its next-generation Galaxy S23 smartphones within weeks and they could make the current S22 look massively inferior.
Samsung introduces the new Galaxy S22 Ultra
Although not confirmed, we are expecting the S23 to arrive brimming with upgrades including an improved screen, better rear cameras, faster charging and longer battery life.
It also appears almost certain that this phone will get the very latest Qualcomm Snapdragon 8 Gen 2 processor tucked under the hood which will not only make it supremely powerful but also get access to a feature currently only found on the latest iPhones.
Qualcomm has just announced that devices using its new chip will be able to access the latest satellite technology which will allow owners to send texts even when there's no mobile signal.
Samsung is yet to announce an official release of the S23 but a number of posts on social media are speculating that February 1 is the date everyone needs to pop in their diary.
Pictures posted on Twitter also appear to show an official-looking invitation with that date clearly visible.
Express.co.uk has also spotted another big hint with UK network EE posting a page on its website that is offering "23" big prizes to anyone who signs up to discover news about upcoming phones.
This Samsung promotion ends on February 1 which might simply be a coincidence or another huge hint that the date is correct.
Those who do hand over their details to EE will be in with the chance of winning prizes such as Samsung TVs, laptops, Freestyle projectors and gaming monitors.
FULL DETAILS HERE
Source: Read Full Article