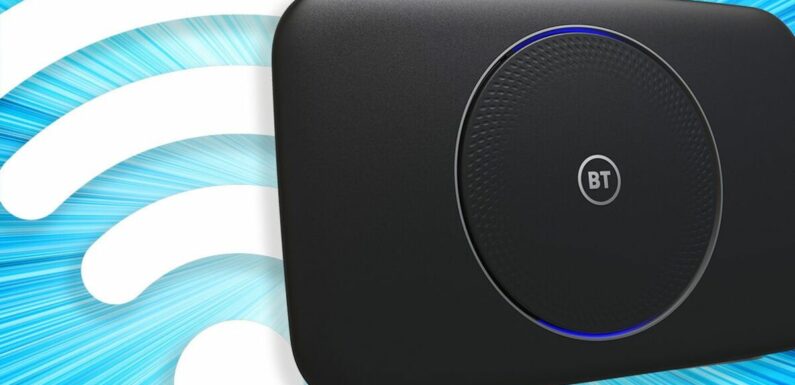 We use your sign-up to provide content in ways you've consented to and to improve our understanding of you. This may include adverts from us and 3rd parties based on our understanding. You can unsubscribe at any time. More info
If your current broadband speeds are slowing you down then good news could be on its way. Some lucky BT users are being asked to take part in a trial which could see their downloads get so quick they'll be able to whizz a full 4K movie to their TVs in under 30 seconds. The update is all part of a test being run by EE which was bought by BT back in 2016 and is now the consumer-facing brand of the telecoms giant.
Those lucky enough to be accepted on the programme could see new fibre technology – currently being piloted by BT's Openreach network – which is capable of delivering downloads in excess of 1.2Gbps. In fact, it's hoped that some users could see things increase to a blisteringly quick 1.8Gbps.
That incredible speed is around 25 times faster than the current UK average.
The new EE test, which was spotted by the eagle-eyed team at ISPreview, will include the best possible speeds customers can get, and are the fastest speeds EE have ever offered over a fibre connection.
Martin Lewis issues warning on broadband inflation
There's no word on who and how many people are being invited to give it a go but if you get an email out of the blue then it's worth considering especially as it's a free boost whilst tests are being performed.
Even if you're not invited to give it a go it's still exciting news as, if things go well, it could mean much-improved downloads launch across the country in the coming years.
Speaking about the new trial an EE spokesperson told ISPreview.co.uk: "We are constantly looking at new ways to provide the best experience to our customers, and as part of this, we occasionally invite a small number of people to test potential new services. We are unable to share further details on plans for this specific trial at this time, however we can reassure all our customers that we will continue to review new, innovative ways to deliver them the best connectivity, and that they will be amongst the first to know of any new exciting products or services we intend to launch".
Do you really need 1.8Gbps downloads?
We all want faster speeds but is 1.8Gbps too quick for most homes? The answer is probably yes. When you consider that a standard Netflix stream only requires a 10Mbps connection you can see why gigabit broadband might be a tad excessive.
That said, those who live in busy homes with music, games and TV being streamed along with people working from their kitchen table might want to consider switching to something faster.
That's because home broadband is a little like a motorway – the more traffic running along it, the slower it can get.
The bigger the motorway – the more it can cope with. Those opting for gigabit fibre should find they can stream and download huge files across multiple devices without things stuttering.
Source: Read Full Article