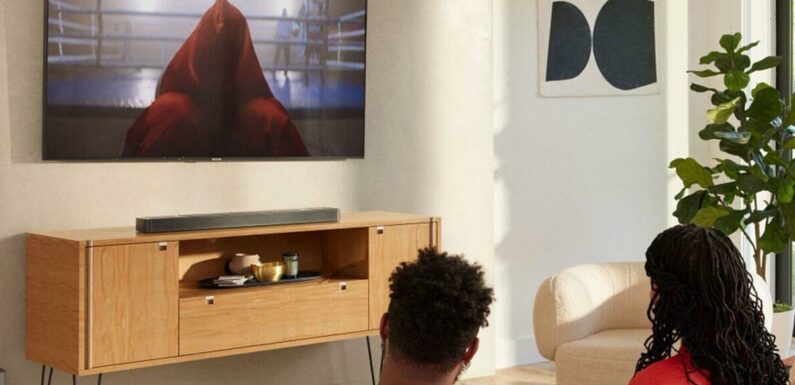 We use your sign-up to provide content in ways you've consented to and to improve our understanding of you. This may include adverts from us and 3rd parties based on our understanding. You can unsubscribe at any time. More info
Sonos might be the go-to brand when thinking of buying a TV-boosting soundbar but the premium audio firm is about to get some serious competition from the team at JBL. The new Bar 1000 will arrive in stores much later this year but Express.co.uk has already had a chance to hear what it's made of and things sound seriously impressive.
This speaker features four up-firing drivers which help to create a full 360 cinema-style experience. But that's not all as on each end of the soundbar are two mini speakers which detach so they can be placed anywhere within a room for a full surround sound experience.
These two mini boom boxes are fully rechargeable (via the main soundbar) so don't need any annoying wires with JBL promising at least 10 hours of usage before they will need a refill. This concept isn't actually new with JBL releasing similar detachable speakers in the past, however, things have now been massively improved to make this latest experience way better than before.
Along with those surround sound speakers, those buying the new JBL Bar 1000 will also get a separate subwoofer as part of the price with the whole set-up fully compatible with immersive Dolby Atmos and DTS:X 3D surround sound.
We viewed clips from the blockbuster Batman movie with the audio booming with sofa-shaking bass. Voices also sounded crystal clear thanks to JBL's PureVoice technology which uses algorithms to enhance what is being said.
When pushing things to the max there was no distortion and the whole set-up can be tweaked to your tastes via the in-built EQ settings.
It's all pretty clever but then it should be considering the price. When the JBL Bar 1000 hits stores in late December/early January it will cost around £1,000.
That's way more expensive than the £899 Sonos Arc and twice the price of the Sonos Beam.
Speaking about the launch, Dave Rogers, President, HARMAN Lifestyle Division, said: "The entire new JBL Bar range is truly taking the bar to the next level, however it is the JBL Bar 1000 that stands out for me.
"To pack this many features, drivers and the resulting jaw-dropping acoustic performance into one slim, easy-to-use soundbar, is an incredible feature and I am proud of our team for delivering such a product."
Source: Read Full Article