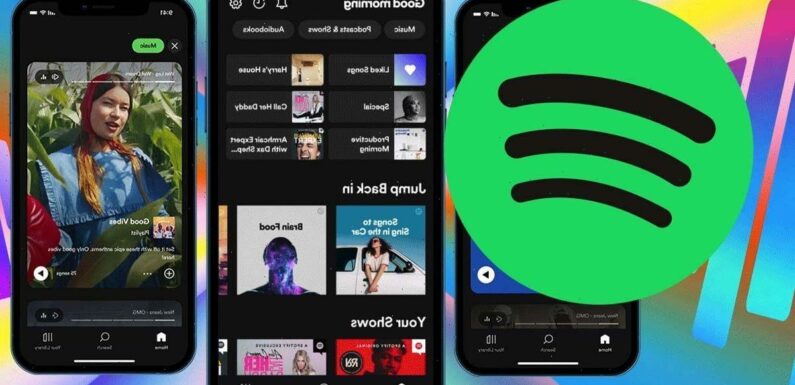 Spotify has revealed its plans to completely overhaul its app interface, giving it a dramatic new makeover that could potentially leave millions of users confused. As part of a new redesign, the company will update the core home screen of the popular music app, making it resemble popular social media software like TikTok and Instagram. In a bid to make it easier for music lovers to find new songs to listen to, Spotify has given their app a facelift that leans heavily on imagery and vertical scrolling.
As a result, fans will soon find Spotify looks similar to TikTok and Instagram, while a Spotify official noted that the new interface will be rolled out in "waves".
Spotify's new look was unveiled during the company's Stream On event, where they revealed a radically different look to their Music, Podcasts & Shows and Audiobooks tabs.
Once users get the new update, they no longer see small "cards" for the albums, podcasts and playlists. Instead, they'll be shown short videos similar to the ones shown in Instagram Reels, Youtube Shorts, and TikTok posts.
The design is meant to make the app look more dynamic, featuring animated images, video clips and audio previews like the auto-playing trailers that you'd see on Netflix's homepage.
These short clips will act as previews, offering users a new way of sampling snippets of each song without having to listen to the whole thing. Fortunately, the company has decided against auto-playing the audio on these tasters.
If you happen to be a free user of Spotify, not all of these changes may be ones you like. Although this was not mentioned during their Stream On presentation, this rolling feed of TikTok-like video posts would be rife with opportunities to include more ads between the posts.
For those listening to Spotify music with a Premium subscription, the company offers an ad-free experience.
Spotify shows off new-look home screen on its app
We use your sign-up to provide content in ways you've consented to and to improve our understanding of you. This may include adverts from us and 3rd parties based on our understanding. You can unsubscribe at any time. More info
Speaking at the event, Spotify CEO Daniel Ek hailed the overhaul as the app's "biggest change since going mobile."
Gustav Söderström, the company's Chief of Research and Development, added that this change would enhance the user experience by offering listeners more "advanced recommendations" and "dynamic" ways to discover content.
Source: Read Full Article