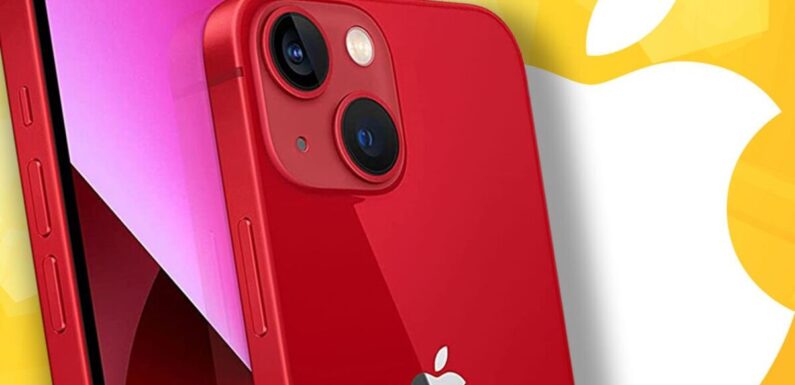 If you're in desperate need of a smartphone upgrade then now is a good time to go online shopping. Amazon has just announced the launch of a limited-time sale that's offering huge money off one of Apple's most popular devices. Right now, you can bag the iPhone 13 with a whopping 512GB of memory for just £739.99 – that's a saving of over £300 off Apple's standard pricing. It's also one of the lowest costs we've seen for this award-winning call maker.
Amazon shoppers can bag a massive iPhone 13 discount. Right now, the ultimate 512GB version is reduced to just £739.99 – that's a saving of over £250 and the lowest price ever.
To get that bargain you will need to order the (PRODUCT) RED version with other colours slightly more expensive.
• YOU CAN SEE THE iPHONE DEAL HERE
For those not aware, the iPhone 13 features a 6.1-inch screen, long battery life, wireless MagSafe charging and a speedy A15 Bionic processor. The dual-lens rear camera also offers impressive photos at night along with the clever Cinematic Mode which adds some Hollywood glamour to those home movies.
Other extras include a tough Ceramic Shield design, 5G data speeds and Face ID security which not only unlocks the display but also lets you pay for products without reaching for your credit card.
Want to know more? Read our full iPhone 13 review
iPhone 13: Apple shows off features of new handset
Here are all the deals from Amazon on the iPhone 13
iPhone 13 PRODUCT RED – NOW £739.99 • WAS £1,079
SEE THE DEAL
iPhone 13 PRODUCT MIDNIGHT – NOW £804.99 • WAS £1,079
SEE THE DEAL

iPhone 13 PRODUCT PINK – NOW £769.99 • WAS £1,079
SEE THE DEAL
iPhone 13 STARLIGHT – NOW £949 • WAS £1,079
SEE THE DEAL
iPhone 13 PRODUCT BLUE – NOW £911.04 • WAS £1,079
SEE THE DEAL
We use your sign-up to provide content in ways you've consented to and to improve our understanding of you. This may include adverts from us and 3rd parties based on our understanding. You can unsubscribe at any time. More info
These are all epic offers but there is a reason why buying one comes with a warning and makes taking the plunge a difficult decision.
Apple has just announced that it will be holding a launch event on September 12 and it's almost certain that a new iPhone 15 will be top of the agenda.
Although nothing has yet been confirmed, it seems that this device could get a screen with slimmer bezels, a faster A17 chip and a new camera with improved zoom. We're also expecting improved charging thanks to a new USB-C port, upgraded titanium design and some new colours.
The event will kick off from 6pm BST and Express.co.uk will bring you all news live as it happens.
Source: Read Full Article