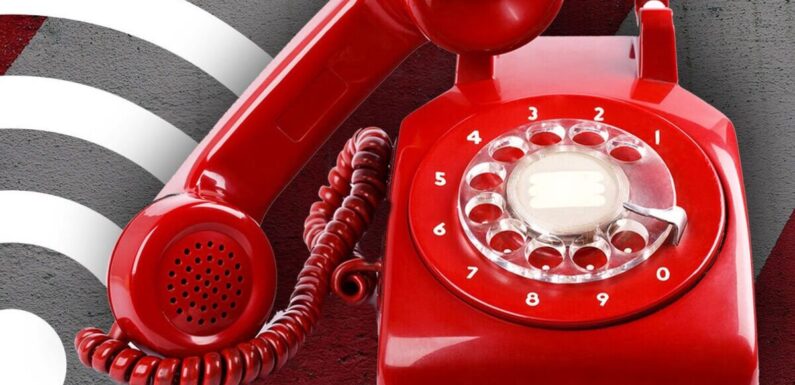 BT is switching off copper-based landlines nationwide ahead of the upcoming 2025 deadline, Express.co.uk reported earlier this week. Following our explosive coverage about the plans from BT and other leading providers to change landline technology, readers rushed to voice their concerns.
We've been inundated with questions about the move from old analogue cables to modern digital connections before the cut-off in 2025. Below, we've provided answers to some of the biggest queries around the nationwide landline cut-off.
"Living in the country, late 70's, no mobile signal, totally unreliable BT Internet – I'm doomed," said Express reader BiRo.
BT says the move to the new landline tech, which delivers calls using a broadband internet connection, won't cost customers anything and should be a seamless transition for 99 percent of existing home phones. But confusion remains about when the change will happen, how those without broadband will cope and whether customers will get a reliable service if they live in areas with slow internet speeds.
"My 85yr old father in law lives in sheltered accommodation on his own. He has tried a mobile but the keys are far too small for his arthritic hands," said reader tinmen. "Losing the landline is going to be a nightmare for him and for us as we ring him daily to check on him."
Other readers were quick to point out that the landline isn't technically going away as the service is being replaced.
"Plenty of places still have no mobile signal despite not being particularly remote … so the backup for when power is out is not as straightforward as they suggest," said reader 4wdcowboy in response to BT's suggestion of owning a mobile phone as a backup in case of a power cut, which would render all internet services, including digital landlines, unusable.
Julia Somerville discusses changes to BT landline system
The new tech will run customers' landline service using Voice over Internet Protocol (VoIP), the same technology when you make a call over Zoom or WhatsApp.
"Before BT do this they should provide a power backup in all homes so that VoIP phones work when there are power cuts, as phones will not work otherwise," said reader BrumPhi.
BT has said it may provide battery packs to customers who require extra support, which will keep the new landline running if the power is out.
Others who already have the new service, which has been rolling out this year, have run into issues.
"They offered me a super wifi no extra charge, I then had an email about my phone having to change. I just put the lead into my hub but cannot dial local numbers without the code now. Will I have a problem if I no longer have BT as my broadband server, I don't know," said reader JW.
It could be a bumpy road ahead for users as homes get to grips with the changes but BT remains confident that the changeover shouldn't cause too much disruption. "We understand that any change can be unsettling, and we're here to support our customers every step of the way. First-hand experience shows that once people have the facts and have spoken to one of our advisors, they feel confident to make the switch," explained Lucy Baker MBE, All-IP Director, BT Consumer.
We use your sign-up to provide content in ways you've consented to and to improve our understanding of you. This may include adverts from us and 3rd parties based on our understanding. You can unsubscribe at any time. More info
If you are unsure about the switch to new landline technology, here's everything you need to know.
All the UK's landline providers are moving from old copper wire analogue landline technology to provide landline services digitally using VoIP, an internet technology
The old copper network will officially stop working in 2025
BT calls its new landline service Digital Voice, but other providers may use different branding
If you want to keep your landline connection, it will be switched to run over a broadband connection, instead of being plugged into a traditional phone socket in your wall
You'll need a broadband router in your home that connects to the internet, and your home phone will need to plug directly into the router
BT says 99 percent of existing home phones will work with the service, and is offering free adapters to plug into routers if the cables don't match
BT is contacting customers region by region at least four weeks before making the switch
Existing broadband users won't pay anything extra, but it's unclear what impact there will be for those who don't currently have a broadband connection
If there is a power cut, the new landlines will not work as power is required for broadband to work
BT suggests owning a backup mobile phone in case of power cuts, but also may provide some customers with a battery backup unit to keep landlines running in an outage (these can also be purchased)
Source: Read Full Article