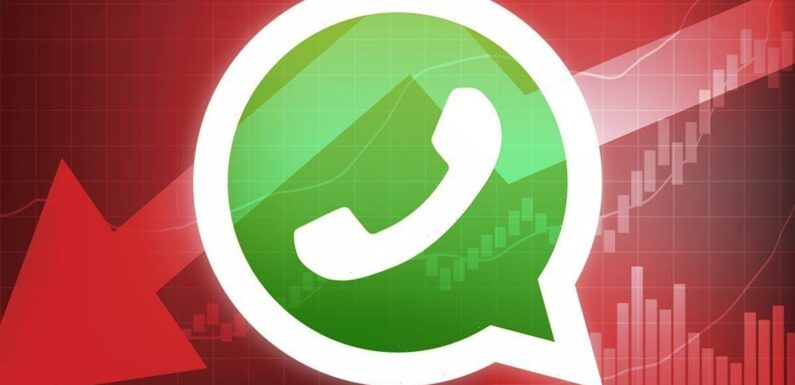 We use your sign-up to provide content in ways you've consented to and to improve our understanding of you. This may include adverts from us and 3rd parties based on our understanding. You can unsubscribe at any time. More info
WhatsApp users have reported that the Meta-owned chat app is not working for them, with the voice and video call feature going down today. Independent outage monitor Down Detector has recorded a huge spike in WhatsApp down reports which began around 6.30pm UK time. At the time of writing Down Detector UK has registered a peak of over 2,000 WhatsApp down reports.
According to Down Detector stats, the WhatsApp issues today are affecting users in the UK, US and in Europe.
As the reported issues with WhatsApp hit users took to Twitter to talk about the problems they were facing.
One tweeted: "Knock knock @WhatsApp you are not working. #WhatsAppdown".
While another posted: "@WhatsApp are whatsapp calls down? I can't call anyone either using WiFi or my data. I've tried restarting my phone and alternating between voice and video calls. Still nothing. Please help?"
Twitter reacts to Instagram, Facebook and WhatsApp outages
One added: "WhatsApp is down for video calling #WhatsApp".
And another wrote: "Is whatsapp calls down or something?"
Express.co.uk has contacted WhatsApp about the issues users are facing and asked if a fix is in the works.
In other WhatsApp news, it looks like some users of the market leading chat app will have to upgrade their phone to continue using the service.
That's because earlier this year it was revealed that Meta will drop WhatsApp support for any iPhones that can't run iOS 12 and above.
Which means if you have an iPhone 5 or an iPhone 5c in your pocket you'll need to upgrade.
More to follow…
Source: Read Full Article