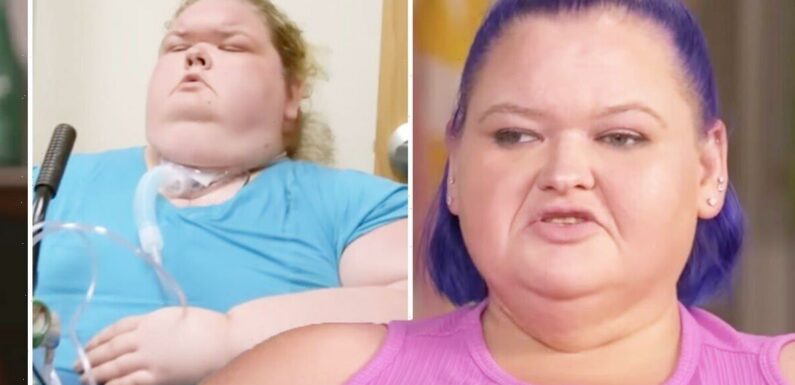 1000lb Sisters: Trailer for fourth series
We use your sign-up to provide content in ways you've consented to and to improve our understanding of you. This may include adverts from us and 3rd parties based on our understanding. You can unsubscribe at any time. More info
The latest series of 1000lb Sisters kicks off on TLC in the USA tonight as fans learn the latest on how Amy and Tammy Slaton's weight loss journeys are going. The trailer for the latest series promises plenty of revelations, including a hospital dash and rehab stint for Tammy as well as pregnancy and engagement bombshells. However, ahead of the new series, some fans are keen to see the sisters portrayed in a different light.
Both Tammy and Amy have been open with their physical and mental hardships over the three seasons of 1000lb Sisters so far.
This has led to many an argument between the two as well as more than a few outbursts from Tammy, in particular, towards her sister.
So much so that Amy has never pulled punches when speaking to the TLC cameras about her sister, slamming her attitude and behaviour while insisting she's trying to help.
In the season four trailer, this fraught sibling relationship looks like it'll continue, with Amy telling the camera her sister needs a "b***h-orcist", explaining: "Instead of an exorcist, we need somebody to exorcise the b***h out of Tammy."
The promo also teases how Tammy's stubbornness will come into play again as she fumes over a phone call that her family come and get her from rehab in Ohio, or she's "quitting".
However, Amy's affection for Tammy is also clear as she's seen in tears when doctors rush to her sister's side in hospital when her oxygen drops during a hospital trip.
But with Tammy appearing to find love while in rehab and keen to be approved for weight loss surgery, a number of fans have now taken issue with some of Amy's comments towards her sister.
Redditor and 1000lb Sisters fan u/CarolTheVampieKign was the first to share the opinion on the online forum, explaining: "Yes, I absolutely believe that Amy has every right to establish boundaries with Tammy, it was about time to finally do so.
"She's allowed to move on with her life. But damn, I felt like, especially since season three, almost everytime she would have her speech to the camera, she would rant again and again how much she's done with Tammy, how much she wants to move on from Tammy and how much Tammy is a burden to her.
"But I don't remember them having a face to face honest conversation about it.
"And people online cheer her on because Tammy has basically became the villain of the story, the toxic sibling free to trash on at all times. And I believe it's a little not fair," they added.
The fan goes on to claim that Tammy's mental health struggles shouldn't justify her appalling behaviour towards Amy over the years but does point out: "Back to my point with Amy, I feel like she should know that expressing constant will to dump your sister in every other episode would only make Tammy feel more unwanted and seek to the dependence even more."
DON'T MISS:
My 600lb Life fans gobsmacked as Pauline Potter looks unrecognisable [PHOTOS]
My 600lb Life's Brittani Fulfer unrecognisable after weight loss [PHOTOS]
My 600lb Life's Paula Jones unrecognisable as she dons swimsuit [PHOTOS]
They concluded: "Again, I don't blame Amy for what she wants. It's valid. I just hope she would be a little more sensitive in the show than that."
And the 1000lb Sisters fan wasn't alone in their thinking, with fellow Redditor u/Atschmid replying: "Agree. Tammy is a big giant pain in the butt with a massive food addiction, but Amy is smug and condescending and self-righteous. Started disliking her when she got pregnant with Gage, against doctor's orders."
While another user added to the debate: "I feel sorry for Tammy too."
However, a handful of fans were quick to defend Amy for putting up with her sister and lending a helping hand over the past few seasons.
As u/CadieGirl points out: "Hmm.. Sounds like Amy has 'Caregiver Burnout' which is a real thing. Sounds like she loves her sister in one sense and feels a sense of obligation and loyalty but at the same time, feels, maybe, a little resentful for other family members giving up on Tammy and leaving the 'burden' of caring for Tammy to her and Michael."
While u/MissKiruna defended: "I think Amy was a saint to put up with her sister's abuse for as long as she did."
And u/Fillimilli raged: "It's not as if Tammy doesn't know she's a burden. She's been kicked out of every family member's home at some point.
"And Amy has tried to tell her many times that she needs her to back off a bit. It doesn't work because Tammy genuinely does not care about her sister's happiness."
Undoubtedly fans will be hoping the pair's sisterly bond can mend in season four but they'll have to tune in to find out.
1000lb Sisters season 4 premieres on TLC in the USA on Tuesday, January 17. A UK release date is yet to be announced.
Source: Read Full Article