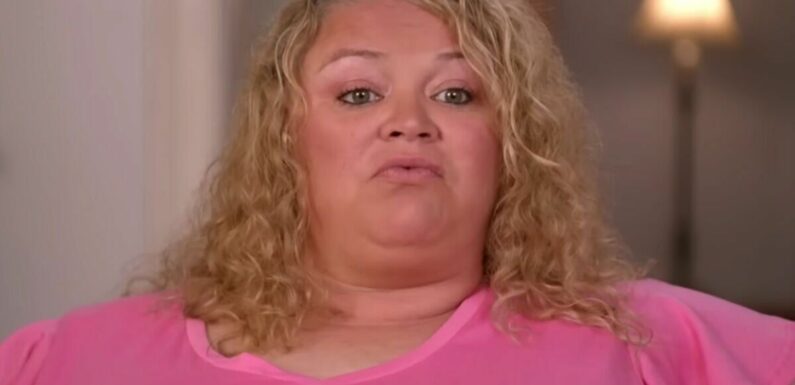 1000lb Sisters star Amy Slaton talks to her nine-month-old
While 1000lb Sisters on TLC documents the weight loss journeys of Tammy and her sibling Amy Slaton, it has also introduced viewers to the rest of the clan.
One person who's emerged as a popular figure among fans is their fellow sibling Amanda Halterman.
Therefore, a number of fans were left concerned this weekend when Amanda revealed she'd been involved in a car accident.
The reality star took to Instagram to share a photo of her car following the collision but reassured fans she was "safe" – albeit "sore and bruised".
She captioned the photo of the dented rear end of her car: "Yesterday I was in an accident.
View this post on Instagram

A post shared by Amanda Halterman (@amandahalterman)
"I wanna take the time to thank the emts and first responders for everything they always do.
"Special thanks to Mr Bunner and Lisa and a huge special thank you to a person who wants to remain anonymous.
"Thank you God for keeping me and the person who hit me safe," she added before delivering an update on her own wellbeing.
She ended the caption with the reassuring words: "I'm sore and bruised but I'm still here."
Before long, a number of 1000lb Sisters fans and Amanda's 34.4k followers shared their supportive messages, wishing her well.
One fan, @annbsaymore757 penned in response to the snap: "Sending prayers for a speedy recovery," followed by a love heart emoji.
While @mrs_keron_francis commented: "Thank god both drivers survived wishing you and the other driver a speedy recovery xx."
Elsewhere, @heather.herron added: "So thankful you're ok. God is good," followed by a praying and love heart emoji.
Don't miss…
The Rookie fans fuming as Feds 'crossover' teased[REACTION]
Succession's Marcia 'on top' after Logan twist as expert weighs in[EXCLUSIVE]
Picard boss details filming challenges on post-credits Star Trek scene[LATEST]
The kind words kept on flooding in as @adantay weighed in: "Thankful you're okay. The worst days are the next day and for about 3-4 days after that. Take care of yourself and rest up!"
And @jennalvin2009 concurred: "Glad everyone is ok. Vehicles can be replaced."
With Amanda on the mend, fans will be able to see more of her and the Slaton family when 1000lb Sisters returns for season five.
1000lb Sisters airs on TLC in the USA.
Source: Read Full Article